Code Red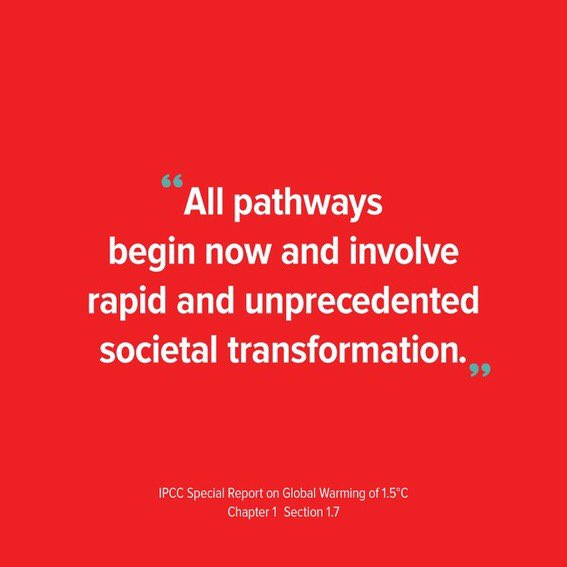 As Ed Hawkins, a climate scientist at Reading University points out: "All 195 governments which form the #IPCC have approved every single word in the Summary for Policymakers as an accurate description of the underlying scientific evidence. They all understand the evidence, the consequences experienced now & the substantial risks for the future."
This is important. There is no ambiguity. The report is completely unequivocal. This isn't men in white coats handing down geeky carbon science. This is consensus.
In light of this – when a country or a politician approves a new oil field or a new coal plant – they're doing so in full knowledge of precisely how much harm they will cause.
In light of the IPCC Report I don't want to talk about timelines or fixes or technics or 'micro-steps' or Green Deals or Red Deals, I want to talk about mood.
Some (many) may feel a quiet despair for the first time. Some of a sunnier disposition may have selected the remnant 'good news' from the report. Some (not enough) may feel raw rage. All, any of these responses are entirely legitimate and reasonable. But what do you do with the people that just shrug, have no opinion, no consciousness, no idea?
What's going on there?
Ignorance as a defence mechanism? Tactical unconsciousness is probably the mainstream response.  Mark Fisher called it "reflective impotence". The awareness that "things are bad" and the future black, is accompanied by the equally clear awareness that "they know they can't do anything about it."
In this bleak world, mental health problems, learning difficulties and depression are rampant. For Fisher, the response of many is a "depressive hedonism", that is, the continuous and desperate search for pleasure to escape this state of anguished awareness.
Hedonistic inertia.
Headphones on.
The glow of the small-screen.
But at this stage this might need to change. Not because our individual actions are the mechanism for change, and we should all get composting, we know that's nonsense but because we will need a revolution to effect change. We need system change to avert climate catastrophe.
Take the Headphones Off
Greta Thunberg asks: "When you examine the behavior of governments and corporations, and their leaders, today you begin to wonder… Is there a moral philosophical underpinning to their behavior? What determines right and wrong? And in an age of anthropogenic climate change what is the responsibility of government and business to the larger society?"
The answer I think is that government and business are intertwined and inter-connected entities that are porous. They are incapable of disconnecting and have shared elite interests that are in opposition to the task at hand. The climate crisis is a crisis of capitalism. Capitalism is omnicide. Growth fetishism is inimical to survival.
But there is something larger going on here.
Fredric Jameson famously remarked that "it is easier to imagine the end of the world than to imagine the end of capitalism." But that's got worse. It's now virtually impossible to imagine the end of capitalism and very very easy to imagine the end of the end of the world.
The problem is that the only thing that will prevent the end of the world is something unimaginable.
This, I think is what's happening with time and the difficulty of finding ways forward or even looking forward. If we are in an era beyond post-modernism, an era of "capitalist realism" this has consequences. The idea of "progress" has disappeared and that's a problem.
It is not just – as Fisher and others have pointed out – that we can't imagine a different world and that we are simultaneously over-stimulated and under-conscious – but that even if we were all sharp and angry and highly and radically politicised – what would we do?
As Alex Steffen writes: "When we smashed an unsustainable economy into an immovable planetary reality, we broke our continuity with the past."
Steffen again: "It is no longer possible to achieve that orderly transition, to combine action at the scale and speed we need with a smooth transition and a minimum of disruption. We have already failed to create the future most advocacy still seeks to bring on."
"We are not now capable of designing a future that works in continuity with our existing systems and practices while producing emissions reductions and sustainability gains fast enough to avoid truly dire ecological harm. This is an option that no longer exists." Indeed, "every approach that promises both bold action and the continuation of current practices and systems leads us inexorably into magical thinking."
Beyond Magical Thinking
Despite all of the above I am not without hope.
So what do we do?
I suppose resting with radical uncertainty is one (non) answer. Definitely cultivating self-defence mechanisms that aren't based on "reflective impotence" or "hedonistic inertia" would be a good idea. Developing active forms of solidarity that resist being drawn into hyper-individualism might be another.
We also have an outline of where we need to go. While the world may have just woken up, many people have been working on this for a very long time.
It's true we need rapid decarbonisation now, a huge and rapid break from fossil fuels and all of the subsequent shifts in transport, housing, travel, food, cities, energy, land use and on and on and on. But beyond that this all has to be rooted in a new outlook, a new world-way. We don't even have the words for it yet, the closest is 'environmental justice' or a social ecology. The idea being that these aren't just instrumental or technical shifts they are massive deep transformational changes that have to be a value-based rupture not just a 'programme' or a 'deal'. We need intrinsic change not extrinsic change. The transformation needs to be for us and by us. Top-down measures will be resented and resisted. This is a epochal inter-generational, international shift.
But other things that are assumed as baked-in will just have to go.
Almost all scenarios and models about energy-use are based on an relentless energy-use rise. This assumption has to be abandoned and replaced with a radical energy-descent plan. Private energy companies won't like that very much. **** them.
Most of the IPCC modelling us based on an assumption of economic growth, because that's what we do, right? Well, that's what we did.
Here Lorenz Keyber and Manfred Lenzen discuss degrowth scenarios (1.5 °C degrowth scenarios suggest the need for new mitigation pathways):
"1.5  °C scenarios reported by the Intergovernmental Panel on Climate Change (IPCC) rely on combinations of controversial negative emissions and unprecedented technological change, while assuming continued growth in gross domestic product (GDP). Thus far, the integrated assessment modelling community and the IPCC have neglected to consider degrowth scenarios, where economic output declines due to stringent climate mitigation. Hence, their potential to avoid reliance on negative emissions and speculative rates of technological change remains unexplored. As a first step to address this gap, this paper compares 1.5  °C degrowth scenarios with IPCC archetype scenarios, using a simplified quantitative representation of the fuel-energy-emissions nexus. Here we find that the degrowth scenarios minimize many key risks for feasibility and sustainability compared to technology-driven pathways, such as the reliance on high energy-GDP decoupling, large-scale carbon dioxide removal and large-scale and high-speed renewable energy transformation. However, substantial challenges remain regarding political feasibility. Nevertheless, degrowth pathways should be thoroughly considered."
Some of you will be freaking out by now. 'Degrowth'?! 'Energy descent'?!
"The public won't do it, no-one will follow this path."
Well die then.
I mean, the debate is over. You had decades to prove the preposterous idea that we could green capitalism, that market forces would fix things or that focusing exclusively on lifestyle choices and individual actions would somehow make a difference.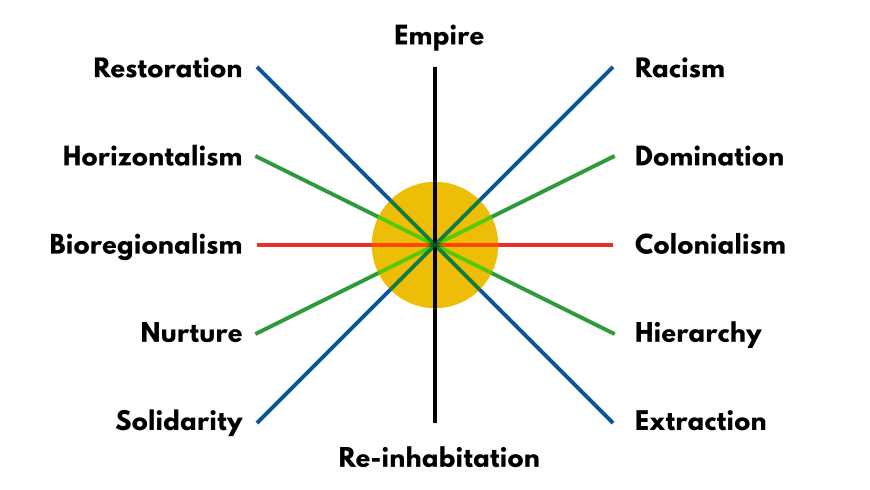 Finally, I think, perversely the focus on carbon is wrong. Of course that's the number one challenge and essential routemap to salvation. But also the level of healing and restoration that's required is beyond comprehension. It's not just about carbon it's about reforestation, repairing peoples mental and physical health, restoring biodiversity, repairing depleted soil and sea, and to respond to the climate crisis we need to resolve the historical, geographical and racial legacy of colonialism and empire.
Instead of empire we need re-inhabitation; instead of racism we need solidarity, instead of extraction we need restoration; instead of hierarchy we need horizontalism; instead of colonialism we need bioregionalism; instead of domination we need nurture; instead of growth we need abundance.
All pathways begin now.