Launch of our Bad Climate Journalism Awards
The Scottish press is used to back-slapping award ceremonies and self-congratulatory dinners. These awards are a bit different. For the first of our special awards for dire media coverage of the climate crisis we have four wonderful contenders.
First up we have Iain Macwhirter writing in the Herald ('We won't save the planet by going Green. Economic growth is the only way').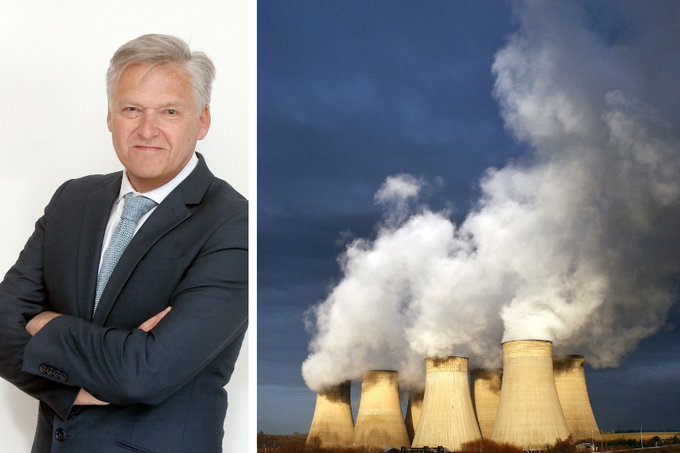 In a very strange column Macwhirter proclaims: "We are told by Prophets of Green that we have to reverse economic growth, grow vegetables, lock ourselves in our homes and await doom, which is our punishment for the sin of population growth." None of this really makes any sense. He seems confused.

Macwhirter writes: "The press has been filled with apocalyptic visions straight out of the Book of Revelation – a world destroyed by fire and flood. People see these hell-fire headlines every summer and promptly forget about them."
She won't: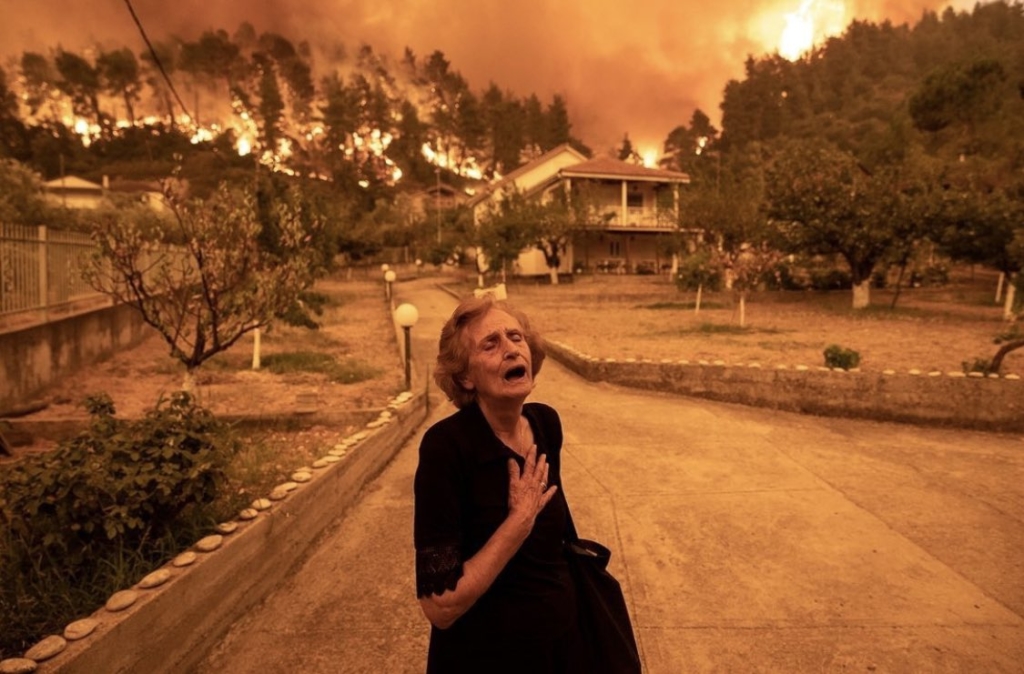 Her name is Ritsopi Panayiota, she is 81, she is reacting to the fire reaching her home in the village of Gouves in Evia. The photo is by Konstantinos Tsakalidis.
You know what she's experiencing Iain? A a world destroyed by fire and flood.
As Craig Dalzell commented: "I
ain Macwhirter in the Herald today with a bunch of anti-environmentalist strawmen and the opinion that the cure for the consequences of growth-based disaster capitalism is more growth-based disaster capitalism."
For Macwhirter: "If you throw growth into reverse, as advocated by the Green economist Kate Raworth on Newsnight this week, we will simply get mass unemployment, poverty and more pollution."
It's a dead certainty that Macwhirter has read none of the many works on degrowth or post-growth or wellbeing economics by, say Jason Hickel or our own Katherine Trebeck.
It's writing so crass and stupid and privileged it stands out. You wonder what the Herald thinks its doing publishing such awful clickbait garbage.
*
Second we have Alex Massie who shares Macwhirter's confusion about basic terms and concepts. Writing in his column in The Times he wails: "
Nicola Sturgeon's new Green allies are dangerous extremists!
"
He goes on: "There is no nobility in poverty and no virtue in national impoverishment. As cannot be repeated too frequently, the Scottish Greens believe economic growth is the road to ruin."
Now getting really confused he writes: "We are too rich and we must consume less, make less, do less. Growth is not everything, but it remains a large thing nonetheless. For the alternative to growth is steady impoverishment."
These writers have positions of responsibility – pulpits in national newspapers and magazines – and yet write with great authority and supreme confidence about subjects they know nothing about. Even when presented with the most crystal clear evidence of dire emergency their collective response is "More!" They cannot conceive of a different way to work and assume that the capitalist economy that has brought wealth and privilege to them and their families is a universal good.
Third up we have Chris Deerin over at the New Statesman who is similarly triggered – where he describes the Scottish Greens as: "radical, aggressive, socialist agitators". The Green policies that trigger an extraordinary diatribe include: a millionaire's tax; a frequent flyer tax; an end to new licenses for oil and gas exploration and development; a publicly owned rail network; the creation of publicly owned services for freight and passengers to continental Europan; and the reintroduction of rent controls."
These modest progressive ideas are a trigger for Chris who declares them "not a sensible programme for government" they are he whines: "radically socialist, Big Brother-ish …and unserious."
As Chris, somehow the Scottish editor of a supposedly left-wing magazine, polices politics according to his own Ultra Centrist brand of lobbyist/journalism it turns out his attitude to climate crisis is astonishing. He calls the heatwave "useful" and writes: "The price for a Mediterranean climate in northern Europe appears to be drought, wildfires and other ecological disasters in the toastier zones."
That's astonishing and offensive journalism as parts of Italy and Greece are being evacuated.
But this weeks winner is the Scotsman newspaper for publishing this piece by Deirdre Michie, CEO of Oil and Gas UK ('Drilling new Cambo oil and gas field off Shetland will actually help the UK cut its carbon emissions').
In the week of the IPCC report the Scotsman publishing this is an act of reckless and disgraceful irresponsibility. This is Doublespeak. It's basically pumping disinformation into the public sphere, including sentences like:
"Projects like the Cambo field are part of a low-carbon journey that will support energy security, jobs, the economy and the net-zero future that everyone wants to see."
It's been a very competitive week – and condolences to the other contenders – but the first award for dire media coverage of the climate crisis goes to the Scotsman. We'll be presenting the award to Neil McIntosh, the papers editor later in the week.