Faliraki talks death metal, prison haircuts and mental illness with Bella Caledonia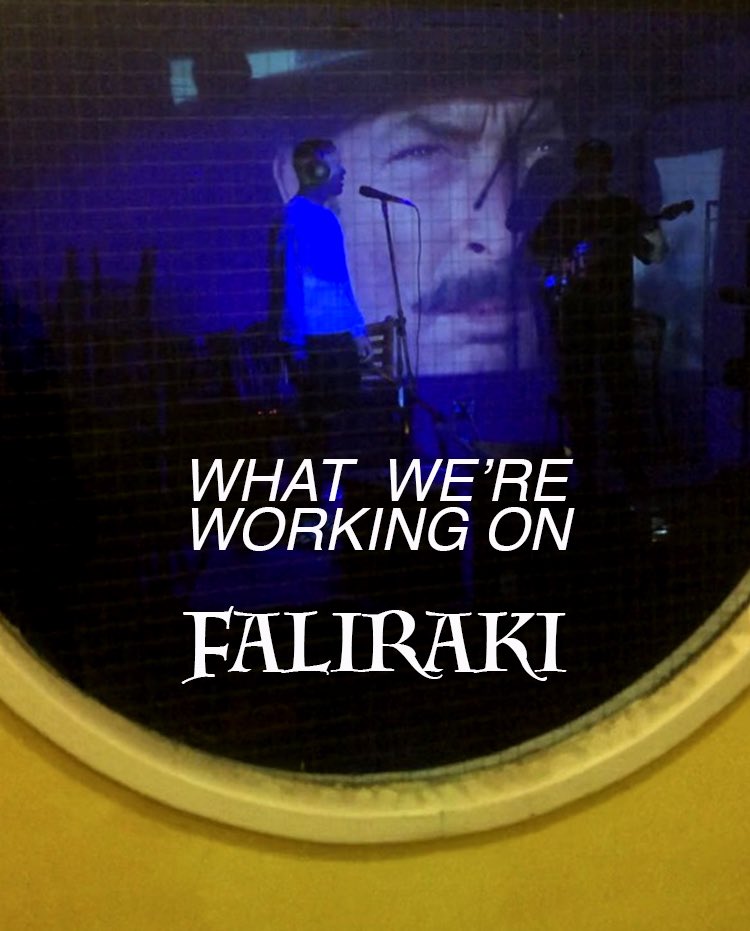 Jamie Watt of Edinburgh Art Rockers Faliraki talks death metal, prison haircuts and mental illness with Bella Caledonia's Hugo Fluendy.
Faliraki are the best young Scottish band you haven't heard yet. Named for the tectonic culture clash between the ancient glories of classical Greece and Rhodes' now synonymous drunken sandpit for 18 to 30-year-olds, the duo deploys doom-laden riffs, stripped down electronics and shouty lyrics dissecting life in small town Scotland to materialise the kind of dark ecstasy felt by a sack full of kittens seconds before it hits the water. Vocalist Lewis Bissett and instrumentalist and producer Jamie Watt formed the band while studying for post-graduate degrees at Edinburgh's School of Art in 2019 but the pair are steeped in the working class culture of Scotland's central belt.
"Dark humour is central to the Faliraki ethos and aesthetic. Our motto is 'boyish not laddish'," deadpans Watt. "Since there's only two of us we keep it simple out of necessity. In a way, it's pretty liberating for me. Lewis has zero musical theory knowledge so I've got free reign when it comes to the music side. I've been in bands before when ideas get diluted down – too many chefs. We're like chefs that can only make beans on toast and pot noodles." 
Watt's humility is entirely disingenuous: he says basic, we say classic. For conclusive evidence of their untutored genius, you need look no further than the band's anthemic synth headbanger Polmont Haircut taken from 2020's debut EP Do Not Run, Jump or Climb. A joyous electronic racket, the tune incites the kind of dance mosh frenzy generated by Cabaret Voltaire's Nag Nag Nag or The Rapture at their punk-funk best. "It was the first one we wrote. Musically, it's just chanting over power chords – a timeless combination. We both grew up in West Lothian and knew folk who became inmates or employees at Polmont Young Offenders," reveals Watt. "The loose premise of the song revolves around a middle class kid who gets in over his head. It's based on real life characters."
Real life for the Badlands of West Lothian that is; but on a day where the youth section of a sectarian marching band dose on Kesey's Kool Aid and turn-on, drop-out and tune-in as post-millennial Merry Pranksters armed with switchblades and more than a nodding acquaintance to the last 50 years of conceptual art. Further clues to their 'basic' approach can be found in their artwork. While Watt's sculptural metaphors portray a coolly elegant futurism, Bissett's work anticipates the group's anarchic weltanschauung more precisely. Recent works such as his resin moulded Coloured Johnnies or the Amazon brown paper packaging and Falkirk Herald papier-mâché Ouroboros Eat Your Friends are seen but never forgotten.
"There's a lot of crossover in the subject matter of our visual practice. We both examine Scottish versus British history, youth culture and class dynamics. Lewis draws from his working class background, growing up in Falkirk, the strange iconography and rituals of village gala days and fairs. Likewise, I use narratives from Scottish history and use them as vehicles to explore contemporary notions around cultural identity – I like warping and experimenting with pagan and medieval imagery and artefacts from the past. There's a lot of play and experimentation in Faliraki and our art practice. A lot of Faliraki tunes don't have a set format or lyrics which makes them fun to play. Artistically we're inspired by Paul McCarthy and Mike Kelley, Beagles & Ramsay, Kevin Harman and their low cost lo-fi approach to making artwork," explains Watt, with the kind of wisdom some take a lifetime to acquire, if ever. The old saw 'never let the best be the enemy of the good' is germane here; gear fetishism in all its perfectionist neurosis is a recipe for creative paralysis. It's fine if you're Kevin Shields conjuring a wall of shoe-gaze sound to produce My Bloody Valentine's masterpiece Loveless but even he nearly bankrupted Creation Records while he tinkered obsessively with effects boxes, inter-stellar volumes and equally cosmic spliffs. Rather make art with whatever you have to hand. Vintage Gretsch guitars and analog Echo Boxes can wait until the royalties start to stack up – and in this age of Spotify-imposed austerity, that will require patience. "We're both skint. Everything from Jamie's guitar, amps, pedals and drum machine are second hand bought on eBay or Gumtree. All the equipment is pretty temperamental but our drum machine never misses a beat as long as the batteries don't fall out," admits Watt.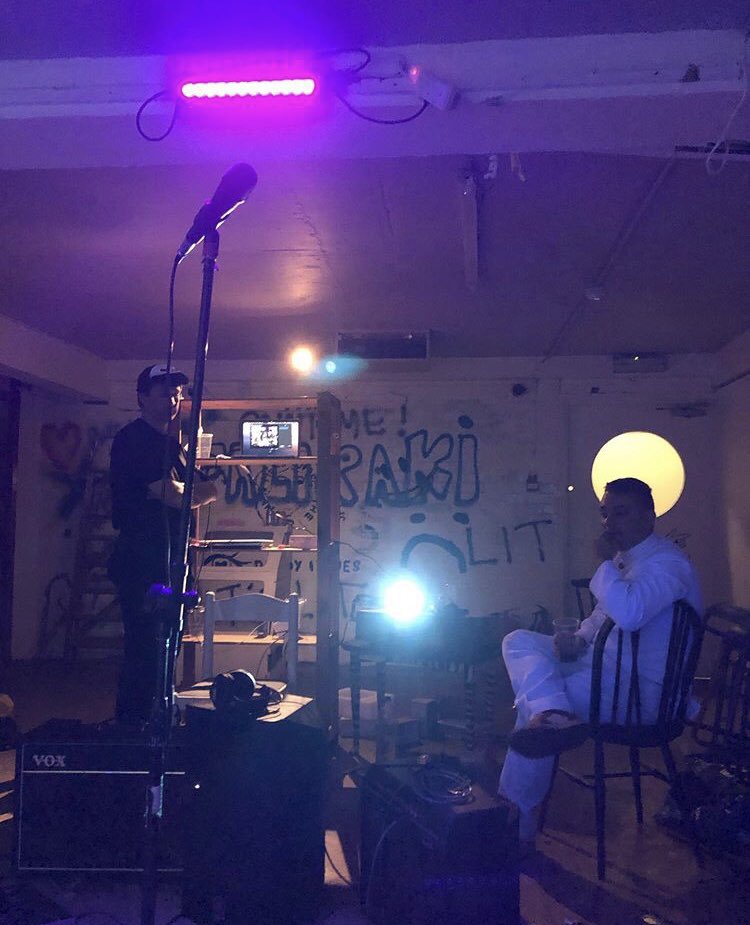 The duo's musical influences are a witches brew of kickass psychedelic sleaze, classics of the underground canon and quirky alt songwriters. "We've drawn inspiration from everything from the The Singing Kettle to Butthole Surfers – we're trying to place Faliraki directly in the middle of that spectrum," confirms Watt. "We like lo-fi stuff, Lou Reed, The Fall obviously, the early Graham Coxon solo albums, Tom Waits, throwaway post-punk bands… Anything that's repetitive and agitative. We like things that sound like they might fall apart at any moment, like our artwork. I was obsessed with Korn and Slipknot when I was younger, so there's a lot of tuned down chugging from the guitars. The riff in We Are Scum was inspired by an early Death tune I remember." 
Live favourite and standout track We Are Scum exemplifies their immaculate musical taste – the lyric recalls the similarly-named LCD Soundsystem classic while the track's three-minute warning dirge references bad trip jams such as Throbbing Gristle's Hamburger Lady and the Buttholes' 22 Going On 23 to devastating effect. This is the brown acid kids and you'll like it.
The duo's visual art practice and eviscerating sonic satire explores Scottish stereotypes and their dour Presbyterian version of Mark Fisher's Capitalist Realism. According to Fisher, capitalism's ruthless game of financial musical chairs is more pathology than ideology or financial system.  "We both discuss mental health and the adverse effects of capitalism in our work – growing up during and after the financial crash, being disenfranchised and disorientated. I think that comes across in our music too. I think we share a similar sense of humour: pretty dark and very boyish. The humour is important – sometimes it's the only antidote or escape from the swamp of Scottish miserablism," sighs Watt.
Growing up in Scotland's Central Belt schizophrenic mix of hard luck new towns and picture postcard historic burghs has marked Watt and Bissett. Their rebellion is an artistic one however, albeit their muse a pitch black imp of the perverse rather than an effete Greek sisterhood swanning about in togas.
"I think Scotland's relationship with England – the Union – can be described as sadomasochistic. After the 2014 referendum Scotland pretty much told England 'do whatever you like to me baby!' Every post-Indyref Tory government is a cigarette stubbed out on the naked arse of Scotland. Scotland is so self-deprecating, such a nation of self-flagellators: as PG Wodehouse said 'it's hard to distinguish between a ray of sunshine and a Scotsman with a grievance'," says Watt.
Faliraki's bombastic riffing holds up a noonday mirror to the supine defiance Watt detects in Alba's self-willed subjugation, their sarcastic lyricism tracing a leathery whiplash map of centuries of submission. And like our genteel capital, beneath her furs is naked hypocrisy. It's all grist to the amphetamine grind of the band's dark sonic mill.
"I grew up in Linlithgow, a middle class town in Central Scotland. Every now and again you'd hear tales of sordid goings on under the well-to-do veneer. These stories inspired Pogo the Dog which is about repressed sexual desires, escaped gimps and sadomasochism," grins Watt.
These days Watt and Bissett are based in Edinburgh having completed their post-graduate studies at the art school, the petri-dish for so many great bands of the last forty years. A gear change from some windswept hamlet off the M8 but equally inspiring. Falariki's music is too direct, too muscular for sophisticated pretence, side-of-the-mouth mockery or self-absorbed virtuoso arrangements. Along with the madcap metal of acknowledged influences such as the aforementioned mighty Butthole Surfers, you could usefully point to the ragged brilliance of punk icons Swell Maps say, or Mark Perry's ATV. Throw in talismanic South London label Trashmouth Records' recent stable of bands such as Fat White Family, Meatraffle and fellow Edinburgh art rockers Batbike and you're beginning to draw a bead on their singular brand of musical therapy. Faliraki is an uncompromising diagnosis of the cultural sickness that infects not just Edinburgh but the entire body politic of Western civilisation.
It'll be an album or two before they kick over Westminster's mouldering statues but their propulsive beats and sub-Sabbath licks are an effective emetic for the cloying kitsch surrounding their new digs.  "Living in Edinburgh, it's impossible to escape the clichés and cultural cringe surrounding Scottishness. There's so many tartan tat shops selling haggis snow globes and blaring bagpipe covers of ZZ Top songs. People have described it as the Disneyfication of Edinburgh, which goes hand-in-hand with the continuing gentrification of the town and its sanitisation each year before the Edinburgh Festival," says Watt.
Making this kind of inspired racket doesn't come with an instruction manual. Armed only with a healthy Northern scepticism and God-given talent, Faliraki's response to society's neoliberal capitalism's-induced epidemic of mental illness and subprime mortgaged cultural identity is instinctive and brilliant. But even the most resilient of agit-prop popsters would struggle to contend with the current literal pandemic. "The lockdown has been tough: we see Faliraki as an extension of our visual art practice which has been on ice the past year obviously. We've had sustained studio access but it's been difficult to find the motivation to finish new work or songs when the diary has been empty. We both find it's easier to gain initiative when there's a deadline of a gig or an exhibition to prepare for. The next EP will be a bit more psychedelic and advanced musically. We have a song about a drug-laced macaroni pie that we think is some of our finest work yet," says Watt tantalisingly.
"We're going try and hit the ground running when all restrictions are lifted in Scotland and arrange an exhibition or gig or event wherever will take us. Our last big exhibition Beta Blockers was way back in March 2020, in Tollcross in Edinburgh. We had visual art and spoken word performances before a short set – it was mobbed. We can't wait for opening nights to be a thing again," he concludes.
As the frustrated bad sex energy of the last few years of apocalyptic viruses, iconic rock star deaths and flat out political lunacy simmers dangerously close to yet another summer of love or mass public disorder or both, they can't come a moment too soon.
Instagram @faliraki_98

Help to support independent Scottish journalism by donating today.