Bad Climate Media Awards
Today we're delighted to be announcing our first Bad Climate Media Awards. It's a brand new monthly prize for the most terrible journalism about the climate emergency. This month was a very tough competition with strong contenders in Alex Massie (The Times), Chris Deerin (the New Statesman), and Iain Macwhirter (the Herald).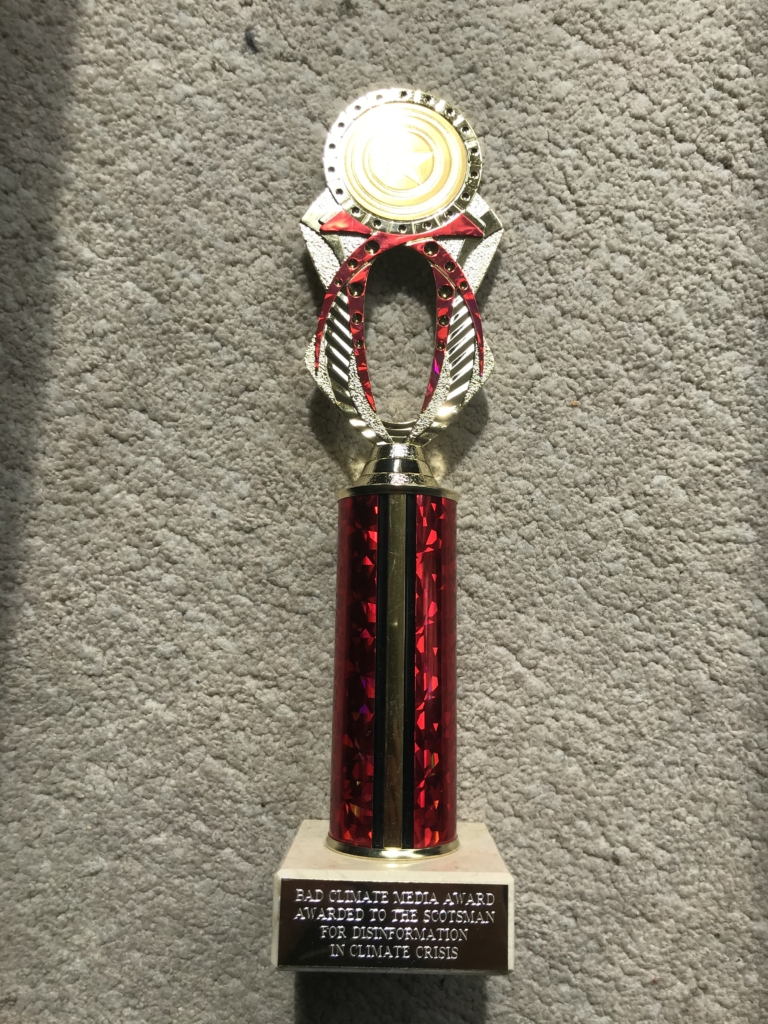 But this week's winner is the Scotsman newspaper for publishing this extraordinary piece by Deirdre Michie, the CEO of Oil and Gas UK with the wonderful headline 'Drilling new Cambo oil and gas field off Shetland will actually help the UK cut its carbon emissions'.
In the week of the IPCC report the Scotsman publishing this is an act of reckless and disgraceful irresponsibility. It's basically pumping disinformation into the public sphere, including astonishing sentences like: "Projects like the Cambo field are part of a low-carbon journey that will support energy security, jobs, the economy and the net-zero future that everyone wants to see."
The International Energy Agency's tells us that, to meet our climate target of limiting global heating to 1.5ºC, oil, gas and coal use will all need to fall rapidly to the extent that no new oil, gas or coal developments should now occur. See here. And the UN Secretary General has said that the latest report from the IPCC "must sound a death knell" for fossil fuels and that countries should "end all new fossil fuel exploration and production".
The magnificent trophy – resplendent in code red and shimmering black gold – goes to the Scotsman newspaper for it's terrible editorial decisions.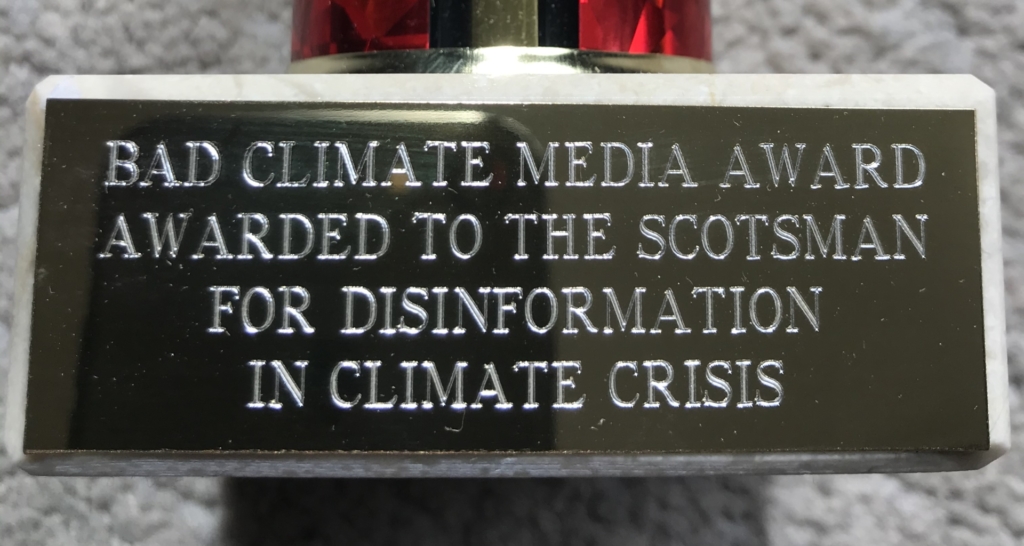 Do you have suggestions for really dire climate journalism? Submit your entries for next months prize here.
Extra points will be awarded for completely ignoring reality; spreading disinformation; smearing protesters; or acting irresponsibly in the climate emergency. Celebrating extreme weather; creating manels of false equivalence; joking while countries burn; or just publishing pure gibberish like the Scotsman did that 'Drilling new Cambo oil and gas field off Shetland will help the UK cut its carbon emissions' when we know that: the first phase of Cambo would produce up to 170mn barrels of crude oil from 2025 until 2050, with plans for a second phase of production beyond that; that's the carbon emissions equivalent to running 18 coal fired power stations for a year; the full field development is forecasted to be 288mn barrels.

Help to support independent Scottish journalism by donating today.