Some Key Myths about the Cambo Oil Field
Keith Alexander explores some of the myths used to defend the indefensible and support new oil developments in the midst of climate crisis.
After coming under increased pressure from climate activists over the development of Cambo, a major oil field near Shetland, Nicola Sturgeon wrote to Boris Johnson asking that it be reappraised against a "Climate Compatibility Checkpoint".
Sturgeon's support for assessing new fossil fuel developments on a case by case basis is in stark contrast with the International Energy Agency's analysis that, to meet our climate target of limiting global heating to 1.5ºC, oil, gas and coal use will all need to fall rapidly to the extent that no new oil, gas or coal developments should now occur. The IEA's executive director, Dr Fatih Birol, says that the UK's decision on Cambo could be an important step in influencing other countries' decisions.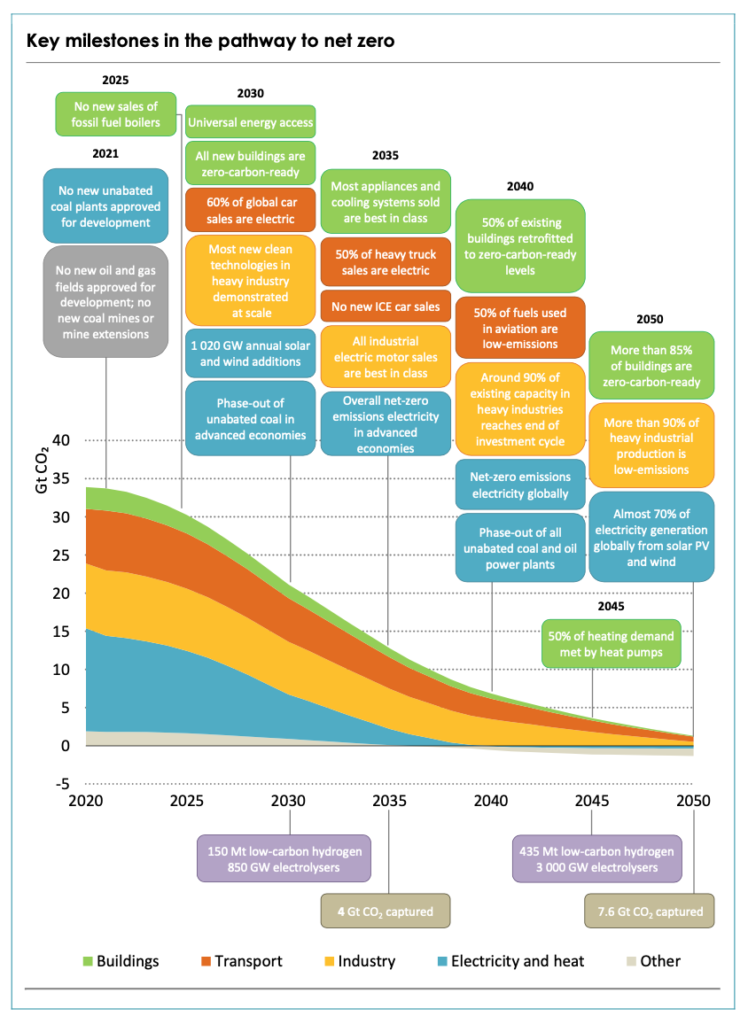 Alongside her suggestion that Cambo be reappraised however, Sturgeon appears to raise a possible justification for new oil fields: that we must reduce reliance on  "domestic production of oil and gas […] without increasing imports – which would potentially increase emissions".
This claim was reiterated by the UK Government's Minister for Scotland David Duguid: "It is far preferable for the UK's needs to come from our domestic supply, supporting our own workers, rather than relying on imports whose sources may not be responsibly recovered."
These sentiments echo those of Oil and Gas UK, and of Shell, who own a 30% stake in Cambo. "As long as the UK still needs oil and gas in its consumption for its society," said Chief Executive Ben van Beurden,  "it's better to produce it in its own backyard." 
These claims not only refuse to address the IEA's call for no new fossil fuel developments, they misrepresent the relationship between UK oil production and domestic consumption of oil products.
Much like the "household fallacy", where government debt is (re) imagined as household debt to justify austerity measures, the North Sea is imagined as akin to a vegetable garden cultivated for domestic needs to justify continued exploitation. However, governments are not households, and oil is not backyard produce. Oil is a globally traded commodity and relatively little of the oil extracted from UK territory makes its way through UK refineries to domestic consumption.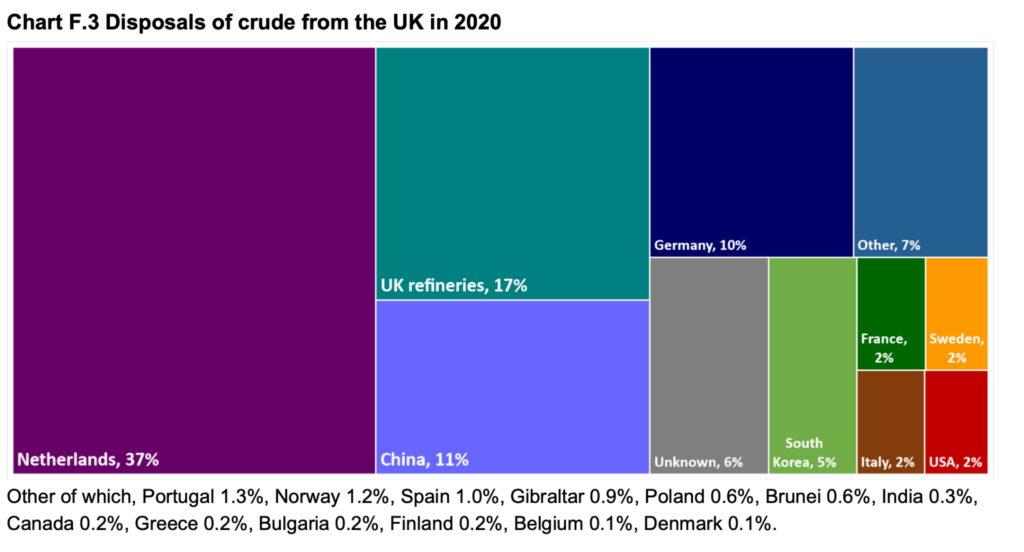 In the last 5 years, despite being a net importer of oil, the UK exported 81% of crude oil extracted. UK refineries export around 40% of their products. The UK Government's energy statistics report (DUKES) explains that UK refineries were developed to produce fuel oil for electricity generation, and petrol. As UK demand has shifted over time towards diesel and jet fuel, UK refineries have exported more of their output overseas, making the UK one of the largest petrol exporters in the OECD, and one of the largest importers of road diesel and jet fuel.
So, licensing the extraction of more oil from the North Sea does not ensure that the oil-based products used in the UK will be produced to high environmental standards. Even if it did, it would also need to be true that, by producing the oil in the UK, an equivalent quantity of oil would be prevented from being produced elsewhere. This argument is made by other fossil fuel producers too. This argument is made by a number of fossil fuel producers, for example: West Cumbria Coal Mine would be carbon negative by negating imports and their shipping emissions; Norway's oil and gas would displace oil and gas from regions with higher production emissions; Shell's fuel production would be done by other companies if not by them.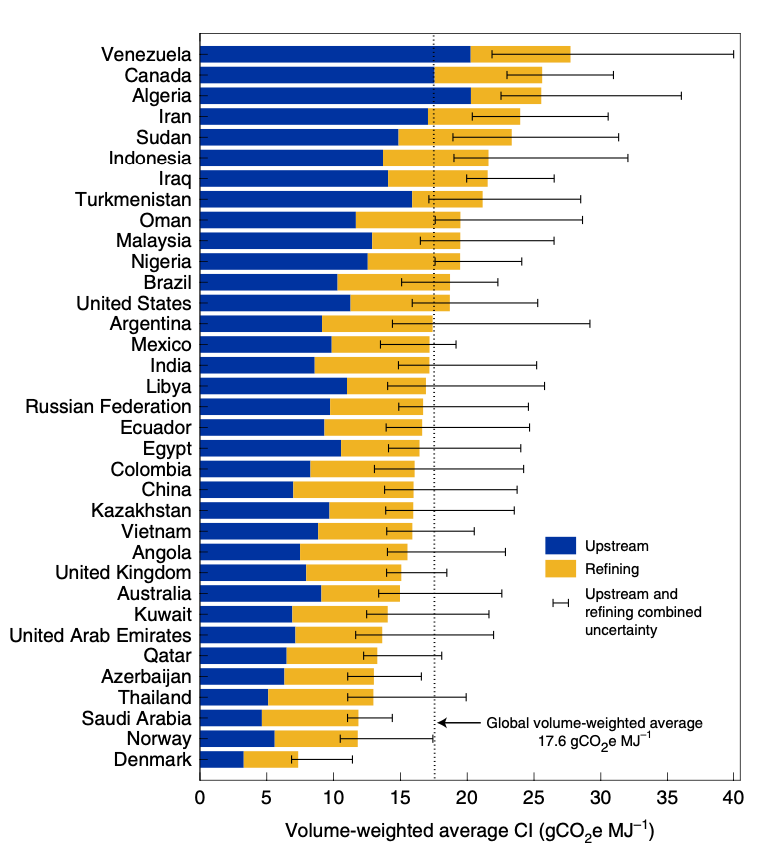 These views are not widely accepted by independent experts. Shell lost the court case in which they argued they merely displaced other producers; the court assessment cited studies showing that increasing supply increases consumption, while decreasing supply lowers consumption.
In Norway, a report from their national statistics institute found that down-scaling oil extraction was the most cost-effective way for Norway to lower global emissions. And the IEA, in its report on net zero by 2050, called for no new fossil fuel developments, rather than more developments with lower production emissions. The country with the lowest production emissions by far – half the emissions per barrel of UK production – is Denmark, who, in 2020, announced that they would stop further oil & gas exploration and phase out production by 2050 as part of their commitment to stopping climate change.
Building on a growing body of research highlighting the necessity of constraining fossil fuel supply, the UN Environmental Program has begun publishing annual Production Gap reports on the gap between how much countries' fossil fuel production plans exceed commitments to reduce emissions (see also here). Emissions need to drop steeply and immediately if we are to restrict warming to 1.5ºC or even 2ºC, but countries' production plans over the next twenty years have global annual emissions climbing even higher.
Each country's government may claim, as the UK and Scottish Governments (and the oil and gas lobbyist group OGUK) do, that their fossil fuel production is compatible with 1.5ºC.  But aggregated together, these new fossil fuel developments put us on a devastating trajectory of rising emissions for decades yet. UK and Scottish governments say that new oil and gas fields will pass, as Nicola Sturgeon said, "a robust Compatibility Checkpoint that is fully aligned with our climate change targets and obligations".
But no new oil and gas fields anywhere in the world are compatible with our climate change targets, so no assessment process that allows more fossil fuel developments to proceed can be robust or credible.
As host of the fast-approaching COP26, the climate credibility of the UK matters. The justification of new oil fields premised on the net balance of UK supply and demand is unlikely to appear fair to other countries, most of whom produce far less oil, and still less to France, Spain, Portugal, Ireland, New Zealand, Costa Rica, Belize, California, Greenland and Denmark, who have already made the commitment to keep their oil in the ground.

Help to support independent Scottish journalism by donating today.