Sacrificing Scotland's Farmers on The Altar of Free Trade
Staff vacancies among HGV drivers – caused by a combination of disasterous
changes
 to off-payroll working rules and an exodus of European labour following Brexit – have left many British supermarket shelves empty in recent weeks, with shoppers left to contend with crippling shortages of supplies. This situation has exposed the fragility of the UK's supply chains and put the issue of food security on the political agenda.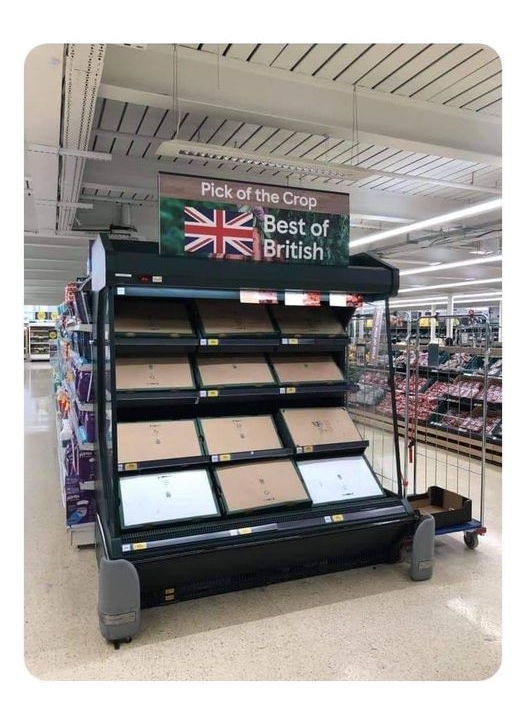 In the short term, improving working terms and conditions for HGV drivers could alleviate this problem and incentivise a new generation of drivers to take up careers in the haulage and road transport industry. But more long term questions about Scotland's food security – about where our food is sourced – remain unanswered.
The recently signed UK-Australia free trade agreement is the wrong approach and demonstrates that the British government has minimal interest in Scottish farms, boosting domestic output or increasing national resilience against food insecurity.
UK negotiators were weak and short-sighted. They capitulated to all of the Australian government's demands. After a 15 year implementation period, all quotas and protections on British produce will be scrapped, and Australian producers will gain unrestricted free-access to sell into the UK market. The Conservatives tried to deflect criticism of the deal by claiming it will open up exporting opportunities for UK farmers and – because Australian beef and lamb is not reared in accordance with 'expensive' and 'cumbersome' health and animal welfare regulations like UK produce – it will result in cheaper food and lower supermarket bills for Scottish consumers.
However, this is a classic example of the Conservatives understanding the price of everything and the value of nothing.
Flooding our supermarkets with cheaply produced and inferior-quality Australian meat may, indeed, result in marginally less expensive shopping bills for Scottish customers. But this will be at the expense of Scotland's farmers and our domestic agricultural sector. This is because the Australian deal sets a dangerous precedent. When 'Global Britain' soon begins negotiating free trade agreements with other great farming nations, like the United States, New Zealand, India and the Mercosur bloc, these countries will point to the Australian example and demand the same market access rights – zero tariffs, zero quotas.
The long term implications of this? Scottish farmers financially crippled by cheap imports of food. Undercut by competitors from abroad, the Scottish farming sector will slowly wither away and die as consumers opt for cheaper imports rather than local produce. Hundreds of small family farms face going out of business. Rural areas like Galloway, Ochil and Aberdeenshire will be particularly hard-hit by rises in unemployment and subsequent knock-on effects on business supply chains.
Today, 48% of food consumed here is imported. With the Scottish farming sector decimated, this figure will inevitably rise and we will become even more over-dependent on countries on the other side of the world to produce our food. This seems particularly short-sighted given the looming challenge of environmental breakdown. At a time when we should be reducing food transportation miles, supporting local farmers and buying more homegrown produce as a means of reducing our carbon emissions, we will instead increase our reliance on food flown in from thousands of miles away.
And what will happen, in the new few decades, if climate breakdown isn't averted across the world? Farmland that is productive and fertile today will either be submerged underwater or transformed into semi-arid deserts scorched by drought, compelling nation-states to fiercely compete for limited food resources. People in Scotland – in the absence of having a domestic farming sector – will face both massive price hikes and crippling shortages of basic necessities as food struggles to be imported in. It will make the current shortages look trivial and insignificant in comparison. How will our society function?
Being over-reliant on other countries for the vital necessities of our national life, like food, is a strategic error and security risk. Some assets and sectors are too important to be outsourced and sold off to the highest bidder.
That is why policymakers must think long-term and heavily oppose the UK Government's farm-killing free trade agreements. Having already destroyed Scotland's coal and steel industries, shipped our manufacturing jobs to low-wage economies overseas, squandered our North Sea oil and gas reserves and gutted our fishing communities, Scotland's farming sector cannot become the next victim of Westminster's short-sighted failed policymaking.
Sacrificing Scotland's farms on the altar of 'free trade' would not only be a moral failure and betrayal – as our farmers and their families have worked tirelessy to culviate their land over successive generations – but it would also be a tremendous act of economic self-harm and leave us weak going into the future.
Instead, Scotland desperately needs the powers to determine its own trade deals. We could sign smart and reciprocal trade agreements that put the needs of Scotland's economy first. We could increase domestic output and shield Scottish farmers from unfair foreign competition, whilst simultaneously boosting exports of first class Scottish produce to thriving markets across the world. Much of the specifics of trade policy will be dependent on what kind of relationship Scotland has with the European Common Market. But the fundamental point remains – bereft of economic power, and left at the mercy of free market fundamentalists in the Conservative government, Scotland's food security is inherently weakened. Reclaiming our independence and adopting a kind of muscular economic nationalism can remedy this.

Help to support independent Scottish journalism by subscribing or donating today.