Green Lairds and the Just Transition: Can rewilding save us from climate change?
Across vast swathes of rural Scotland, conservationists look at an empty and ecologically degraded landscape and see a source of hope. In the fight against climate change the land itself can be put to work. Meet the rewilders.
One fifth of the Scottish landmass is peat. 4% is native woodland. These are natural carbon sinks, with peatlands alone holding the equivalent of 140 years of our emissions.
The rewilding movement seeks to use nature itself to combat both the climate and biodiversity crises. Its advocates argue that large parts of rural Scotland have been turned into unproductive monocultures at the detriment of wildlife diversity. If returned to its natural 'wild' state through natural reforesting and the reintroduction of native species, the argument goes, the land would return to a healthier state and capture carbon.
But the future of land use is not merely a technical ecological debate. This is a fiercely contested question – and it is an issue that is coming into sharp focus as a new generation of investors seek to turn the dreams of rewilders into reality.
Most prominent is Anders Povlsen, the Danish fast fashion billionaire who is the UK's largest private landowner. Povlsen's Wildland Ltd has a "200 year vision" to "let nature heal, grow and thrive" across its large estates.
Such private, large-scale conservation attempts are not without their critics. Community Land Scotland, an umbrella group of community landowners, warn of an influx of "corporations, private individuals and institutional and absentee investors" seeking to buy large estates to take advantage of subsidies and the market in carbon credits. These new "Green Lairds", CLS argue, are exacerbating an overheated land market to the detriment of local communities.
The description of these wealthy rewilders as 'Lairds' alludes, quite deliberately, to a powerful folk memory: of an earlier generation of landowners who emptied the Highlands of people in the name of progress.
*
Few periods in Scottish history have as deep and ongoing a resonance as the Highland clearances.
The period – in which powerful landowners forcibly removed people from their homes in order to raise sheep, and later deer – had a profound cultural impact. And those changes were driven by the industrialisation that launched the carbon age.
In the mid-eighteenth century around half the population lived north of the Tay. This proportion fell rapidly as the central belt saw a rapid urban expansion, driven partially by Highlanders moving south from agrarian to industrial work.
That central belt expansion was coal-fired. Coal was an essential ingredient in the creation of iron, which allowed the construction of bridges, railways, factory machinery and steamships. Glasgow, on the doorstep of the coalfield running across central Scotland, became an industrial powerhouse. From 1750 onwards, cities closest to coalfields grew substantially faster than those without such proximity.
This revolution in turn changed rural Scotland. The Highlands were well placed to meet the growing demands for goods such as wool and kelp, key supplies for the emerging textiles and chemical industries. But meeting this demand required a radical reorganisation of society. Traditional small farmers were pushed out to the coasts or beyond and their lands turned over to sheep.
At the same time landownership itself was changing dramatically. Industrialisation had left the Highlands a poor satellite to the wealthy Lowland economy. As hereditary landowners were increasingly forced to sell their estates under the threat of bankruptcy, there was no shortage of buyers – almost all from the Lowlands or England.
In some cases these new lairds were motivated by ideas of modernising and improving these estates.  But often it was the 'wildness' of the land itself that was attractive. With the land emptied of people, affluent Victorians flocked to the region to enjoy tourism and bloodsports. The wealthiest amongst them sought an estate of their own – most famously Queen Victoria and Prince Albert themselves, who purchased Balmoral.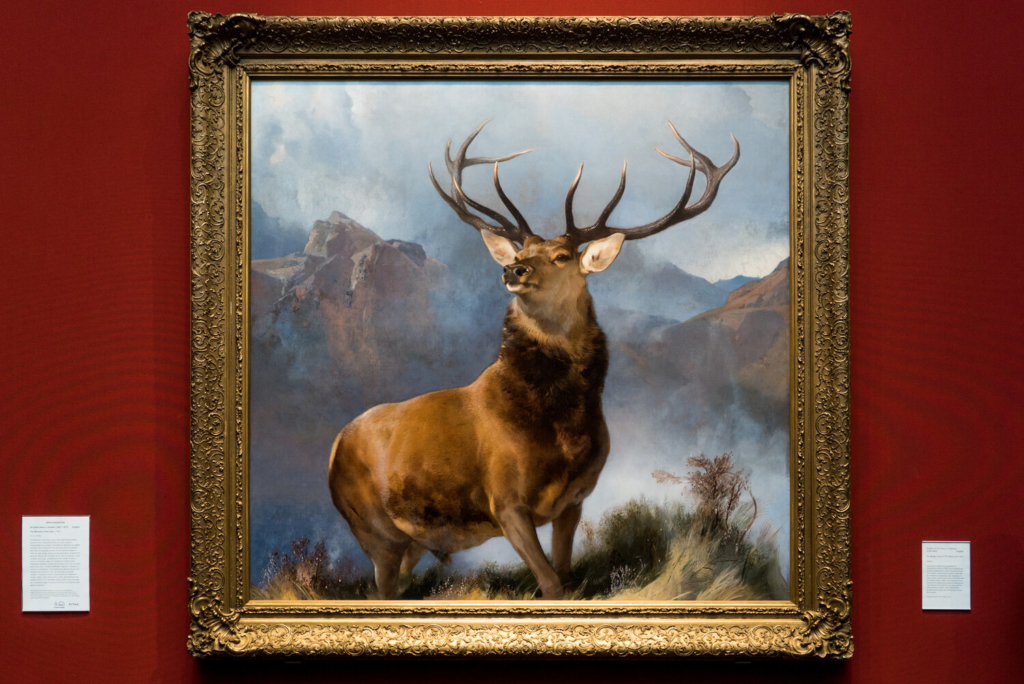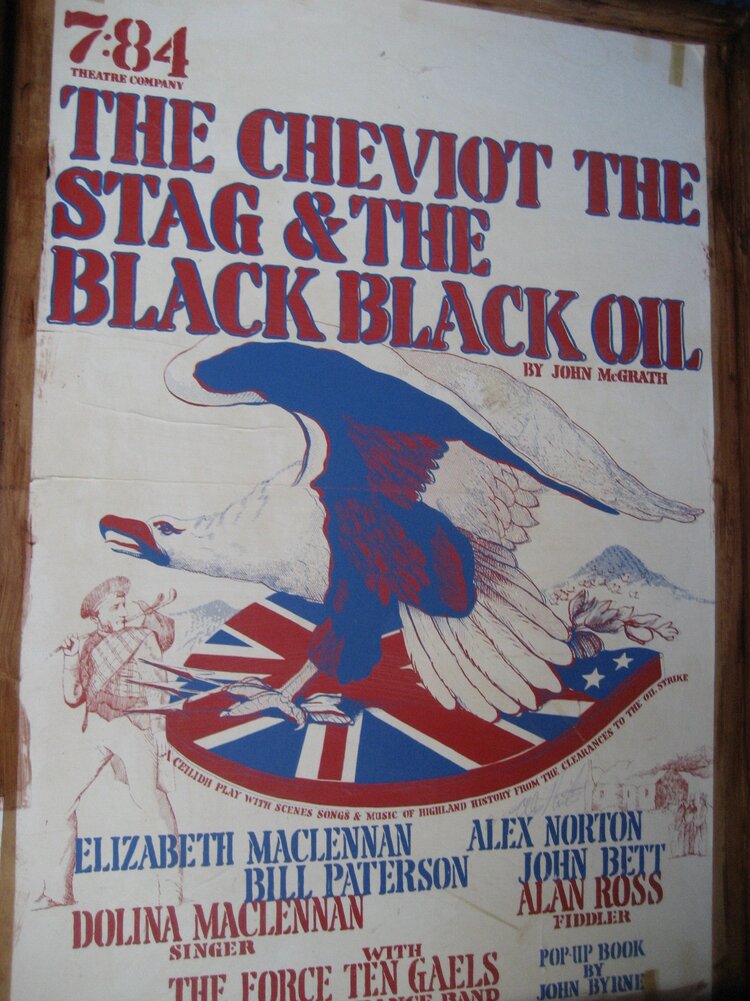 Images: Top, The Monarch of the Glen, Scottish National Gallery. Photo by Paul Hudson, published under Creative Commons. Above, poster for The Cheviot, the Stag, and the Black Black Oil. Photo by desomurchu archive gallery, published under Creative Commons.
This summer a group of prominent rewilders circulated an open letter calling for the Royal Family to rewild their lands, describing it as "a unique and historic opportunity to radically address the degraded state of nature on these islands". Balmoral, they argued, could become a temperate rainforest.
The call was criticised by Magnus Davidson, an environmental and social researcher at the University of Highlands and Islands. Davidson said that the call to rewild Balmoral "perpetuates the myth of the Highlands as this wild landscape where you can introduce landscape-scale changes… which is problematic when you consider the social history."
The social history cited by Davidson is that of a land that is not empty but emptied – it is not wild, but cleared. With many communities again facing the challenge of depopulation, this is more than an historic grievance.
The risk highlighted by Community Land Scotland is that a new generation of 'improvements' driven by external forces seeks to undo the ecological damage of the clearances without answering the social questions.
Community Land Scotland contrasts the Green Lairds with the projects undertaken by community landowners with tangible social benefits such as generating renewable energy, promoting active travel and improving energy efficiency, as well as managing woodlands and peatlands as carbon sinks. When empowered to do so communities can take effective climate action – which might even look like rewilding.
This is a lesson with a wider resonance. In an analysis of the distribution of low-carbon energy, the Strathclyde academic Fraser Stewart found that, while household-level wind and solar technology was most likely to be adopted by the affluent, community energy projects were more likely to deliver benefits to low-income communities.
*
In the mid-1960s the UK Government was grappling with a familiar problem: how to bring prosperity to the Highlands. In establishing the Highlands and Islands Development Board, the Scottish Secretary Willie Ross famously spoke of a collective guilt over the region's history, saying that "for two hundred years the Highlander has been the man on Scotland's conscience".
The establishment of the HIDB was a rejection of the idea that the region should be insulated from the modern economy. The Scottish Office described the view that industry would "spoil" the Highlands as "part of the romantic double-think that would enjoy the Highlands, but deny them the means of life".
While attempts to bring industry to the Highlands have met with mixed success, green energy could change that: the Cromarty Firth has been identified as having the potential to lead an industrial expansion in the next generation of offshore wind.
The ecological restoration of rural Scotland can play a key role in the transition from carbon. But for that transition to be just, it must be built on green jobs and shaped by communities themselves – to be repeopled, as well as rewilded.
This article was first published at Scotland and Carbon – which states: "Scotland & Carbon exists to examine the ways in which our economy and our society have been shaped by carbon – and how that historic legacy is shaping our transition to a post-carbon world. 
The point is not to wring our hands about an inherited ancestral guilt – or, as Christopher Silver describes it, to pay penance for "some kind of carbon original sin". We should be much more hopeful than that. By understanding the forces that have shaped our modern reliance on carbon we can better understand how to escape it.
Imagining a world without fossil fuels is difficult. A sense of historical perspective can help us do so."
Sources:
Community Land Scotland, Act on land to counter twin threats to Scotland, August 2021
T. M. Devine, 'Highland Migration to Lowland Scotland, 1760-1860', The Scottish Historical Review, Vol. 62, No. 174, Part 2 (Oct., 1983), pp. 137-149
John Turner, What can we learn from the role of coal in the Industrial Revolution?, Economics Observatory
Alan Fernihough, Kevin Hjortshøj O'Rourke, 'Coal and the European Industrial Revolution', The Economic Journal, Volume 131, Issue 635, April 2021
Eric Richards, 'Structural Change in a Regional Economy: Sutherland and the Industrial Revolution, 1780-1830', The Economic History Review Vol. 26, No. 1 (1973)
T. M. Devine, Clanship to Crofters' War: The social transformation of the Scottish Highlands (Manchester University Press, 1994), pp.63-83
Kirsteen Paterson, Campaign to rewild Balmoral criticised by leading land reform expert, The National (13/06/21)
Fraser Stewart, 'All for sun, sun for all: Can community energy help to overcome socioeconomic inequalities in low-carbon technology subsidies?', Energy Policy, Volume 157, October 2021
Andrew Perchard and Niall Mackenzie, ''Too much on the Highlands?' Recasting the Economic History of the Highlands and Islands', Northern Scotland, Vol 4(1) (2013), p.12
The National Archives Website: Discovery: The Scottish Economy 1965-70: Draft White Paper, p.56-8. Available from https://discovery.nationalarchives.gov.uk/details/r/D7660228
Experts focus on Cromarty Firth for offshore wind, BBC News, (20/8/21)

Help to support independent Scottish journalism by subscribing or donating today.