Alec Finlay – Manifesto For Urban Crofts
Writing is like trusting language and going for a swim in it
Alec Finlay is no ordinary poet. You wont find him hanging in pubs in cliques or poetry circles, you wont find him reading at "spoken word" evenings. Yet his work has a reach beyond most poets, turning up in places where poets dont go, in conversations poets dont have, in ideas ignored by poets.
"As a poet I'm interested in different written forms and the styles of expression that go with them. In recent years I've been writing what I would call poetic manifestos. These are political and also playful; they make a claim on the world, but they don't attempt the consistency of ideas intrinsic to a political manifesto, where the aim is a program of actions intended to make particular social change happen."
Hi latest project Manifesto For Urban Crofts, commissioned by Push The Boat Out Festival, reflects on the importance of urban green space in the context of the pandemic – in terms of the political, cultural, and healing – with specific reference to the inspirational concept of the urban croft in Leith, Edinburgh.
"I was inspired by Leith Urban Croft, which was conceived by Evie Murray, and is a contemporary twist on the traditional allotment, with an attempt to encourage a more communal approach, as well as broadening the social activities, helping with wellbeing, and giving young people an experience of nature and nurture. Some of the growing plots are run by schools. There's a wee cafe, they sell produce, and are developing a visitor centre. It's used by parents and toddlers, there are beehives, and a chess club. I think in terms of pandemic culture and climate breakdown, every park and green space should have an urban croft. It aligns with the idea of a 'culture of recuperation', which I've been thinking about for the past few years, and more specifically, with a project I did in Glasgow, with the Walking Library, exploring ideas of urban rewilding. It could also be connected to projects like Locavore."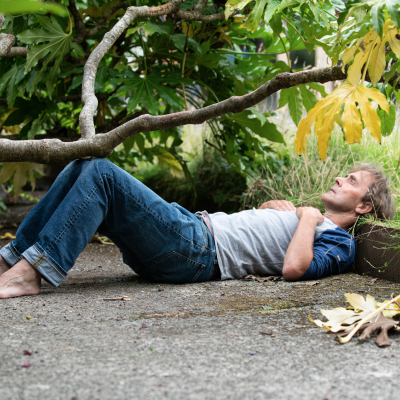 I asked Alec about his practice, what always strikes me is that it's only a few words yet they can say a lot more than many long-form poetry pieces.
"It's difficult to explain a practice once it exists: it's just the way that you work. I spent a day in the urban croft just watching how people interacted and enjoyed the characteristics of the place, and some of the poems are like simple transcriptions of that. I tend to make poem-labels as part of that practice, photographing the poems in the landscape they are about, and those function like a sketch. I've been growing a lot of plants at home during the pandemic, and some of the poems are fond or cheeky observations of that – cuttings are like a magical metaphor for how we can increase the goodness in the world without exploitation or commerce. The mown grass park that the croft sits within is rather dull, like an expanse of prose, whereas the croft itself contains humour, nurture, aspiration, and dinner, so it's kind of like I think of the best poetry.
"Other poems might come from language itself, which reveals connections that seem to pre-exist, in sounds or meanings, whether that might be puns or metaphors. Writing is like trusting language and going for a swim in it. It's also true that the few poems you start with will suggest others. You can see most of these pieces are pairs of poems, which began singly and then found one another, or even produced one another. The poems can be very modest, a few words, but once they belong in a series, or a family, then they make a context for one another, so the whole becomes more than the small ingredients, hopefully."
Alec's work is almost always, although not exclusively, outdoors. Sited not only in the framework of a political idea but within the natural environment.
"It's not that my poetry has to be outdoors, but some of the biggest possibilities exist in the landscape, especially the wild landscape. I have been working on the disability access project as a way to come at rewilding from a fresh perspective – what does it mean to heal the land, to come at it from the thrill-based desire of hunting, or even climbing, and consider instead a culture of recuperation. If you consider Scotland's wild landscapes then there's a vast area dominated by the desire to hunt, and now that is in conflict with new desires, to heal. As an artist that excites me."
Alec Finlay's Manifesto For Urban Crofts – Fri Oct 15 1.30-2.30pm Summerhall 
Push The Boat Out is no ordinary poetry festival. The range of poetry covered the issues discussed and the imaginative events mean you can view Alec's prints, attend a discussion on Class chaired by Jenny Lindsay, see exclusive new work by Hannah Lavery & Beldina Odenyo or have a pint and a game of skittles with Michael Pederson. You can read more about it in the link below

Help to support independent Scottish journalism by subscribing or donating today.