On COP Failures and Moving Beyond the Davos Cluster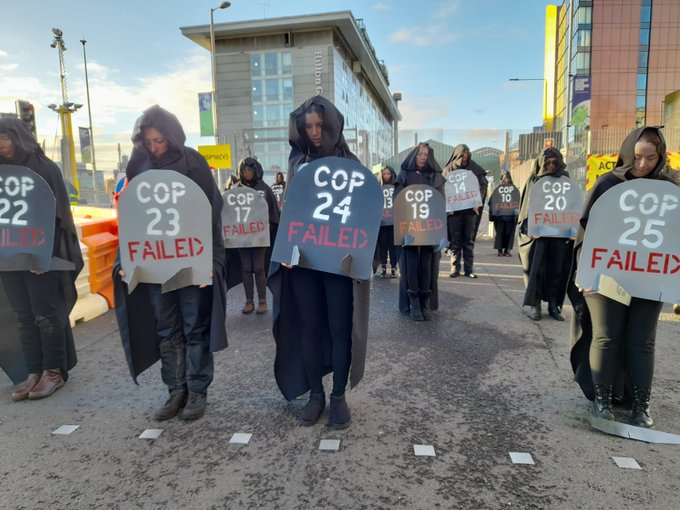 When will we end this madness?
Who was it who said revolution succeeds not when the poor rise up against the 'doing ok for now', but when both rise together? When would that ever be possible?
Maybe when the 'just about managing' and even the 'doing ok for now' look out at the suffering of so many children here and across the world – the subjects of 'benefit' sanctions by tax avoiding corporate media political bullies, the subjects of wage slavery in inhumane conditions in the global south, and of the appropriation of indigenous peoples community lands by forces acting for oil companies, palm oil, and fortress conservation like WWF.
When those of us who are 'doing ok for now' look out at that suffering, and recognise that the forces who are causing such pain, are also nailing our kids futures to the same.
Nailing our future to the same Davos crowd's insane worship of insufferable greed. Facebook, Amazon, Shell, BP, Murdoch n all. All these obscenely rich who 'succeed' by impoverishing people and planet, who cut 'benefits' while benefitting from maintaining loop holes so they can avoid tax, whose media and captured political system decides our Governments, who are wrecking our NHS as they stealthily privatise and replace it, who have long since bent the BBC and media, and are bending education and culture, to their narrative.
If those who think they're doing ok can move from passive compassion for those suffering poverty now, to an active insistence on halting an utterly unnecessary process of insanity, then we can begin to take back our world.
Kevin Anderson says "The power in maintaining the same narratives" has meant emissions have risen 60% since we collectively decided to reduce them 30 years ago. This "incremental greenwash is what, disturbingly, so many academics, senior NGOs and journalists have bought into.
"This Davos cluster has set the current narrative and is supported by the expert community who aren't prepared to think of new narratives, new imaginative ways to deal with the climate agenda.
"It's beyond the ability of that particular power cluster to think about these issues. And therefore the only way forward is probably going to be through different structures of power."
Well said @chilledasad100

In long-winded academic style we drew a similar conclusion to you in a recent paper. We also suggested a potential route for usurping the incumbents – hopefully through a Velvet Revolution https://t.co/GkofYUaH0H & in video form https://t.co/w7IMNVtlYl

— Kevin Anderson (@KevinClimate) November 12, 2021
Some words of came unexpectedly out of the gathered silence at Portobello and Musselburgh Quaker Meeting this morning, meeting at Bellfield in Portobello:
If fury is love enraged by injustice,
how to share it without burning,
how to be warmth, how to shed light?
If grief is love howling with loss,
how to plant our hearts fully in it,
deeply rooted, so we can grow?
If despair is love abandoned,
how to unravel its lonely silence,
how to meet, melt and flow?
How to be love?
This came out of feelings in response to the utterly unnecessary injustice of a COP that has done nothing to stop the ongoing Holocaust.
These are words that came out of an utter gratitude to all indigenous, youth, rebel, and other real leaders on the streets seeking to give full throated voice to life's song.
Be the hope you need to see in the world. Insist on truth, don't squander our future on accepting half lies. Insist on love, don't squander our present on hatred.
Those who have been born to power, or achieved power, may be trying to do their best, but their best is such a compromised place, their empathy is so muffled by their fear and their felt need to control. Their privilege has cauterised their empathy, has cut them off from their humanity. Doubtless not in every moment, but in those moments that matter to us all. When we need the fire of their empathy and courage all we get are the ashes of their compromised, control and fear.
They render themselves unable to listen to their own hearts, let alone to others suffering.
They need liberating from positions where they are utterly in the way of the huge change that is needed – the change from governing by control to leading by listening.
There are many who have engaged in the official COP process to rescue some openings for sanity. Their struggle in that space is made harder if we don't support them. Our struggle to replace that whole insane system is made harder if they don't support us.
Those on the 'inside' and those on the 'outside' need to recognise that we need to secure crucial tiny victories for constituencies of the marginalised, but we also all need to focus on the utter transformation of a system defined by fear and greed, by a lack of trust and belonging to our shared humanity.
Our humanity is not the problem, our problem happens when we don't engage our full humanity in opposing, defusing, and leaving behind an inhumane system.