Priti Patel Must Be Sacked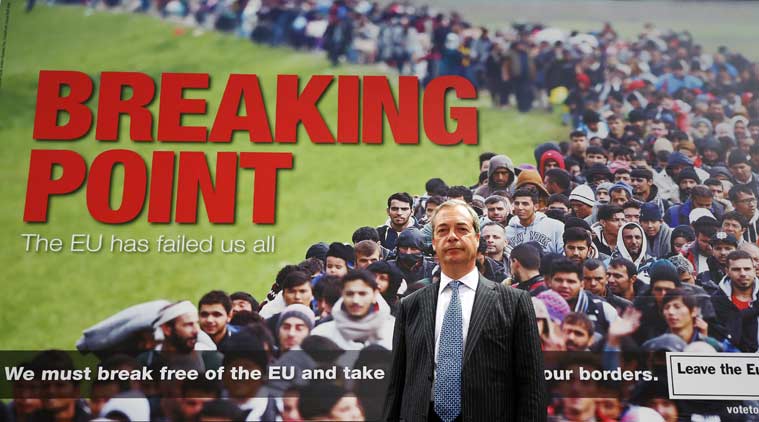 British politics is bewildering, and slightly terrifying. Here we are ruled by a government we didn't elect that includes individuals such as the Home Secretary Priti Patel who has presided over a toxic and racist immigration policy and cultivated an atmosphere of hate. This disastrous and inhuman set of policies has now culminated in the deaths of 27 people, including a pregnant woman and three children yesterday. The tragic incident has not unleashed a wave of remorse and a u-turn in policy from the British government but a doubling-down in the toxic rhetoric that spews from the Home Office and the far-right of the Tory party and its media outriders.
To be very clear this is a refugee crisis not an immigration crisis.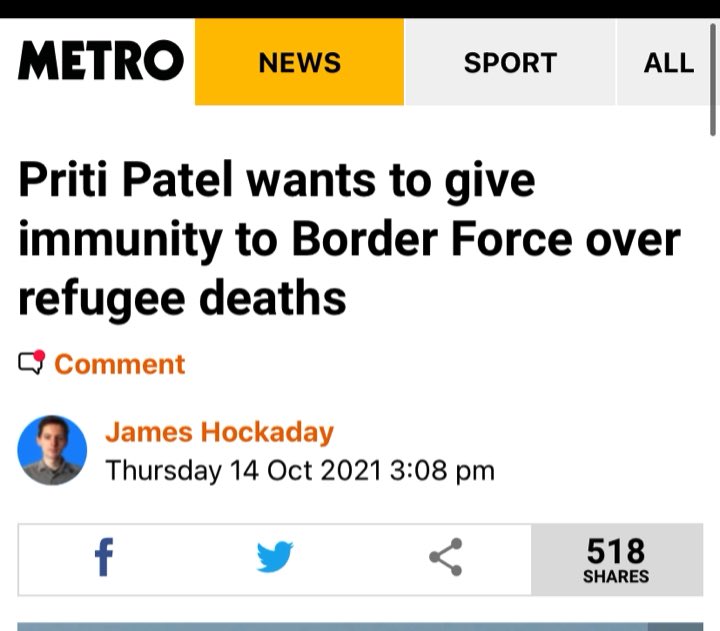 As Robina Qureshi, Director of Positive Action in Housing, a refugee and migrant homelessness and human rights charity said:
"Letting refugees drown is not asylum policy, it's tantamount to collateral murder by governments that should know by heart the lessons of the Second World War. The responsibility for these deaths lies with Europe and the U.K. who have abjectly failed to create safe corridors for the sliver of a fraction of the world's refugees who risk their lives on dangerous journeys to arrive on our shores. Instead of finding a humanitarian answer, they have stopped rescue missions and sounded dog whistles to the far right. The more that governments try to stop refugees arriving, the more they fuel the human trafficking trade, and the more refugees who will risk death by drowning in order to take a chance at fleeing persecution, in order to reach family already here and saving loved ones back home. Stopping refugees from reaching the U.K. goes against the Geneva convention on refugees. They have a basic human right to seek safe sanctuary here."
Instead we have a totally toxic media narrative about refugees cultivated by our own Home Secretary. Refugees do not have to seek asylum in the first "safe haven" they enter. There is no requirement for that in the Geneva Convention on Refugees to which the UK is a signatory. The reality is that she ended safe routes for refugees. She consistently demonises them. Just last month she said most people arriving here were "not genuine asylum seekers".
That was a complete lie as this report from the Refugee Council points out:
91% of people came from just ten countries where human rights abuses and persecution are common. These include Afghanistan, Iran, Syria, Iraq, Sudan, Eritrea and Yemen.
According to the Home Office 98% of people coming across the Channel apply for asylum. The report sets out the likely outcome of their asylum claims, based on what is known as the grant rate, meaning that people will be able to remain in the UK. It shows that the majority of people crossing the Channel are likely to be recognised as being in need of protection at initial decision stage.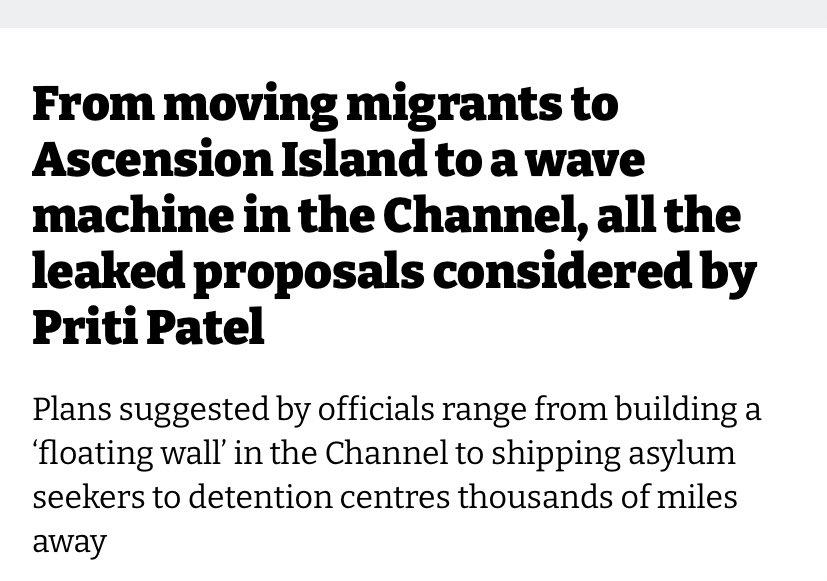 While the Home Secretary lies about the problem she has created myths of British exceptionalism take the place of humanity and decency. One myth is that Britain is a generous and enticing place which hands out great benefits and is a welcome shelter for so many (reality here).
In reality if you look at the refugee issue globally, UK's contribution barely registers. Many of these countries are much smaller than UK, all are poorer. The truth is that far more asylum-seekers make their applications in France, Germany and Spain, and have them granted, than in the UK. The UK processed 29,456 new asylum applications last year, down from 35,737 the year before and a peak of around 84,000 in 2002. Rounded to the nearest thousand, the 2020 figures for France, Germany and Spain are 82,000, 102,000 and 86,000 respectively.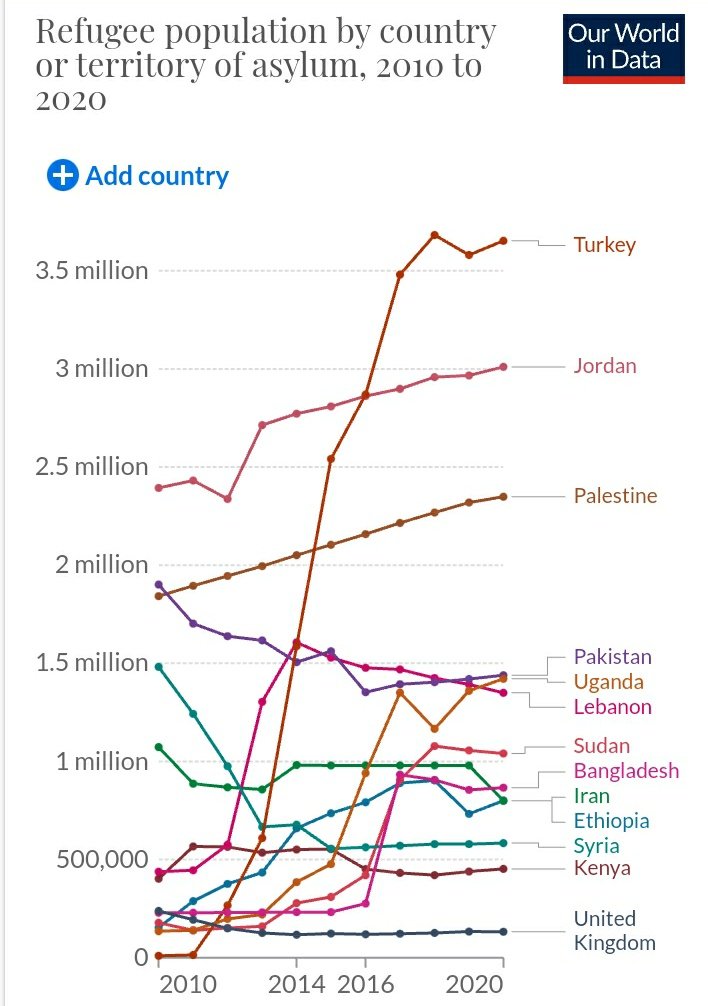 Instead of facing the crisis, the refugee crisis is being weaponised by Patel, Farage and the Brexiteers to push through increasingly authoritarian practices and to blame the French.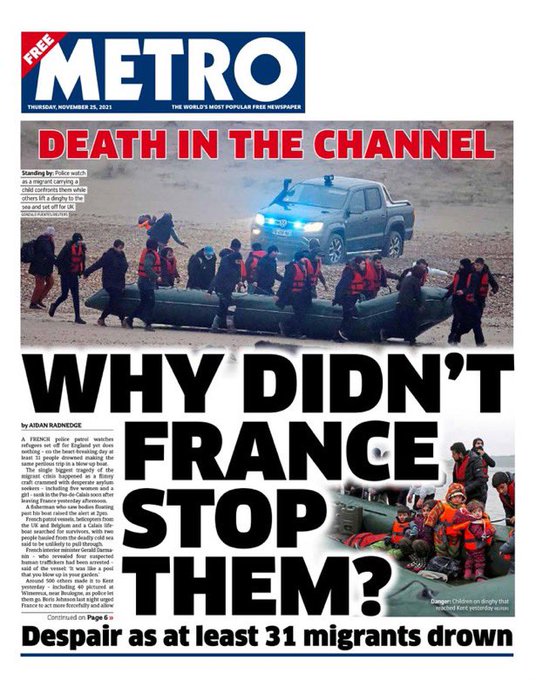 As Bella Sankey, the Director of Detention Action put it many in the media and the Government treats this as a political game:
"Rest in perfect peace all you souls who have perished in the Channel today. Just think of all the people hearing news of their loved ones tonight and dealing with that horrifying, excruciating first punch of grief. It is hideous that in 2021, the UK Government, with all its money and power, is content to sit by and allow the tiny strip of water that surrounds our island be turned into mass grave. Boris Johnson & Priti Patel could end this sociopathic farce tomorrow. But they won't. They will bang on about the French and the people smugglers. The only reason the people smugglers exist is because the UK operates a border on the French coast where people are prohibited from claiming asylum. We have created this problem and we could end it tomorrow with a safe corridor or a humanitarian visa. as funded an escalation of this crisis. Millions of pounds spent which leads to riskier journeys and so more & more children die. It's grotesque. Civil servants have warned our Home Secretary is a 'moron'. She's a national embarrassment and should resign immediately. Refugees in the UK tonight will be triggered and traumatised. Those of us who work with refugees are at breaking point. The Government treats this as a political game. It's not. If they were serious about stopping child deaths they would speak to us about how to end this. They don't. They vilify us and anyone who supports refugees. They are the ones gaming the system for their own political ends. It's self-serving, xenophobic, authoritarianism. It's terrifying and it should not be normalised."

Sankey is quite right. We must demand that the Prime Minister immediately sacks Priti Patel as Home Secretary for her culpability in this tragedy.

Help to support independent Scottish journalism by subscribing or donating today.