Enoch Land and the Overton Window
How do you write about what is happening in England? Sections of the country seems regularly in the grip of dark forces of racism it can barely understand or face. Yet to report or discuss this is often to provoke an uncomfortable response from others in Scotland. Asserting difference or commenting about English society is often seen as a terrible slur or an assertion of political or moral superiority. So the first thing to say is that Scotland is clearly not immune from racism, indeed it has its own unique forms (bigotry, sectarianism and anti-Irish racism amongst them). The second thing to say is that we cannot make generalisations about 'England' but can legitimately talk about political and social currents in parts of English society. The idea that you cannot or must not do this is itself a form of erasure. The idea that Scottish and English society comprise a sort of identical mass of political cultures is just wrong. Elements of English politics seem to have morphed and twisted in the last few years into an ugly politics that is almost unrecognisable. We need to be able to talk about this.
ANGRY FISHERMEN
On Saturday, 20 November an incident took in Hastings where a group of angry fishermen blocked a lifeboat from going to sea to rescue migrants crossing the English Channel. The RNLI made a report to police following the alleged incident which took place just a week after 27 people were drowned in the channel.
The incident was reported on the LBC call-in show.
Zoe, a caller on LBC, said she and her boyfriend saw the fishermen in Hastings attempting to prevent the RNLI (Royal National Lifeboat Institution) vessel from attending to an incident at sea.
She added that the fishermen shouted: "Don't bring any more of those [migrants] home, we're full up".
Zoe said: "On Saturday my boyfriend and I were just on the beach and we heard the lifeboat station opening up and thought 'oh they have a call' and started watching.
"There was a group of fisherman pulled up, gutting fish on the shore, and as the boat station opened up we heard the fisherman start shouting things like 'don't bring any more of those home, we're full up', 'that's why we stopped our donations', and that kind of really horrible stuff.
When LBC host James O'Brien asked her if she was "sure" about what she saw, she replied: "I'm absolutely sure, the police were called. "It really shook me to the core and we thought of it yesterday night when we saw the news that people had passed away again."
A spokesperson for RNLI confirmed the incident had been reported to authorities, and that the lifeboat was eventually able to launch. They said: "We can confirm an incident was reported to the police. The lifeboat was able to launch and the station remains on service."
After the RNLI's statement, Mr O'Brien tweeted: "I had no reason to doubt my caller's story but I didn't want it to be true…"
I don't want it to be true either.
This isn't normal. As the shift of what is acceptable or thinkable behaviour shifts we need to keep dragging back, resisting this and calling this out.
Immigration and the English Channel itself have become a sort of symbolic trigger-point for England's post-Brexit identity crisis evoking familiar memes and icons of war, history and isolationism, all carefully nurtured by the far-right inside government and out.
Charles Moore in the @Telegraph thinks judges and refugee smugglers are one and the same, equally responsible for the refugee crisis!
Also attacks ECHR/HRA/judicial overreach.
And cites @Policy_Exchange, quite unsurprisingly. pic.twitter.com/H1DL65Argt

— Dimitrios Giannoulopoulos (@DimitriosGian) November 27, 2021
Euro Finals
The Casey report on the England fan disorder at Euro 2020 final is confirmation of what we saw live on the day: a very large public event dangerously out of control with thousands of very drunk and high men smashing their way through into the stadium; virulent racism raining down against their own players; assaults on children young people and disabled supporters and widespread violence and mayhem.
One ticketless fan tried to impersonate a steward and hijack a disabled child, separating the boy from his father, to trick his way into the stadium.
The Football Association-commissioned report led by Louise Casey examined the events of the day of 11 July, when thousands of people without tickets tried to storm Wembley to see England played Italy, and tens of thousands more created scenes of mayhem on Olympic Way. The review describes what unfolded as a "national shame".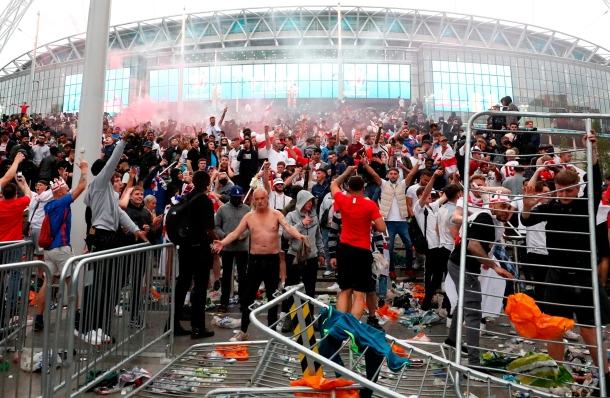 Casey said: "I am clear that the primary responsibility for what went wrong at Wembley that day lies with those who lost control of their own behaviour that day, not with anyone who did their best but lost control of the crowd" …  Nevertheless there are always lessons to be learned. No one was fully prepared for what happened that day and it can't be allowed to happen again."
I mean, "no-one was fully prepared for what happened" is just really strange and, given this has been going on for about forty years I see no reason why it won't happen again (and again) cos its not really about bad stewarding.
There was criticism, too, for the UK government, who first denied requests for more fan zones to relieve crowd pressures, then insisted that the FA expand the capacity at Wembley to 67,000 to prevent tournament Uefa moving the match to Budapest, which would have been a national humiliation.
But much of the report is just procedural with criticism of stewards and policing and operational mistakes, as if this is the point, and stained with a sort of pearl-clasping shock that such a terrible thing could happen rather than observe that this was and is the inevitable conclusion of decades of English football violence across continents and the inevitable manifestation of years of political 'leadership' that fed and curated a daily diet of outright racism and xenophobia.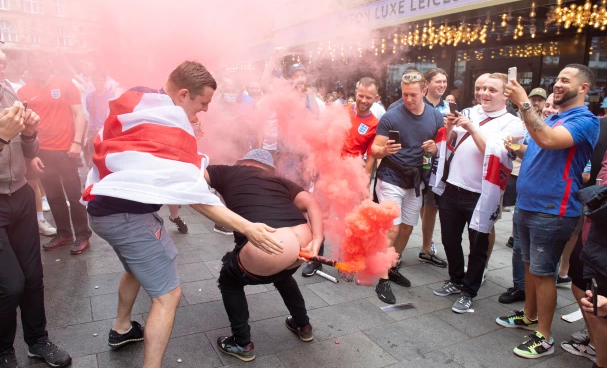 Nor is that level of normalised racism confined to the red-tops who have sent decades nurturing a blame culture that demonised people of colour, minorities, and immigrants and now obsess about borders and openly talk about "turning back" desperate refugees. Now the Overton Window has been moved and much of this narrative has spewed out onto the mainstream press agenda and broadcast news.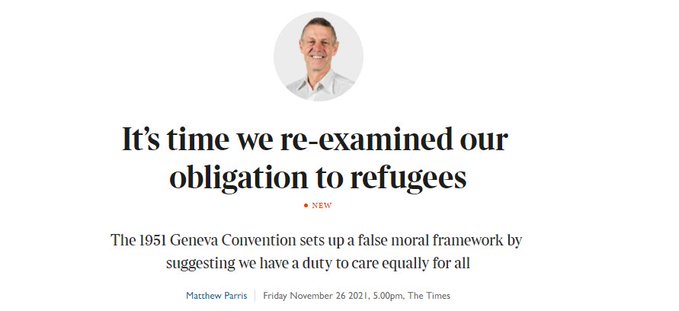 This unfolding degeneration of values in public life and of attitudes and views that would have been held in the margins in the past has been going on for some time. Back in 2017 Colin Kidd explored this post-Brexit moment in the London Review of Books, and its consequences for wider British politics:
"Scottish nationalism, for all its faults, has matured politically, and the SNP barely resembles the clownish, Jocks-in-the-heather party of its early days. The leaders of Scotland's civic nationalism have learned to curb ethnic excess; instead they embrace interdependence, sovereignty-pooling and the EU. England's reborn nationalism, by contrast, has barely emerged from its swaddling clothes. Ukippers and hard Brexit fantasists have still to learn the basic ABC of a post-sovereignty world. However, the crassness of their response to its complexities makes it all the more difficult for nationalists north of the border to present a plausible vision of their own independent future."
He continues:
"Last June's xenophobic campaign and the Brexit vote that followed have left Scots – even the most unionist – estranged from the idea of Britain. In the months before the independence referendum of 2014, a large body of undecided Scots, while alienated from the Englishness of Toryism, the Home Counties and the City, still felt torn between a sense of solidarity with ordinary working people in the North of England and a desire to create an independent Scandinavian-style state. Some of those voters stuck with the Union; others – though still nostalgically attached to British ideals of social democracy – took a chance on independence. But Brexit, ironically, has expunged the notion that a British nation with a common set of values exists north and south of the border. England now seems foreign, a country that espouses the anti-EU and anti-immigrant values once associated with Enoch Powell. The Anglo-Scottish Union survives, for the moment, because, with oil prices low, an independent Scotland divorced from the English economy would be unable to sustain much in the way of a welfare state. Nevertheless, Britishness is shrivelling. Enoch-land repels."
There are continuities of racism between Scotland and England, and England is in many ways a much more multi-cultural society than Scotland is. But it's important to talk about the massive changes and shifts in public life that we are living through that have been blessed and become acceptable and that need to be resisted.

Help to support independent Scottish journalism by subscribing or donating today.