Come Together on Plague Island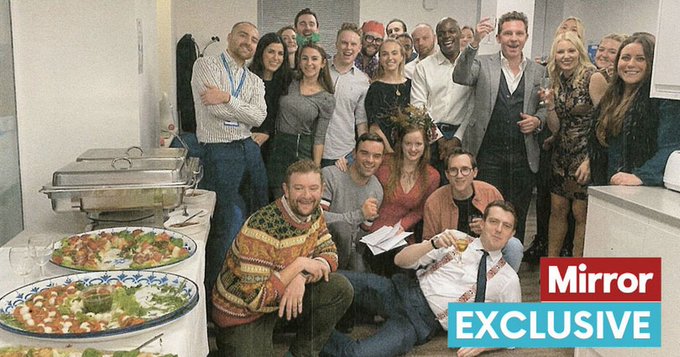 As we wait each day to see what chocolatey delight Pippa Crerar's Advent Calendar of Government Sleaze will bring us, events on Plague Island (aka Global Britain) with its pithy interchangeable catchphrases "take back control" and "get boosted now" are unraveling fast. As we watch Britain's reputation descends further into chaos and disarray Scottish Unionists are getting more and more desperate. Adam Tomkins has come out demanding that Unionist parties stand aside at the next election putting up only one candidate for all voters to get behind.
He said: "The Yes side are united and the No side are divided, which is the only reason the SNP are still in power." His solution is for the Tories, Labour and the Lib Dems to come together: "I am interested in a much more ambitious configuration of Scottish politics, and which I think is necessary to meet and eventually defeat the challenge of the SNP.
"You've got to have a single, unified, anti-SNP or pro-Union candidate standing. I would lock Anas Sarwar, Douglas Ross and Alex Cole-Hamilton in a room together and not let them out until they reach an agreement. I just think it needs to happen." He claimed: "Eventually it would lead to their defeat."
Tomkins said the failure of his party to consider this option was a reason for quitting Holyrood. (Lols, Ed)
As a sign of desperation, it doesn't really have any challengers. I'm not sure it would actually work, and it's certainly not going to happen, but as a symbol and sample of where the opposition parties in Scotland are right now, it's a lovely insight. The desperation isn't just about how this gerrymandering comes across, it's also an insight that the parties don't have clear policy aims or strategies or principles beyond "defeating the SNP" or preventing a democratic vote on self-determination from taking place. The Anti-SNP Party (ASP) has at least in its favor a singular aim and message: "we are against whatever the SNP are for and we will oppose any attempt to hold a democratic vote on Scotland's future".
Meanwhile, Britain, the concept and the polity they are obsessed by descends further into nationalism, separatism and isolation, the irony is dark.
Here Penny Mordaunt on a US tour stakes out a 'global battle between two competing versions of democracy' and frames Brexit as a war on one side calling for the US to join Global Britain Inc in this war (against the EU) "because peace and prosperity don't happen by accident."  This is mind-numbing levels of self-delusion mixed up with weird-Brit saber-rattling:
I found video of that Penny Mordaunt US-tour speech and it sounds worse than it even reads.

To be clear, Mordaunt is framing Brexit as a war and telling America it has a responsibility to be on our side and against the EU, "because peace and prosperity don't happen by accident". pic.twitter.com/x2RiXlVqqb

— Alex Andreou (@sturdyAlex) December 16, 2021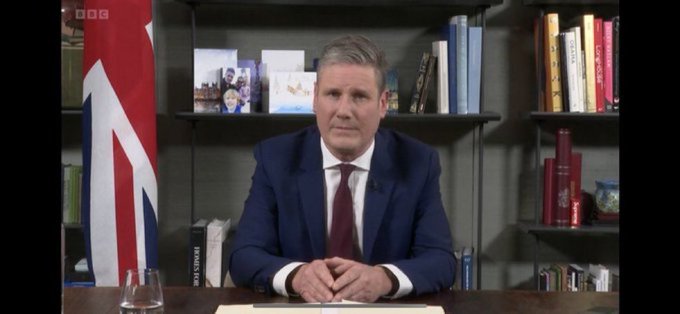 Here – as Johnson and Starmer use the Omicron variant as a battle to posture in Brass Eye levels of closely contrived statement and 'national broadcasts' merging into an orgy of Statesmanship, orphaned centrists everywhere were glued to Sir Keir's iconic presentation. As Starmer was widely panned for his innocuous language and his use of the Union Jack John McTernan wailed:
"Extraordinary that the "left" are so triggered by flags, family photos, and patriotism. It's because I love my country I want a Labour government."
Except of course John and his colleagues only recently campaigned against a Labour government when it was one they couldn't control and curate.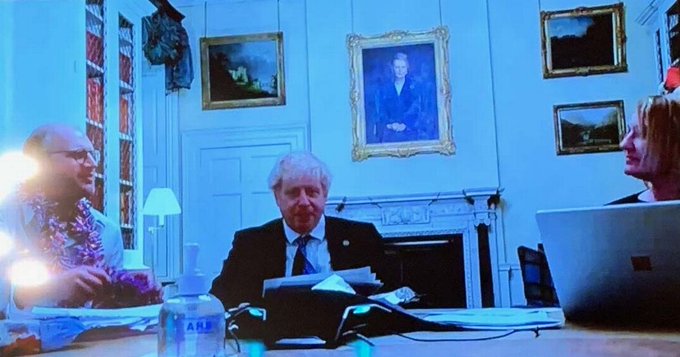 So here we are looking at a rapid collapse in standards in public office, in open sleaze, and a torrent of lies that are exposed as such almost immediately. Post-Brexit, mid-pandemic Britain is a carnival of the grotesque and the vision from our home-grown Unionists is to imagine "a much more ambitious configuration of Scottish politics" which means a single unified party with a single unified mission.
Beyond this, there are problems with the Unionist (feint) hope that the pandemic would prove how vulnerable Scotland is – and how dependent we are on that benevolence of the Union, and Rishi's marvelous handouts. Except that's not where we are. As Nicola Sturgeon has said on the recent myths of "additional money":
"The net effect of yesterday's Treasury announcement appears to be that @scotgov is £48m worse off than we thought we were before the announcement. The total we were expecting in January was £268m…we have just been told the actual amount is £220m."
"Each of the 4 UK governments is responsible for protecting public health in their own country. But only when UKG takes decisions for England is funding triggered, leaving the rest of us trying to protect health with one hand tied."
As we settle into the fourth week of the Festive Scandal Season, No voters have to ask themselves: is this what I voted for?

Help to support independent Scottish journalism by donating today.