Inside the Tory Civil War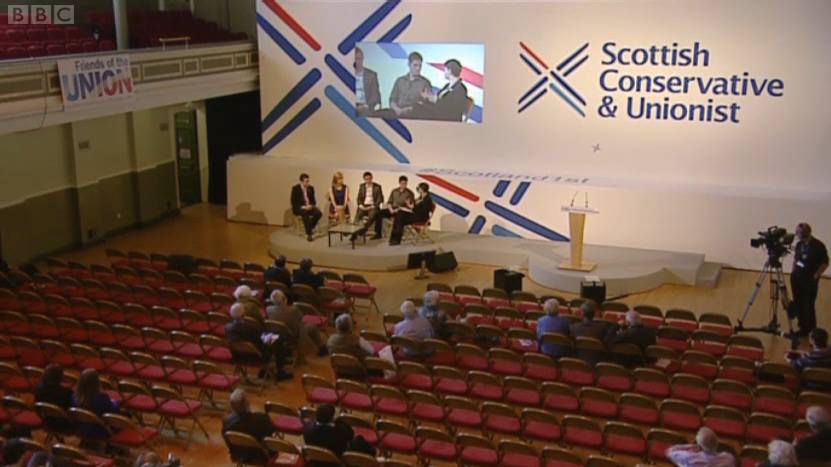 The fallout from the Johnson debacle is unfolding hourly and one of the funniest outcomes is the Tory civil war.
A recap.
Even the Tories hate the Scottish Tories but not as much as the Scottish Tories hate the Tories that they voted for and urged us all to vote for. Their meta-message is this: these people are disgracefully unprincipled and toxic and we can't be associated with them, but you should be ruled by them forever.
It's an odd message, but that's it's essence.
The Scottish Conservatives are caught in a Thought Experiment they can't comprehend. Every piece of their lived experience points to the fact that they would do so much better if they were able to make their own decisions and create their own policy base and to sever links with the 'UK' party and its toxic individuals and deeply unpopular policies. But they can't do this because they have spent the past countless years defending these disastrous policies and promoting their disastrous colleagues.
Having spent the last two decades arguing fervently for 'dependence' the idea of having to shift tack and embrace the obvious logic of their own 'independence' is so difficult they are in absolute trauma.
The party is split between MPs and MSPs, between the internal class division of individuals, between those still desperately supporting the Prime Minister and those throwing him under the bus.
Blue on Blue
Jacob Rees-Mogg yesterday took to the airwaves to say "Douglas Ross has always been quite a lightweight figure" on Newsnight. Jacob Rees-Mogg MP says the Secretary of State for Scotland "is a much more substantial and important figure in this".
The gloves are off as Johnson's colleagues desperately try to circle the wagons and defend their beleaguered leader.
The media are in rapture at Douglas Ross calling for Boris Johnson's resignation. Not since the days of Ruth Davidson being lauded as a future Prime Minister (this actually happened kids) have we seen such lavish praise on a Scottish politician. For London-based journalists the Scottish Tories are like some beacon of sanity, they are untainted (in their eyes) by connection with their southern counterparts. Scottish Tories, it's true, will never see the offices of power and so remain unsoiled by government. They remain in a sort of limbo – useless and reactionary – but in comparison with their venal Westminster colleagues they are viewed as being the Salt of the Earth.
Ross and his new supporters have short memories. Ross was a deeply embarrassing Johnson Super Fan. On July 6 2019 he gushed: "After a great performance at the Scottish hustings in Perth last night I've completed my ballot paper, supporting @BorisJohnson to be our next Leader and Prime Minister."
Moray Ross
If Ross was described as a 'Man of Steel' by Adam Tomkins today (does that make Boris Johnson Lex Luthor?) – a closer examination would suggest he's actually just a shameless opportunist with very poor judgement. If – as is still possible – Johnson clings on to power – Ross's place as leader must be in serious trouble, and there are two major problems with his support for Johnson's leadership bid two years ago.
First, everyone and the dog in the street knew everything about Johnson's character flaws: being a blatant racist, a stranger to the truth and a man who had multiple examples of dodgy dodgy ethics. Ross's current surprise at the turn of events doesn't wash.
Second the one thing that is used in Johnson's defence is "he got Brexit done". This is as if Brexit is somehow a triumph of diplomacy and negotiation and an economic panacea – instead of being a global humiliation and an act of economic self-harm on an unimaginable scale regularly described as the worst international moment for Britain since Suez.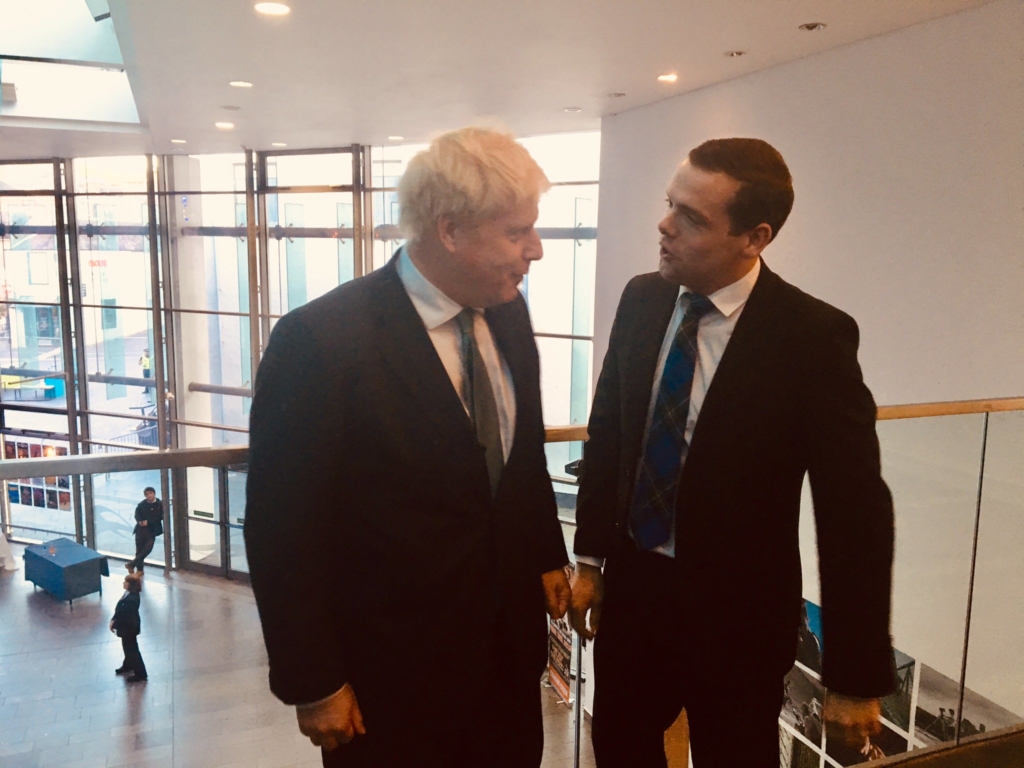 Of all the factions currently fighting it out in Toryland, none are more bitter  than that between Johnson appointments (Alister Jack) and Holyrood based home-grown Tories.
You'd be forgiven for having forgotten Jack existed at all, such presence does he have. Then, now and again, out of the blue he'll pop up like scared rabbit and give some incoherent 60 seconds to the media.
Today he left cover to take to the radio to today and announce:
– his 100% backing for PM
– he won't pre-judge Sue Gray report
– he tried to stop Douglas Ross calling for PM resignation
– that Mr Ross not a "lightweight" as Jacob Rees-Mogg claims
– there is no Tory civil war (despite it being witnessed before our very eyes).
Another wonder of today's scrapping was the brief re-emergence of Annabel Goldie, the matronly but useless leader who everyone thought had just disappeared back to suburbia. But no! It tuns out she's a Defense Minister! Who knew?
The poor Scottish Tories are caught between a rock and a hard place. Option 1: stick with the status quo and watch their reputation (sic) and their vote diminish further as they are dragged down with the Johnson omnishambles. Option 2: declare themselves an independent party and effectively articulate ALL of the arguments for independence. This would no doubt be both hilarious and highly damaging. As Henry Hill notes in The Spectator ('The Scottish Conservatives should not secede from Boris Johnson'):
"…in the longer term, a split would turn the Conservatives from a vital pillar of the Union into yet another force slowly eating away at its foundations."
All of this is true, but now swirling about this chaos is the news that Boris Johnson has just announced a new council – which he will chair – that will bring together devolved leaders across the UK. The move – announced today – is "designed to improve working between the nations."
It sounds like a surefire winner.
There's no apology for more than a little schadenfreude about this post. It's been a tough year or two and nothing can quite lift the spirits than watching the Tories tear lumps out of each other in a desperate bid for their own personal survival.