In Gray Time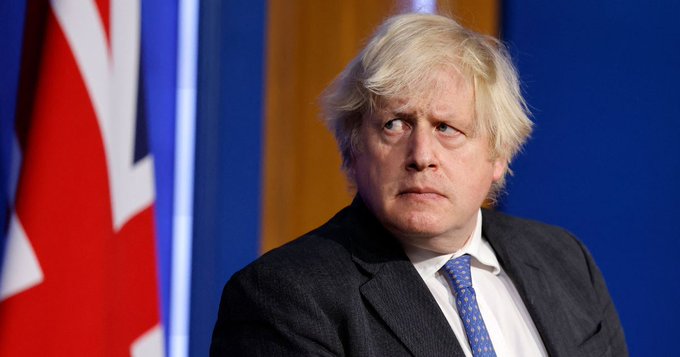 The period between the revelations about Johnson's parties at No 10 and the report by Sue Gray is extending into an extraordinary time of morbid revelations and breakdown of the existing order.
Having listened to GMS this morning with a queue of Scottish Tories giving car-crash interviews about their relationship to our disastrous Prime Minister (more of a pile-up than a broadcast),  I was heartened that Boris Johnson might survive his current ordeal leaving Douglas Ross and his colleagues dangling. Stephen Kerr, the Chief Whip for the Scottish Tories in Holyrood appeared on the radio (from 2.07 here) to try and reconcile his absolute belief in the greatness of his leader and his absolute belief in him being unfit for office. Under questioning from Gary Robertson Mr Kerr struggled explaining first that:

"I felt sorry for him in the worst possible sense of those words."
Confusingly he then stated:
"My conclusion is that on this instance the Prime Minister has been wholly truthful at the despatch box but by his own words .. he has to leave office."
Up next came Conservative Andrew Poulson, joint leader of East Dumbartonshire Council who squealed: "It's not a question of whether he's an electoral asset!"
"He has had many successes!"
Then, stretching credulity he explained:
"I don't think our electoral chances would be any better or any worse whether there was a different Prime Minister."
This was reaching into Chemical Ali regions of self-delusion.
Man of Steel
Any joy at the Scottish Tories floundering in their own catastrophic misunderstanding and strategic incompetence was short-lived. Mr Kerr and Mr Poulson were dazed and confused by encountering 'principle' and the tricky task of navigating through their simultaneous adulation and condemnation of Boris Johnson while also explaining how Douglas Ross was a very respected and influential Man of Steel.
While watching the Scottish Conservatives festering in a pit of their own hypocrisy is fun – the prospects of Johnson surviving are now looking unlikely. Today's revelations of blackmail and intimidation will have to tip the scale against the beleaguered Prime Minister.
None of this should come as any surprise after the (now infamous) 2013 interview with Eddie Mair in which Mair asked Mr Johnson whether he was in fact "a nasty piece of work". Mair, who was standing in for Andrew Marr on the The Andrew Marr Show, grilled Mr Johnson about his dismissal from The Times, accusations that he lied to then-Tory Leader Michael Howard about an affair, and a phone call that revealed Mr Johnson telling a friend he would give him the private address of a reporter whom the friend had threatened to assault.
Today William Wragg, chair of the Commons Public Administration Committee, revealed Tory colleagues had been subject to intimidation by the party whips over their perceived opposition to the Prime Minister.
These are very serious allegations and suggest that the culture of partying is mirrored by a culture of smear and intimidation. Part of this is normalised in Westminster's bizarre whipping culture but this now reveals a whole apparatus that is broken and unfit for purpose. The idea that threats to withdraw public funding from constituencies is a form of corruption.
Liar, Bullshitter and renowned Moral Incontinent
This is a further breakdown of British democracy. Britain is now in crisis on multiple fronts. It has an ongoing rolling constitutional crisis in Scotland and Ireland; it has a post-Brexit and post-pandemic economic crisis that is scarcely recognised and it has a political class that is haemorrhaging credibility from a very low starting position.
All of this is presided over by a comedy act.
The Tories hypocrisy is matched entirely by that of the media. As Aditya Chakrabortty has written:
"On the last Sunday before the 2019 general election, the Sunday Times cast its vote. "Mr Johnson is regarded with some suspicion by voters," its editorial admitted. "He has an on-off relationship with the truth," often preferred "bluster to grasp of detail", and had a "colourful private life more typical of a French president". Nonetheless, the paper urged its readers to put a liar, a bullshitter and a renowned moral incontinent in charge of the country. In making this argument, it was joined by the vast majority of national newspapers, and by the end of that week they got their wish. Over the past few days, those very same papers have discovered that a liar, a bullshitter and a moral incontinent runs the government. They are, naturally, horrified."
Johnson's moral character may not be a revelation to many but the whole edifice now seems close to collapse.
This shows both the status of British democracy and the fact that the 2019 vote was extraordinary and completely over-amplified Johnson's political 'powers'. New polling from Channel 4 shows the Tories would lose all but 3 of the 45 seats in the 'Red Wall' constituencies. Starmer isn't going to win as much as stand back and watch the Tories collapse.
The 2019 victory was one based on a completely unelectable Labour leader and in the prism of England's breakdown of self-identity over Brexit. These historic oddities have masked and boosted Johnson's political capital which has now evaporated over night, but the crisis is far deeper and the malignancy far wider than the moral failings of one man.

Help to support independent Scottish journalism by subscribing or donating today.