RIC Revived
On January 29th, the Radical Independence Campaign held its first AGM (on Zoom) since the dramatic events reported in Bella Caledonia a year ago.  The RIC Revivers have reconstituted local groups and are setting up new ones.  Delegates and individuals attended the AGM from the Borders, Clydebank, Dundee, East Kilbride, Edinburgh, Glasgow, Inverness, North Lanarkshire and Stirling.  Our Aberdeen contact was cut off by Storm Malik!  Angus & Mearns, whilst unable to attend, sent in their support for the proposals, which had been circulated beforehand.  Two new affiliated organisations, the Republican Socialist Platform and the SNP Socialists, also attended, whilst individual Scottish Green members were able to announce that their party's emergency general meeting, held earlier that day, had just voted to look into reaffiliation.
Over the past year, RIC organised a very successful conference on June 12th with guest speakers, Blair Anderson, Graham Campbell, Brenda Eadie, Janet Fenton, Katie Galloghly-Swan and Annie Lane.  This had breakout discussions and practical sessions.  RIC also formed part of the Cop-26 Coalition last November.  Our activities were favourably reported by Nan Spowart in the Sunday National.  This article covered RIC's special emphasis on the role of stateless nations and indigenous peoples throughout the world.
One of the key issues discussed at our AGM was a revised set of principles.  The original 5 Principles were devised in the context of an official UK/Scottish government referendum.  It soon became clear that even if the independence vote had been won on September 18th 2014, the likely outcome of the subsequent negotiations would have been decidedly Indy-Lite.  The SNP even proposed to bring leading Scottish Unionists, including Gordon Brown, into their side of negotiations!  
Today, we are no longer the same political situation.  Johnson's reactionary unionist government is prepared to resort to a wide range of the UK state's anti-democratic Crown Powers, not only to prevent IndyRef2, but even to roll back the limited democracy conceded under the 1998 Devolution-all-round deal.  And we need allies across these islands (and elsewhere, e.g. Catalunya), organised on an internationalism from below basis, to counter their anti-democratic 'internationalism' imposed from above, and their alliance with the USA, and any other power opposed to genuine national self-determination.  Against all those who would seek to divide us, RIC also emphasises the principle of unity and solidarity in our diversity.
Therefore, it was unanimously agreed to adopt a new set of 6 Principles suitable for the changed conditions we face.
"The Radical Independence Campaign (Scotland) is a campaigning coalition which stands for and organises around the following Six Principles
1) For a democratic, secular, socially just and environmentally sustainable, Scottish Republic
2) Action based on the sovereignty of the people not the UK Crown, leading to the setting up of a Constituent Assembly
3) Action to establish universal health, care, education, housing, income, pensions, and trade union rights; and to win land reform and challenge environmental degradation
4) Equality and opposition to discrimination on grounds of sex, gender, sexuality, race, ethnicity, religion/belief, disability or age
5) Solidarity with the struggles for workers' rights, democracy and self-determination, based on internationalism from below 
6) Support for Scotland's artistic and cultural revival and all its languages" 
After a thorough discussion a new constitution was also agreed.  This incorporates the best features of the old one but ditches those that did not work and left many individual members without regular contact.  There is now a national membership, which is encouraged where possible to work in the Local Groups.  Those members, not in Local Groups, can participate in the activities of the national Working Groups.  The new constitution ensures that control rests with active Local Groups and affiliated organisations.  There is no executive body.  Elected office bearers are directly responsible to the bimonthly National Forum delegates.  The Working Groups help RIC members to be active in a wide range of political, economic, social and cultural/artistic activities.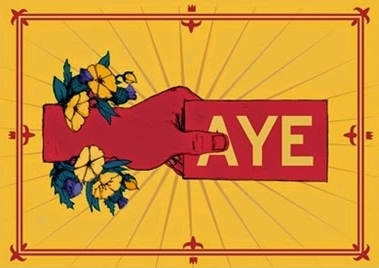 The AGM also discussed our next major conference, to be held in June, around the theme 'For a democratic Scotland in an environmentally sustainable world'.  As with last year's conference, there will be a wide range of guest speakers, plenty of discussion and practical workshops as well.  A Working Group is being set up to organise this. 
Furthermore, now there is the real prospect of Covid-19 receding, RIC Local Groups and members will once more be more active in public events.  These will include the All Under One Banner demos.  We will also continue to involve ourselves in local, national and international campaigns, consistent with our Principle 3.  We join these campaigns to offer our support, not to try to manipulate and dominate, as unfortunately some others have tried to do.   We try to persuade people through our solidarity, printed and online media, and open meetings.  In this way we seek to win support for the democratic principle of upholding the sovereignty of the people and for our vision of an independent Scotland.
Image credit: Daniel Seex