For a new Singing Revolution for Bairns Not Bombs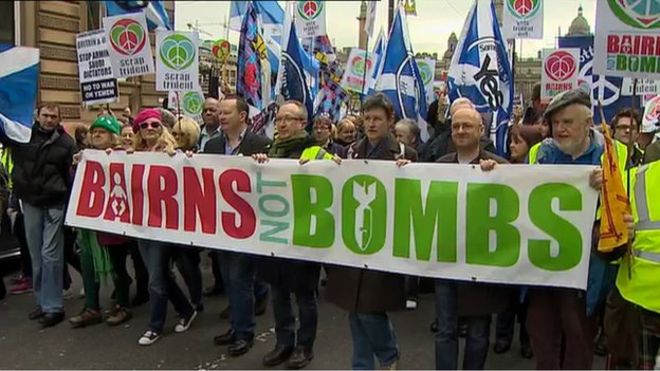 Way back in the late 1980s, the Tron Theatre in Glasgow held a mini-festival of theatre from the Baltic states (Lithuania, Estonia, Latvia). It was something like 'celebrating small northern European states' and the sub-text wasn't subtle. But the Scottish hosts met their visitors with complete incomprehension. The theatre bar was decked out with huge red flags with the hammer and sickle. It would be like hosting a Scottish nationalist convention festooned with Union Jacks. The Scottish theatre world – at peak anti-Thatcher fervor – met their confused Baltic counterparts who were celebrating their move to freedom and embracing the market economy. Mutual confusion (and whisky and vodka) followed.
It was the Baltic 'Singing Revolution' (a massive campaign of civil resistance against Soviet rule) from the late eighties that led eventually to the dissolution of the Soviet Union. On 23 August 1989, the Baltic Way, a two-million-strong human chain, stretched for 600 km from Tallinn to Vilnius. The Soviet Union recognized the independence of three Baltic states on 6 September 1991 and the last Russian troops were withdrawn in August 1994.
Fast-forward twenty-eight years later and we are watching the capital of Europe's largest country being shelled by Russia on live television. 'Glasnost' and 'Perestroika' have been replaced with militarism, imperialism and macho-authoritarian posturing and violence.
The orthodoxy that Putin wouldn't do this, couldn't do this, or that he would annex 'only' a section of Ukraine (as if that would be fine) is out the window. The rhetoric from only a few short days ago was that the idea that Russia would invade Ukraine was just ridiculous. The very idea was being (somehow) 'talked up' by 'the West', whose fault all of this was. It was hysteria.
All that's gone.
So too is the much-parroted line about Putin's genius – his tactical savvy and cunning.
Now it's clear that not only are the 'rules' of international affairs torn up – but as in so much of life and the contemporary world – we don't have control over very much at all. Even the idea of the end of the Cold War and MAD which had been one of the few great gains of our lifetime has now disappeared in just a few crazy days. The condition of radical uncertainty that permeates most of our world has just opened up a whole new frontier. Putin's threat that anyone who interfered with Russia would meet consequences 'the likes of which we have never seen in world history' was a clear threat to use nuclear weapons.
And that's where this comes back to Britain and Scotland. Because one of the great lies about the Union is that it gives Scotland safe-harbor in the world. Britain's famously broad shoulders and endless economic benevolence is matched by its military might. This, so the argument goes does three things: poor wee Scotland can benefit from defense jobs endlessly making warships for the British navy; we benefit (mysteriously) by Britain's status on the world stage as permanent members of the United Nations Security Council, and we cradle safely in the knowledge that we host weapons of mass destruction at Faslane and 'our' nuclear subs.
Except none of this is true. It wasn't true a week ago and it's far less true today.
In 2022 the ships we should be building are low-carbon and zero-carbon ones. The UN is a busted flush that can't and won't impose its powers and can't and won't control psychotic dictators like Putin. It can't defend democracy and our presence on the Security Council is a historic relic that does nothing other than expose the reality of our global status. Our nuclear arsenal makes us a target, nothing less.
What is dawning on us all is that Scotland being attached to the British state contributes massively to our insecurity, putting us in danger and distorting the possibility of us getting to a place of true security and true peace.
For the pessimists, the Russian invasion of Ukraine will only bolster the pro-NATO wing of the SNP, give further opportunity to delay action on a referendum, and allow centrist liberal nationalists to cleave to the British state under the cry of 'exceptional circumstances' and bogus claims of 'national unity' etc etc.
Maybe. But it doesn't have to be this way and another direction that the Yes movement and wider civil Scotland could take us is quite different.
We can and must start by denouncing NATO and fighting back against that orthodoxy. We should follow that by denouncing Putin and his regime and its authoritarian repressive and revanchist actions. This isn't a game where you pick a side. Instead, we should be coming to terms with the mortal dangers that being tied to Britain means and rapidly, urgently creating a different worldview, a different concept of 'defence', and a Peace Paradigm that unites Scotland with other forces for peace in Europe and around the world.
As Professor Talmadge of MIT has observed we have to completely re-think our ideas about 'security' and nuclear weapons: "Putin's pointed, not-veiled nuclear threats are really remarkable, signaling a willingness to turn to the country's nuclear arsenal if the West interferes with the Russian invasion of Ukraine. This is about the clearest evidence I have ever seen for the Stability-Instability Paradox: the notion that mutual vulnerability ("MAD") at the strategic nuclear level can actually make conflict more likely at lower rungs of the escalation ladder. Deterrence theorists associated with the Nuclear Revolution often dismiss this idea, arguing that nuclear stalemate means both sides will avoid crises and conflicts out of the fear they could escalate. The result should be peace, stability, and less military competition. Yet Putin's behavior suggests that revisionist actors are not so inhibited and may instead use their strategic nuclear forces as a shield behind which they can pursue conventional aggression, knowing their nuclear threats may deter outside intervention."
M.A.D. was always mad but now it's really mad.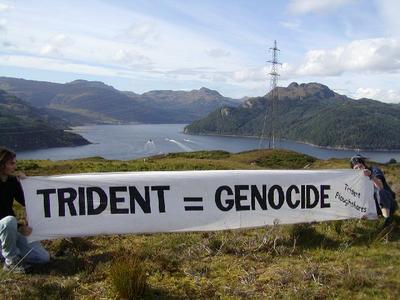 Putin's unhinged assault on Kiev has exposed some brutal realities of our powerlessness our insecurity and the lack of control we have over our own safety. We are off the map.
It seems that having someone else's nuclear arsenal on your western coast – being a small nation without control of your own defense policy – but bristling with WMD – doesn't make you safe and secure. Who'd have thought it?
Creating a new narrative about peace and an independent Scotland can be a unifying project converging Scotland's deeper phreatic movement of the Left, the forces of progressive Yes, the women's movement, the radical faith movements, the climate movement, and the entirety being routinely abused disowned and marginalised by the powerful. Because the violence of war is only the largest-scake manifestation of the violence that surrounds us: the violence of poverty, patriarchy, the violence of capital.
We need a new 'Singing Revolution' uniting all of these forces. This would mean laying down some of our own mythology about violence in Scottish culture and history, often worn like a motif of quiet pride, as well as completely re-thinking our dependency on the British 'defense' industry.

Help to support independent Scottish journalism by subscribing or donating today.