When Trickle Down Means Taking the Piss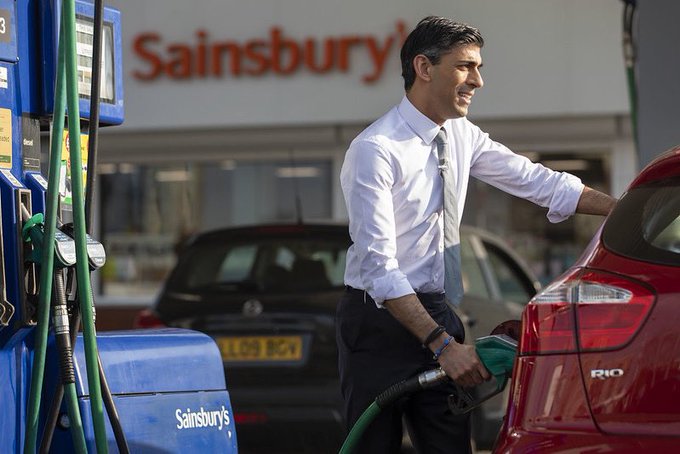 If you expected nothing then your expectations will have been exceeded. Sunak's fumbled Spring Statement was a statement of utter contempt providing nothing for those on benefits, nothing for those on universal credit, nothing for struggling pensioners, nothing for people with disabilities, nothing to help those in energy poverty (that's just about everyone now). But if the JRF's graph spells out how the economy is being arched on the backs of the poorest, what it doesn't show is how the Chancellor has made a massive political miscalculation.
Sunak has descended from media darling and 'Dishy Rishi' to a radically exposed and wildly unpopular figure in a twenty-four-hour period. Sunak's wife's extraordinary wealth [Akshata Murthy, owns a £500 million stake in the IT firm Infosys, which operates in Moscow], and his own botched PR stunts on the forecourt have made him both laughing stock and hate-figure.
His descent has been rapid and colossal, triggered by his own cynical maneuverings. He's a figure who is so tone-deaf and politically inept it makes his neighbour in Downing Street look sure-handed. Sunak has lived a gilded political life and this may have contributed to his botched 24 hours. He was parachuted in at the first asking into one of the safest Tory seats at the age of just 34, and he was made Chancellor just six years later. As you consider the appalling consequences of his Spring Statement it's worth thinking about that level of privilege.
Despite figures racing from all corners of the Conservative Party to provide cover for the Chancellor (here Ruth Davidson is trundled out) the impact of the Statement has been politically disastrous. In contradiction to Davidson's framing that this was all about the left-wing media, the actual representation across the newspapers and broadcast media was uniform (and scathing):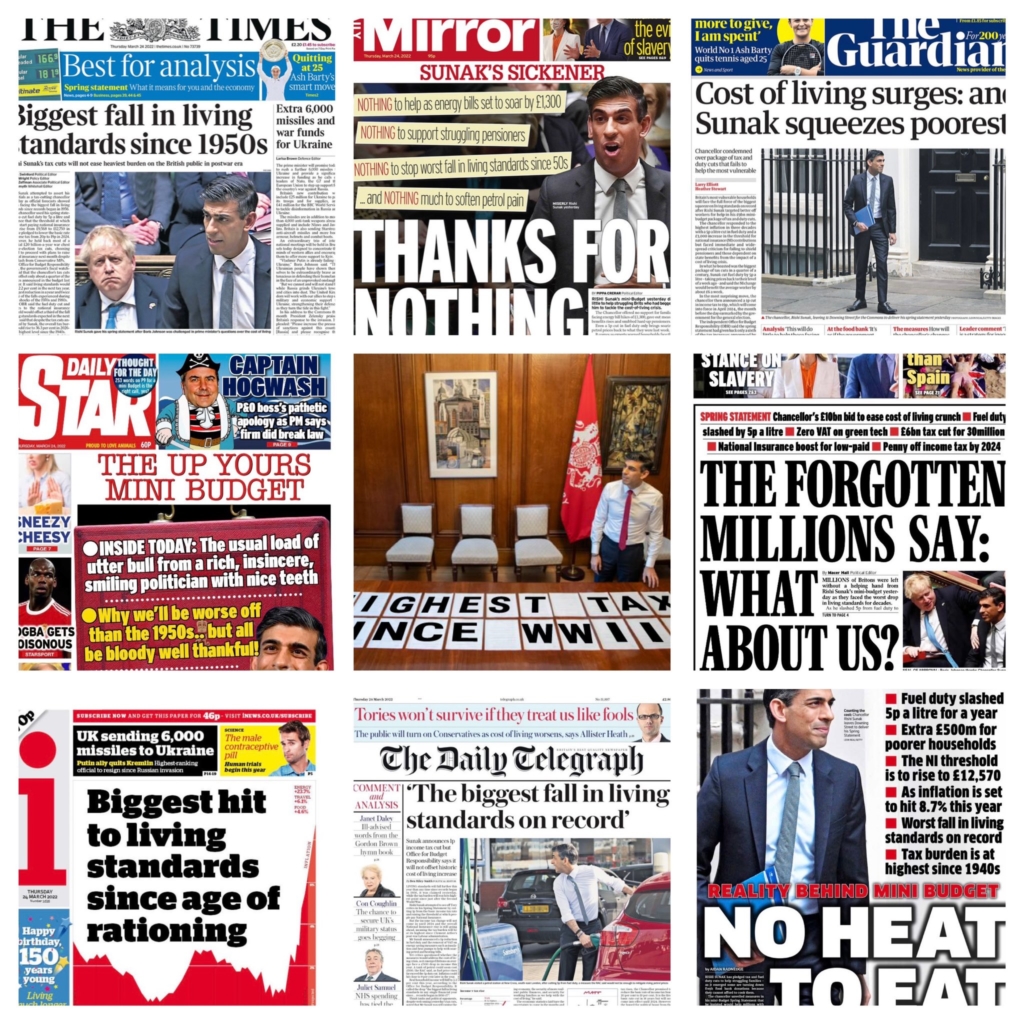 There should be no sympathy for a man who chose to use a social crisis as a tool in his political game-playing. Nor should this be seen as a flash in a pan, it is part of a wider longer deeper economic and social crisis that millions of people have been living with for a very long time. As Oxfam tells us the number of people living in poverty almost doubled from 7.3 million in 1979 to 13.5 million in 2008 and we are seeing "inequality levels last seen in the 1920s".
Broken Myths
This deepening crisis smashes a number of myths, the first and most basic is one that is widely assumed to be true, the idea that economic growth is shared. 'Trickle-down' economics or the new jargon of 'leveling-up' is just gaslighting. From 1993 to 2008 we had fifteen years of economic growth alongside widening immiseration poverty and growing inequality. This needs to be understood.
The Tories are exposed like never before by Sunak's personal disaster.
As Labour's Zarah Sultana puts it:
Rishi Sunak is taking the piss.pic.twitter.com/oKUjOgk6T5

— Zarah Sultana MP (@zarahsultana) March 24, 2022
This has consequences and a whole series of other shibboleths have fallen.
The other myths that we're being gaslighted on include:
1. "This is all about Ukraine", which has a sideline of "we all have to do our bit for Ukraine", as if mass poverty is somehow part of the Blitz spirit, a relic-meme from the Brexit Glory Days (Sunlit Uplands coming soon, honest).
2. Another popular one is "Rishi can't fix everything", a line paraded by Sunak himself with a doleful shrug and repeated ad nauseam in the media. This was trotted out by Annabelle Denham from the IEA – giggling her way through a weird defense of Sunak on Good Morning Scotland as if she was discussing the latest soap opera: "It could have been worse … there was no way it was going to magic away all of the cost of living problems … we cannot expect government to magic that away" she said weirdly blaming the costs of living on high taxes and green energy. Quite what she was doing on Scottish radio is a mystery known only to the programme's producers.
The idea that Rishi is just some geezer toddling about who would do more if only he could is grotesque. As Miatta Fahnbulleh from the New Economics Foundation pointed out:
"He could have bolstered social security with a £15bn boost to give families at the sharp end of this crisis support worth £4,700 for a working couple with children; he could have opted to put a windfall tax on energy producers' excess profits to soften the rise in energy prices for millions of families; and he could have invested £12bn in upgrading and insulating our homes, helping millions to reduce the energy they use."
3. Third, the idea of the deserving poor (in work) and the undeserving poor (on benefits) was resurrected with the language of "hard-working families" cast about all day.
4. Fourth the idea that this is some sudden crisis is just not true. This is the same Tory government that deliberately pushed 840,000 people into poverty with its £20 cut to Universal Credit. We seem to have a Memory Hole.

5. Fifth the economic system is so broken that the sort of narrative peddled by Martin Lewis and others, and a whole surround-sound of "top tips for managing" – an approach that frames systemic problems as personal management issues – is now fundamentally over. Such is the level of social suffering that the myth sustained for some time that you can somehow "manage your way out of it" is now rightly seen as offensive.
6. Finally the story we're told about figures like Sunak taking "tough decisions" as if they are sort of benevolent father-figures is smashed by Jeevun Sandher:
'They're not tough for him, they're not difficult for him, and they're not difficult for people like him.'

Rishi Sunak has 'chosen not to tax' the most well off in society in his Spring Statement, economist @JeevunSandher declares.@IainDale | #CrossQuestion pic.twitter.com/smEnk8l2SX

— LBC (@LBC) March 23, 2022
But it would be a mistake to step into the game of just personalising politics. Sunak's deeply cynical political fumbling might lead to his downfall or it might not, it doesn't really matter. The Conservative Party are full of such characters and there would be a queue of replacement identikit ideologues as soon as he was demoted.
Sunak's Spring Statement was a cynical political choice. As Paul Kissack from Joseph Rowntree has outlined: "Faced with the greatest threat to living standards for generations, it is impossible to justify the decision to leave almost everyone at the sharp end of the crisis out in the cold. Rather than strengthen the support available, he chose to cut benefits in real terms, leaving households in poverty £445 out of pocket for the year ahead; 600,000 more people will be pulled into poverty by this decision. Around a quarter of them are children.
The new tax changes that were announced deliver nothing for people who are unable to work and those earning too little to pay tax or national insurance. Many low earners who earn just enough to gain from the rise in the national insurance threshold will find more than half the gain tapered away through the subsequent reduction in their universal credit.
The chancellor's response to challenges on his lack of action was that he had prioritised people in poverty in his budget last autumn. That, you might recall, was when he cut universal credit by £20 a week, in the face of widespread opposition, including from many of his own backbenchers."
Unlike #Partygate this statement will have deep ramifications because they have an impact in the real world and will do for months and years to come.

Help to support independent Scottish journalism by subscribing or donating today.