We have to aim higher than measuring ourselves against Boris Johnson

The state of democracy in Scotland and the UK
Standards of UK government and public life are not as they should be in terms of serving the public. Honesty, decency, basic competence and accountability are all in a dire state and sadly this is true both of the UK and Scotland and our devolved institutions.
This week 'Partygate' returned, spotlighting Boris Johnson's open contempt of the standards expected from a Prime Minister or any elected public official. He flagrantly dismisses virtues such as personal responsibility, telling the truth, and in the middle of a lethal pandemic revealed himself unwilling to follow the guidelines he asked the rest of us to follow, many of which were set out in law.
An initial twenty fixed penalty notes were issued for breaches of COVID rules after revelations of Downing Street lockdown breaking parties. And yet still Johnson clings to office with no real apology or explanation offered for his behaviour. Instead, he presides over the centre of UK Government effectively reduced to a house of ill-repute engaged in constant partying and socialising through lockdown. Such is the degeneration of public standards that Downing Street cannot even confirm that those fined broke the law.
Boris Johnson has little redeeming characteristics as a serial liar and charlatan with no moral compass or principles. Tory MPs knew this when they elected him out of desperation in July 2019, as they were convinced of his qualities as an electoral winner. They are now reduced to not only defending the lies of Boris Johnson and minimising his misconduct, but claiming that none of this matters versus the quality of his leadership in this time of crisis.
Rishi Sunak, Chancellor since February 2020, is meant to be what Johnson is not viz serious, smooth, disciplined and professional. But after a good press in the early days of COVID his reputation has started of late to crash and burn.
His Spring Statement last week was a scandalous missed opportunity to address these tough times for most people. Sunak wilfully refused to do anything major on the energy crisis, widespread hardship and anxiety millions face, and the increasing problems that people have paying and covering the basic essentials. Rather he tinkered with cutting the fuel levy and dared to offer an income tax cut for 2024 – when no one is sure of the state of the economy six months from now.
Sunak's political choices and failures have fed into his own personal shortcomings: selling a version of his life inaccurate and deceitful. As he released taxpayer funded photo opps of himself it turned out it was not even his car he filled up at a garage but a Kia Rio which belonged to a lucky Sainsbury employee. Sunak later talked of the family car as a Volkswagen Golf, omitting the three luxury cars they also own.
Sunak is the richest MP in the current House of Commons. His double standards have been revealed in the Russian invasion of Ukraine as he implored UK based companies and business to scale back and withdraw from Russia. This is not a logic that he thinks has any bearing on himself, as his wife's family firm continues to trade in Russia and make millions for her and thus him.
Sunak's response in a car crash interview last week was that this had nothing to do with him and was nobody's business because his wife was not 'an elected politician'. He then followed this up today comparing himself with Holywood film star Will Smith and the controversy at the Oscars, saying: 'both Will Smith and me having our wives attacked – at least I didn't get up and slap anybody' – which is desperate stuff. 
The argument that Boris Johnson should not resign because of the Ukraine war defies any common sense and decency. A leader the entire Scottish Tory Holyrood group thought was inappropriate in peacetime, suddenly becomes one fine in wartime. Commentator Brendan May rightly noted: 'Why is the existence of an evil leader somewhere else a reason to retain a crappy leader here? I'd have thought the opposite should apply.'
He should resign now and, if not Tories have the backbone to remove him. There is no wartime precedent for sticking with a scandal laden Premier. Thatcher was evicted from office at the outset of the first Gulf War and replaced by John Major. Even more critically, in the global conflicts of the First and Second World Wars the UK switched Prime Ministers: Asquith being replaced by David Lloyd-George in 1916 and Chamberlain by Winston Churchill in May 1940. Current Tory logic would have seen Chamberlain remain in office in 1940 with the likelihood of a peace deal with Hitler after the fall of France and permanent Nazi dominance of Europe.
Westminster and British politics are in the gutter. Public standards have been trashed. There is no real decency or honour in government. We have a corrupt, compromised government which has wasted billions of our money in COVID contracts to its mates, shysters and chancers like Michelle Mone. Meanwhile the highest echelons of the British establishment and Tory Party have been penetrated by Russian interests and monies.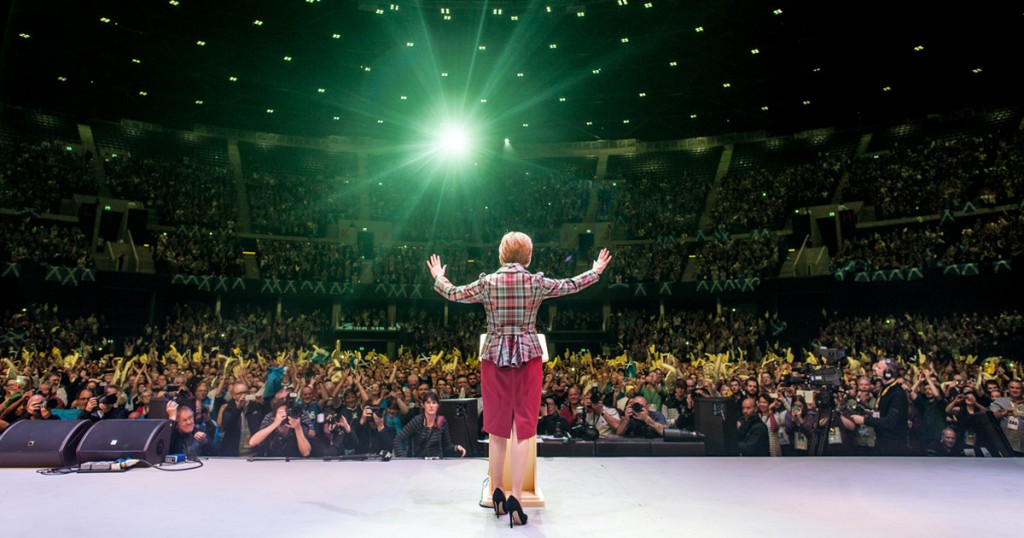 The state of Scotland compared to the degeneration of the UK
If we turn to Scotland things are not quite as bad here. Our public institutions have not been treated with the same open contempt, and trashed in the way that Westminster and Whitehall have by shameless self-interest and corporate cronyism. 
At the same time the standard defence that Scotland has not fallen as low as Boris Johnson and his Tory Government is hardly where anyone should start from. It is a sign that things are not at all well here too.
The SNP are fifteen years into office. That is a long political time in the arc of politics and the Scottish Parliament. They have been the government for nearly two-thirds of the period of devolution. They are dominant and still popular but in their period in office have grown increasingly complacent, lazy and careless, along with arrogant and authoritarian.
This is an administration with no obvious governing credo apart from maintaining itself in office. It is not motivated by making Scotland a fairer country, and its centre-left social democratic credentials grow weaker and more tarnished by the day. It has no vision for public services, no vision for Scotland and bizarrely – given it is what the SNP is meant to be about – no vision for independence.
The current hot controversy is the scandalous nature of ferry contracts. These have been massively delayed with huge cost overruns and ridiculous contracts signed which put all the risk on the taxpayer. Scottish Government ministers have been playing pass the parcel in terms of who is to blame, with Nicola Sturgeon trying to apportion responsibility for the original contract onto the now disgraced Derek Mackay.
Scotland in the above and other controversies is following the damning logic of Westminster and Whitehall. Public accountability, falling on your sword, and having a duty of care over public monies, are all outdated concepts.
It seems that Scotland's political class shares with Westminster politics an open contempt for voters and a belief it can regularly insult the intelligence of folk and get away with it and indeed prosper. So much for all the ridiculous hype and rhetoric of 'Scotland's new politics' we used to hear so much about and funnily enough don't so much now. Wouldn't it be refreshing if a current Scottish Government minister stood up and showed that for once they would take responsibility, gave a real apology and resigned?
Democracy and Accountability in today's Scotland
Do not expect to see any such action anytime soon, as the state of Scottish democracy, public standards and accountability are not in a good way. Look across a swathe of public scandals and controversies: no one resigned from the Scottish Qualifications Authority when they so messed up exam grades and the future of the nation's children; Muriel Gray presided over two Glasgow School of Art fires and the institution trying to falsely blame the first fire on a student and survived; similarly the implosion of Glasgow Rangers FC and its liquidation ten years ago saw no successful criminal charges brought against anyone involved in crashing the club.
Some people blame all of the above litany on the SNP to which I always reply we have a problem now but we have always had a problem. Scotland has never really done democracy and accountability in public life, passing through serial eras of one-party dominance: the Liberals in the 19th century, Labour in the late 20th century, SNP in the early 21st century with the growing patronage of an expanding state over the period. The point is the Scottish Parliament was meant to change this, but it has merely highlighted the problem.
The rotten state of Westminster and of large acres of the British establishment look like fundamental, deeply entrenched and here for the long-term. Rather than just measure ourselves reassuringly as not being as venal, corrupt, self-serving and amateurish as Boris Johnson, Scotland needs to measure ourselves by a higher target. 
We need to ask ourselves why we let our political elites of all colours and persuasions when in office and dominant or influential – SNP, Labour, Tory, Lib Dem, Green – away with such an unsatisfactory state of affairs? Scotland is not yet a modern democracy. I still like to think it has the potential – but for that to be true we have to stop kidding ourselves about what we are and what we are not.

Help to support independent Scottish journalism by subscribing or donating today.