Britain is the Un-World: an Un-Democracy
Britain is the Un-World: an Un-Democracy, an Unprecedented Land; an Unbelievable Place, run by the Unelected.
Welcome to the Circus. There are levels of hell.
First up we have the Freak Show of charlatans and carpet-baggers, the toxic commentary that parade the studios and pages of the tabloids, occasionally being anointed by the state broadcaster to liven-up a particularly dullard Question Time or enflame a talk-show. These include Darren Grimes, Neil Oliver, George Galloway; Katie Hopkins; Nigel Farage; the Foxes (Lawrence and Claire); Kirsty Allsopp for some Kath Kidston pop-politics; and a roster of low-level online shysters all pumping out their shit. Junior apprenticeships for the Freak Show have been awarded to the likes of Sophie Corcoran who appear out of the ether with a whiff of brimstone that must mean dark money. Their function is to entertain and enrage, giving a voice for the perpetually outraged and a target for social media entropy.
This group has a bridge to the Door-Keepers by figures like Richard Madeley or Piers Morgan. Their function is to bring some of the Freak Show Energy to day-time TV.
Then you have the curators and the Door-Keepers, the editors producers and presenters and star reporters. These high-salary figures function is to bring much-needed credibility and gravitas to the performance, they promise 'insider knowledge' and whispers and leaks from the great.
Next in the ring we have the Actual Politicians, some elected, some elevated some just hanging around but perpetually offered a platform to air their fascinating views on a loop.
Then there's the next level down, the sort of Incredulous Liberals (aka the Orphaned Centrists) who gawp open-mouthed as the realisation dawns that their country is a shitshow and the media is a fire-bin. They cling on between the other three groups gasping as they watch always-expectant of some crumb of comfort to maintain their delusion. "Surely NOW they'll resign!!" they mumble into their keyboards/microphones/cameras.
So as the torpor of partygate staggers on and on and on notice this: the Tory party is holding the nation (s) to ransom, yup, yours and mine.
The Tory Party are not going to evict Boris, they're just not. They don't care. The media will fluff and whine and wail but nothing will happen, nothing. The other politicians will tour the studios and perform at PMQs and nothing will happen, nothing at all.
The Tory Party are not going to commit to onshore wind energy or mass insulation because their pals in a handful of constituencies will feel the Gammon Rage of nimbyism. The Green Party and other environmentalists (like me) will whine and wail and nothing will happen at all.
The Tory Party will suppress a Section 30 Order for as long as they possibly can. The SNP and independence supporters (like me) will whine and wail and nothing will happen at all.
All of this is mediated and justified by the Freak Show, the Door-Keepers, the Actual Politicians and the Incredulous Liberals who interact and cross-fertilise in a self-justifying Venn Diagram of performance politics. This is an elected dictatorship with a meaningless constitution and a powerless people.
They won't do any of these because they don't have any commitment to democracy at all, they don't have any social values at all and because there is no constitutional mechanism to hold them to account at all.
None of this is really questionable.
But what it means is if you want to change the PM (arguably irrelevant) or force the necessary energy strategy – or to demand a democratic vote in Scotland, it means stepping out of your comfort zone, stepping out of the conventional narrative and stepping beyond your tried (and failed) tactics.
We need some of this energy …
The last 6 months or perhaps 30 years of geopolitics summarised in 90 seconds. Respect.

Time to rebel.pic.twitter.com/b5gUNIfFo9

— Extinction Rebellion (@ExtinctionR) April 11, 2022

None of this is new despite all of the protestations that this is all 'unprecedented' and 'unbelievable'. It's not at all. The Tories assert power in Scotland despite their track record of loss or rejection over the last 50 years …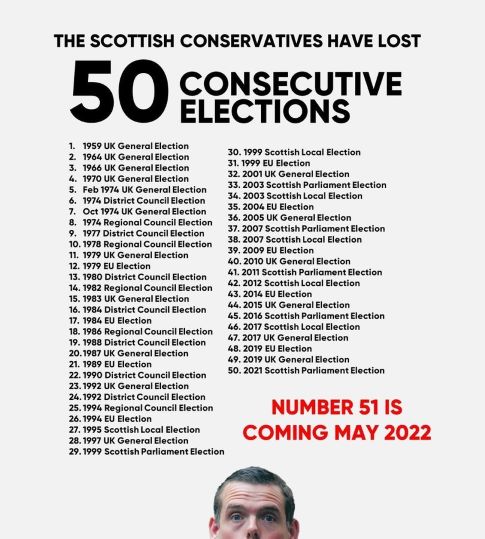 To have seen the Tories win the most seats and votes in Scotland you would have to be a minimum of 88 years old.
Soon there'll be non one left at all who can remember a Tory victory in Scotland.
They maintain this power because we allow it.
Time to run away from the Circus.