The Hauntology of British Unionism
Renewing the Social Union through Saint and Greavsie with Eddie Barnes.
Writing on his Substack and in the Scottish Daily Mail Eddie Barnes laments the dissolution of the British 'social union'. Eddie is a former political journalist with the Scotsman and Scotland on Sunday and previous head of Strategy and Communications for the Scottish Tories – who now works for ScotlandCan (a pet project of Gordon Brown's Our Scottish Future think-tank) and also advises Anas Sarwar.
The piece is a beautiful insight into one-man's worldview and the wider Unionist landscape it represents. This is a political topography marked by fear and loss and shadows of the past. Early on Barnes sets out his stall: "What might be termed the 'social union' of the UK – the common bonds and experiences we share on this island – has rarely felt as frail. I'd guess that the average family living in Scotland is more familiar with parts of Spain than with London or other parts of the UK. When it comes to Scotland's relationship with the rest of the UK, we look like ships passing in the night. Whether Scotland is in the Union or becomes an independent nation, this cannot be allowed to hold."
There's much to behold here. I love the confused very Brexity ex-pat notion that there's something terribly wrong with knowing parts of Spain. It's the Inward-Outwardness of the British paradox which quietly murmurs … "But remember the opening ceremony of the London Olympics?" … as Priti Patel unveils her Rwanda solutions. We'll return to the hypocrisy of the Unionism which promised the world and gave you Michael Fabricant in a moment. The other lovely tension between the glowing description of yesterday is the underlying threat which is also posed: "Whether Scotland is in the Union or becomes an independent nation, this cannot be allowed to hold."
For Barnes the idea that he is living in a country which has some distinct political features or institutions or that he might witness cultural aspects that don't fit the Britgeist is just intolerable. He describes his experience as a 'lived separateness', and longs for the days when nothing had changed: "Thirty years ago, the social interaction between Scotland and England was best embodied by Saint and Greavsie on a Saturday morning making each other laugh harmlessly over football. Today it is characterised by Boris Johnson and SNP Westminster leader Ian Blackford fighting it out over Brexit and Scotland's right to self-determination at Prime Minister's Questions."
I guess the choice being put here is between "laughing harmlessly" or self-determination?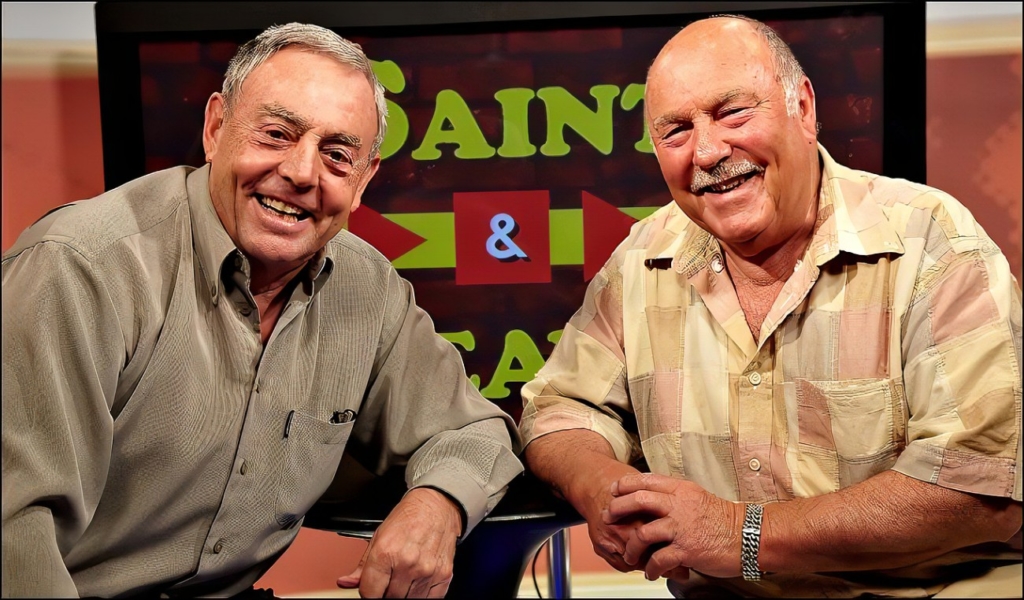 But what has caused this terrible parting of ways?
Sighing over his keyboard Barnes writes: "Partly, it's because of big long-term changes to the nature of Britain, which no longer provides as strong a common bond. The end of Empire, no more National Service, a smaller army and navy – all can be picked out as evidence of a changing state. The Queen's forthcoming Platinum Anniversary in June will provide a glimmer of those former days but the Imperial nation has gone and a shared sense of Britishness no longer superglues the country together as before. A common "demos" has withered."
Larger Nations We Live In
I mean, sure the Empire was great, and who doesn't miss National Service? But like much of the narrative about Our Common Future it's not the most contemporary prospectus you've ever heard.
This isn't an accident.
This isn't a failure of Unionist messaging or of their collective imagination, this IS their collective imagination. Britain is by-definition a backwards place, it is what's so great about it. It's the very stuckness, quaintness, and slight brokeness that makes it all so wonderful: it is the pageantry; the faux-gothic Mother of Parliaments; Big Ben; the Bongs; the Gongs; the Goons; Eton and Oxbridge; they are wrapped-up in a glorious artifice imbued with endless tradition, hierarchy and clandestine networks (class power).
This is a paradox that the Unionists can't really fathom. Barnes starts his piece with a description of a recent family trip to London. He explains: "The trip was a reminder of this larger nation we live in, right here on our doorstep."
I don't know whether he was conscious of what that spills. I think he means Britain is a nation.
In a paragraph that's redolent of those Enid Blyton's updated for a modern audience he writes: "…an Easter break down to the Big Smoke with the family reminded my why I love the place so much. For my bookish 14-year old, it was the country's biggest Waterstone's in Bloomsbury. For my football mad 16-year old, it was the Spurs game he managed to get tickets for. For me, as always, it's the variety, the size, the boundlessness; the feeling that all around you, life always has, and always will, take place with an urgency and a vibrancy enough to power battleships."
'Battleships.'
But again this gnawing Inward-Outwardness rises again. Barnes moans with excitement about how "London somehow connects you back into history, and pushes you into the future, and beyond our shores." Beyond our shores?! I hope not to Spain.
This excitement, this sense of history and a future could only be experienced in a city with agency. It's difficult to imagine Barnes writing of Edinburgh, Glasgow or Aberdeen in such terms. Why would he?
Asymmetric Unionism
If Barnes and his colleagues across the media are concerned with the tragedy of 'lived separateness' (translation: difference is not tolerated), their solutions seem comically implausible.
While he's pinning his hopes on 'The Queen's forthcoming Platinum Anniversary in June will provide a glimmer of those former days' … other policy trinkets are on offer, he writes: "Government could help here: imaginative policies aimed at improving social and business connections and incentivising exchanges would be welcome. For example, if exchange programmes for University and College students abroad are a good idea – and they are – why not have a similar programme here in Britain? Better still, civic organisations and institutions including the Royal Family could get involved too by, for example, sponsoring schools to twin up as environmental champions in their respective communities."
This is so insipid it clashes wildly with the 'Muscular Unionism' which holds it. If the Union needs to create a vision of a future Britain it may need to be a tiny bit bolder than 'imaginative policies aimed at improving social and business connections'. The vision of " the Royal Family sponsoring schools to twin up as environmental champions" is writing as if you'd woken up from a self-induced coma from the 1950s.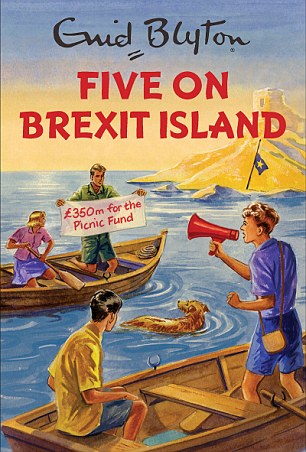 Then in a final flourish of Blytonian Imagination: "Doubtless there would be complaints from Nationalists that this was all a plot designed to save the Union [the Rotters! – Ed]. To demonstrate that the aim is to boost a sense of solidarity and joint working, Britain should invite Ireland to join up too. The British Isles will always be a family, no matter the politics of the moment."
Of course we will.
The problem with a post-Brexit return to the Family of Nations stuff ]s that it sort of misses out All of Recent History. It's a wonderful wee reverie he's in but it misses out the fact that the Irish left the family in 1916 and half of Scotland wants to go.
The other problem is with general argument of compulsory Britishness as an antidote to 'lived separateness' is how asymmetric it all is. This is a constant feature of living in the 'periphery' and redolent of James Robertson's 'The News from Where You Are'.
This week the Guardian tells us that the "National Theatre (sic)" is "to stage The Odyssey in 'epic, episodic' retelling around UK". We're told that "Parts to be staged in Stoke, Doncaster, Trowbridge and Sunderland in 2023 using local writers and amateur casts before finale in London."
As the Queen celebrates her 96th birthday and becomes the hauntological centrepiece of British media obsession, this sort of Anglo-Britain conflation or erasure of the Celtic Fringe continues ad nauseam.
But the problem for Barnes and his colleagues is that the Utopian Britain he evokes, with it's benevolent relations and cultural homogeneity contrasts wildly with reality.
In 2013 Boris Johnson gave us a taste of what was to come delivering the Margaret Thatcher Lecture and boasted that what had made Britain great in the past, and what Thatcher had recovered for today, was that we had conquered or invaded fully 90% of the world's countries.  A few months later Michael Deacon writing in the Telegraph sketched '5 Alternative currencies for an independent Scotland'.
Scotland, he suggested might call its national currency "the radge, the ned, the bampot, the boabie, the smackheid, the schemie, the scaff, the scunner, and the English numpty." At the end of the day he concluded, we could resort to barter where, "for example, if a Scotsman meets an Englishman who has some food, the Scotsman can suggest exchanging the food for the right not to be punched repeatedly in the mouth."
This sort of oscillation between the misty-eyed Blytonian vision of Scotland's orphaned columnists ("the British Isles will always be a family") and the reality of how Scotland and the Scots are portrayed is a brutal one. It's a difficulty the assorted scribes are finding difficult to process and so we are indulged in an endless stream of nostalgia and soft-focused dreamy pieces about future harmonious constitutional change (normally involving the ascent of Gordon Brown).
You can't be othered, peripheralised, ridiculed and then chastised for not visiting Madame Tussauds often enough.
Buyers Remorse
Have you ever made a mistake? Have you ever got what you wished for then realised it was all a terrible mistake? Chris did.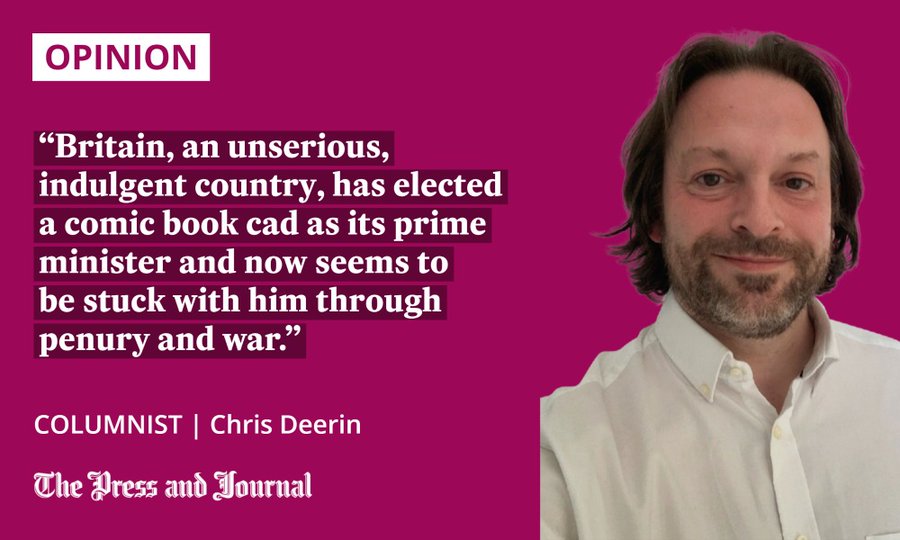 Like someone who has bought a house only to find it riddled with wet-rot. Or in his case sold one and is experiencing disorienting and fleeting spasms of constitutional guilt.
They promised you Mo Farah and gave you Priti Patel.
Now the collective powers of the Unionist commentariat are stretching their journalistic sinews to make sense of the world they willed into life. They are often caught between a misty-eyed vision of Britain's future ('civic organisations and institutions including the Royal Family could get involved too') and the sort of hysterical dystopian ramblings of, The Thunderer who warns us darkly …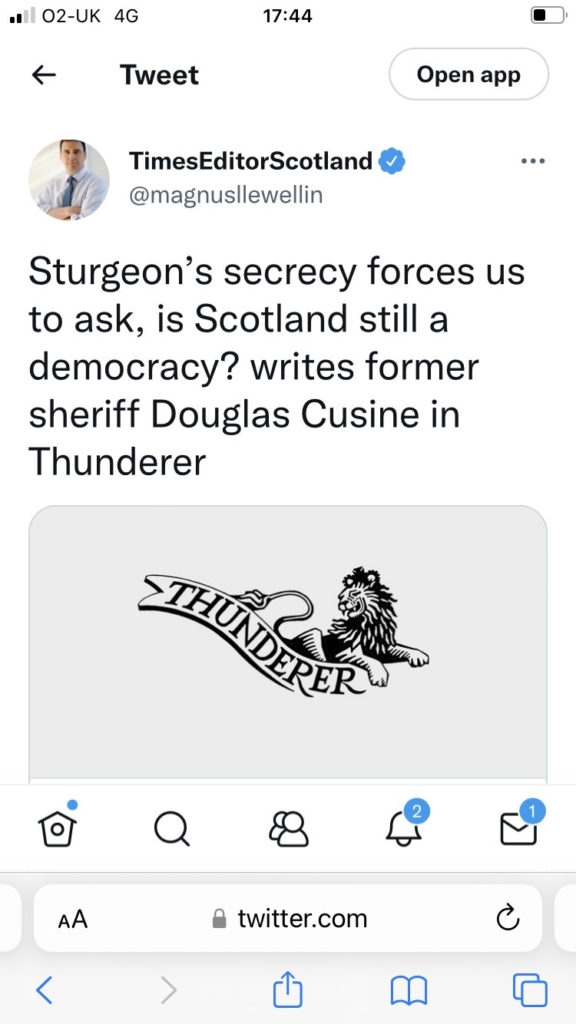 Without a hint of irony those who suppress a democratic vote on Scotland's future simultaneously question it's function as a democracy. The danger with this level of absurdism is it renders the author a captive of an increasingly small and marginalised sub-culture within Anglo-Scottish society.
The Unionist framing is still a combination of spooking Scots with wild-eyed economic catastrophism, fantasising about a progressive British political culture and pretending that the political values and conduct of the governing party on show daily are somehow irrelevant to our debate. These tropes are maintained while juggling the Hauntology of a broken Britain – the degenerate relics of the House of Windsor, and the constant confusion of England/Britain and the 'larger nation we live in.'

Help to support independent Scottish journalism by subscribing or donating today.