Cities of the Future

In response to the climate crisis much of the British State's response is to a) continue as if this isn't really happening by investing in fossil fuels b) criminalise peaceful protest and dissent with draconian legislation.
The counter to this is going to be massive NVDA.
One fun new phenomenon is anonymous group 'the Tyre Extinguisher's' who this week announced their 'biggest night yet' with simultaneous actions across different areas targeting the Grange (home to some of Scotland's richest people), the New Town and Portobello.
A spokesperson for the Edinburgh Tyre Extinguishers said: "Politicians talk, we act. We will defend ourselves from air pollution, climate change and unsafe roads, and we urge others to join us. Edinburgh is a small city with good public transport. Nobody living in the centre of town needs to own one of these machines."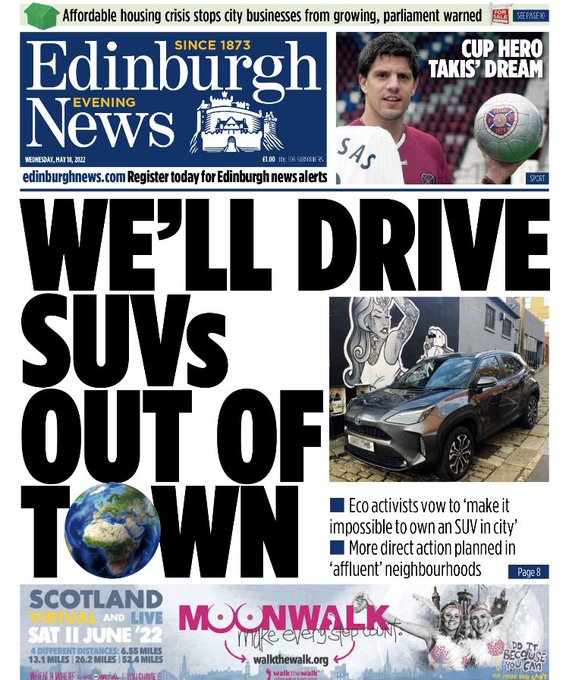 The Tyre Extinguishers is a leaderless movement where anyone can take part, simply printing a leaflet off
www.tyreextinguishers.com
and
disarming SUVs wherever they are. The Tyre Extinguishers' aim is to make it impossible to own an SUV in the world's urban areas.
The group's campaign is already having successes, with the Telegraph telling car owners not to buy SUVs in case they are targeted by Tyre Extinguishers: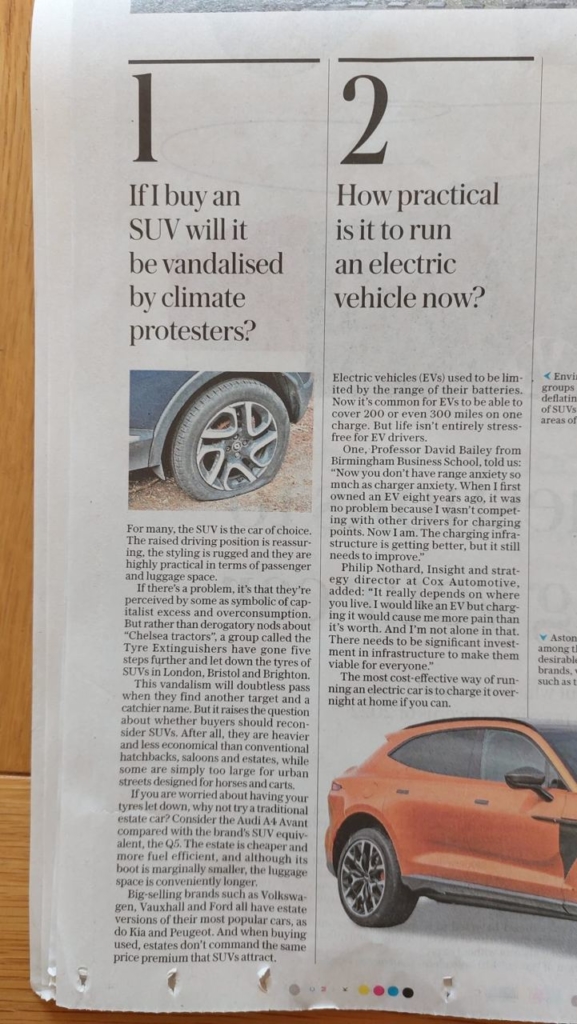 It's worth noting that the scale of what the group call 'disarmament' is an underestimate, as "not all Tyre Extinguisher groups have been in touch with Tyre Extinguishers HQ to say where and when they have taken action, and Tyre Extinguishers HQ only hear about their actions through angry emails from SUV drivers."
For example, it appears Tyre Extinguishers actions have also taken place in the last week in Leith and Granton. Due to the leaderless nature of the movement, it is unknown how many people are taking action throughout the city, but it appears to be significant and growing.
This is a significant development because it targets the very wealthy and takes direct action against high-polluting, dangerous and completely unnecessary vanity vehicles. No doubt the owners will be completely raging but they are also completely impotent to do anything about it.
This is a new manifestation of the battle for that cities are – who they are for – and how they function. This is a universal question about urban life but also one that has a particular focus in Edinburgh, a city that has been commodified, gentrified and subject to extensive social cleansing. This direct action is just the latest example of people attempting to reclaim their city.
We need to (re) design cities for people not cars and completely (re) think cities for an ecological future. Banning gas guzzlers and 'Chelsea Tractors' may be a minor first step but it's a symbolic one.
The Tyre Extinguisher's campaign isn't just an essential piece of climate action it's about reclaiming the city from the rich. Climate Justice is social justice.
The Tyre Extinguishers say: "We want to see bans on SUVs in urban areas, pollution levies to tax SUVs out of existence, and massive investment in free, comprehensive public transport. But until politicians make this a reality, Tyre Extinguishers action will continue."

Help to support independent Scottish journalism by subscribing or donating today.