Talking about anti-Catholicism in Scotland: Part One
Pat Anderson, Up to Our Knees: Anti-Catholic Bigotry in Scotland, Snowy Publications.
Anti-Catholicism has long been a stain on Scotland's history. Sometimes subtle and sometimes brutal, many argue that it is part of the life experience of people in many areas of Scottish life. The question is – to what extent is it still a problem, and just how widespread is it? This is still a sensitive and controversial subject – many academics and commentators wish to proclaim Scotland to be a tolerant, civilised country, which has moved on from such prejudice: the 180 degree turn on the subject by Tom Devine is perhaps the most high-profile example. 
In recent years the Dalkeith based writer Pat Anderson has presided over what is an impressive one-man cottage industry of books. He covers a wide range of subjects, including Scottish independence and the media, the rise, fall and rise of Rangers FC, and. of course, anti-Catholicism in Scotland. The last is dealt with in Up to our Knees: Anti-Catholic Bigotry in Scotland, and the related Get Over It: The Problem with Irish History.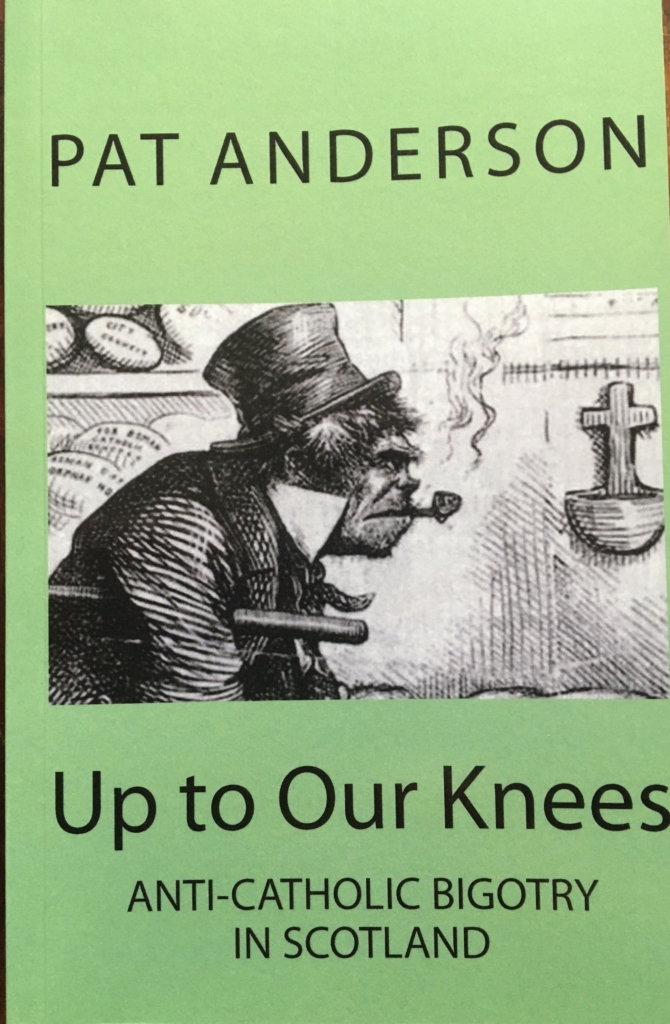 This review will concentrate on Up to Our Knees, (a reference to 'The Billy Boys', a song celebrating being 'up to our knees in Fenian blood'), addressing the issue of anti-Catholic bigotry in Scotland.  His position is that such bigotry is a reality in Scotland, though it has not always been so. Indeed, he argues that in the immediate aftermath of the Reformation, Scotland was among the most tolerant and least violent countries in Europe. Anti-Catholicism was primarily an English phenomenon and only slowly took root in Scotland, as various monarchs tried to remake Presbyterianism in the image of Anglicanism, and later when Bonnie Prince Charlie's '45 was perceived as a Catholic rebellion.
The one-way street of anti-Catholicism
In the very first paragraph of his Preface, Anderson makes one of his central points very clear. Talking of 'sectarian bigotry towards Protestants by Catholics', he claims that, 'evidence of such bigotry simply does not exist'. This challenges head-on one of the shibboleths of those who deny the existence of anti-Catholic bigotry – that it is essentially a two-way street.
In his poem 'Whatever You Say, Say Nothing', Seamus Heaney wrote: 'Religion's never mentioned here, of course/…One side's as bad as the other, never worse'. This is the card that trumps any discussion of whether anti-Catholic bigotry is a reality, and anyone challenging it can expect to be viewed as stirring up trouble. In Up to Our Knees, he certainly ranges far and wide; from the 16th Century to the present day, from Hollywood to Rangers and Celtic, taking in Buckfast and Hitler along the way in his attempt to establish that anti-Catholic bigotry is a part of Scottish (and indeed English and American) life.
So does he establish the truth of this? Certainly, the existence of two tribes in Scotland can hardly be disputed. Images like the one in the paper before me this morning, of Celtic and Rangers fans throwing bottles across a line of stewards and police, make that clear.
Each of these tribes is a repository of centuries of festering grievance; each of them characterises the other as intolerant, brutal and committed to the destruction of the other. It is often claimed that there is real 'hatred' between them – but what do they actually 'hate' in the other?  Is it their religious beliefs? Is it their political beliefs?
If you asked these fans why, or indeed whether, they hate the opposition, you would get a whole spectrum of responses. Many Scots simply turn away in disgust from such images, claiming that sectarianism is a Glasgow phenomenon and nothing to do with them. But the so-called 'Old Firm' is really only the most visible tip of an iceberg, most of which, Anderson argues, is under the surface.  
Ironically, Anderson claims that the Reformation in Scotland was 'a remarkably bloodless affair; certainly, when compared to England'. Apparently, fewer than two dozen Protestants were martyred in Scotland, and only one Catholic. Unlike in nearly every country in Europe, the Reformation in Scotland was a popular mass movement, but after the triumph of Protestantism in Scotland, Catholics were not burned en masse; instead, priests were offered the chance to continue to minister in the new churches, or to retire on a stipend. Monasteries and convents were left largely alone, though prohibited from taking on new recruits.
So far so civilised. Of course, he makes clear, Catholics were tolerated for just as long as they did not broadcast their faith, and that seems to be a recurring feature of the story of Catholicism in Scotland. Proselytising was frowned upon, as the 'Blessed' John Ogilvie discovered to his cost when he was tortured and then hanged and drawn at Glasgow Cross.
But Anderson insists that this was not typical of how Catholics were treated, and in a strikingly non-sectarian way accepts that any follower of Calvin preaching in Catholic Europe at that time would probably have been treated even worse. None of Ogilvie's Catholic associates in Glasgow were tortured or executed, something Anderson describes as 'an astonishing act of leniency' – in Catholic Europe, associates of Protestant preachers would all have been rounded up and put to death. He concludes that, 'Scotland after the Reformation was 'a tolerant society … one of the few such places in the whole of Christendom'. So why do some Scots now sing about being up to their knees in Catholic blood?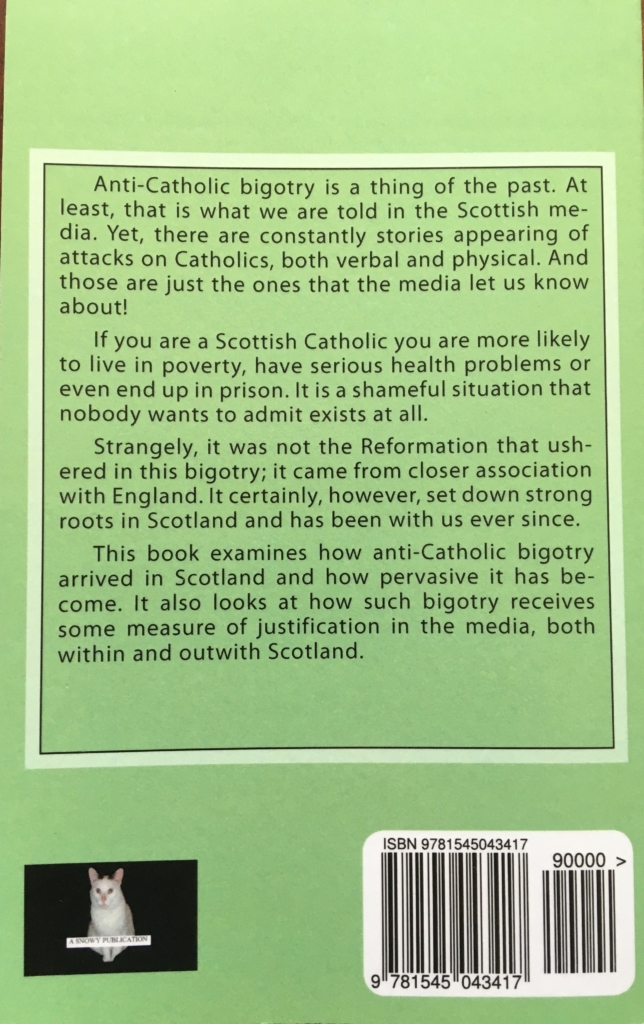 Why we need to talk about this
When asked to review Up to Our Knees, I must confess to a twinge of apprehension. This feels like the hottest of Scottish hot potatoes, discussion of which all too often descends into indignant defensiveness and denial, producing much heat and little light. For someone like myself, long committed to the establishment of an independent Scottish republic, anything that divides Scottish people makes me uneasy. And I don't think anything divides Scottish people more than this (apart from possibly whether you should put vinegar or sauce on your chips). Even raising the possibility that anti-Catholic bigotry in Scotland might be, you know, just saying, possibly something we might want to have a look at, can feel like poking a wasp's nest. That sound you hear is the sound of minds not changing.
So why rake over these particular coals?  Let sleeping dogs, blacks and Irish lie (just not in my b'n'b). This inclination to silence comes from both sides of the big political divide in Scotland, for different reasons. My progressive Yes voting pals maintain that Scotland is obviously left-leaning and liberal, all Jock Tamson's bairns and men being men for a' that. So we couldn't have been complicit in any of that discrimination nonsense. And remember, we're still trying to recover from our own experience of defeat, colonialism and cultural dispossession. We're victims too you know!
Meanwhile, my more conservative, probably No voting friends, you won't be surprised to hear, tend to be even more outraged by any suggestion that Scottish anti-Catholicism is what I believe young folk call 'a thing'. Instead, they argue, attitudes have changed, and there are now no limits to Catholic aspiration (the Tom Devine position).
Anderson begs to differ, and ranges far and wide in his attempts to persuade us that bigoted attitudes still lie beneath. For example, he discusses the example of Church of Scotland minister Stuart McQuarrie, at one time leader of the inter-faith chaplaincy at Glasgow University, who once stated that Catholics should stop 'wallowing in their victim status' and who describes 'The Fields of Athenry' as 'vile, vicious and racist', absolutely comparable to the unashamedly hate-filled sectarian 'Famine Song' (which he rather grudgingly admits is 'embarrassing'). Is that the mother and father of all false equivalences? We/they/'re both as bad as the other, so let's just 'get over it' and move on. Nothing to see here.
But refusing to come to terms with the past, locking it away in the basement, is increasingly acknowledged to be unwise, both at a personal and a national level. Self-serving remarks like McQuarrie's get in the way of genuine reconciliation. As a Christian myself, looking at historical conflicts from South Africa to Rwanda to the American South, it seems obvious that the only way forward is for leaders on both sides to try to reach across the sectarian divide, and apologise for the sins of the fathers. Transparently misleading statements like McQuarrie's simply ensure that no real change is gonna come. Which, let's be honest, suits many down to the ground, especially those who profit from the conflict.
Part Two of this extended review continues tomorrow.