Clown Dolls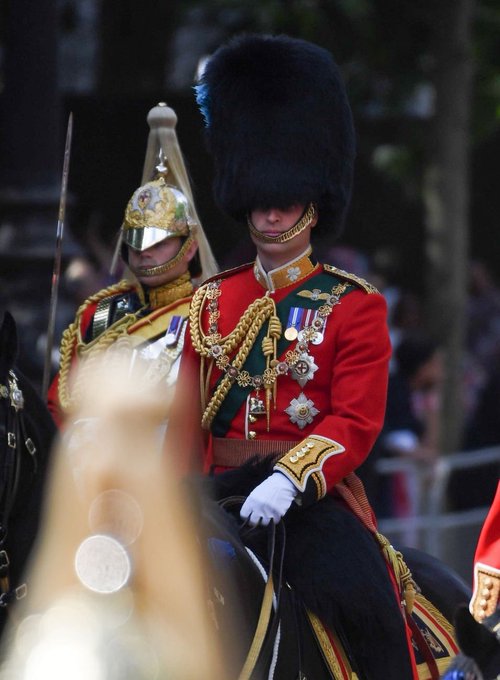 Celebrating the longevity of institutionalised inequality as mass poverty sweeps across British society is a mesmerising coup for the state. You have to hand it to them, to have people waving flags and celebrating this state at this time is an extraordinary feat of long-term propaganda.
Why be so negative? Why react to other people enjoying something that you can't comprehend? Because it's a celebration of deference and a confirmation of perpetual defeat. The jubilee is a festival to celebrate British oligarchy, and, as James Connolly put it: "A people mentally poisoned by adulation of royalty can never attain to that spirit of self-reliant democracy."
As the flags flutter and the Union Jack oozes out of every orifice of the media, it's difficult to get a perspective on the mania. As the Ruritanian shitshow spools across your timeline it's important to remember that this requires vast resources to maintain, project, curate and impose. This impression of universal fealty is a chimera. This is a very carefully stage-managed event infused with totemic imagery of the military, the family, booze and crowds of the demented genuflecting to camera.
Yet the impression of universal monarchism is a deception, it is not at all evenly distributed as recent research has shown (Scottish support for monarchy falls to 45%, poll reveals): "fewer than half of people in Scotland say they support retaining the monarchy, according to a major new poll that reveals the cultural divides emerging within the union, and  with 36% saying the end of the Queen's reign would be the right moment to move to a republic."
Glasgow City Council received just two requests for permission to host parties to mark the Queen's Platinum Jubilee. Glasgow is not hosting any official events to mark the Queen's 70-year reign.
The dogma isn't uniform.
As we enter a period of enforced deference and the embarrassing sycophancy of late-stage British nationalism, this from the Irish Times sums up the mood across the water: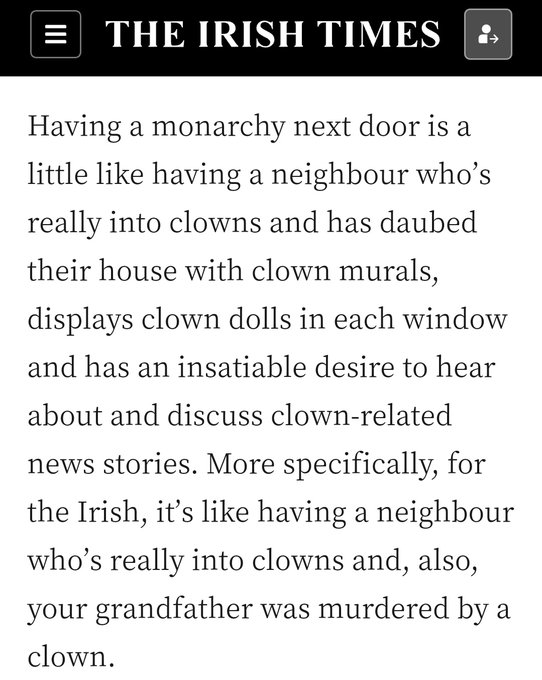 But the Irish mood isn't unique. Outside of Balmoral, lumpen neighbourhoods of Glasgow and a handful of bougie suburbs most mentally-balanced people in Scotland will be grinding their teeth and hiding from the grotesque phenomenon. But it is more than just an irritant, it is more than just a numinous assault on society, it is rubbing our faces in it, it is, by definition, a humiliation. As the writer Neil Mackay has put it: "Britain – or rather England – has a strange sickness of the soul and the name for that illness is Nostalgia Jubilee fever is a symptom of the UK's relentless, obsessive fetishisation of Empire and a long dead past. It is a country at war with the future."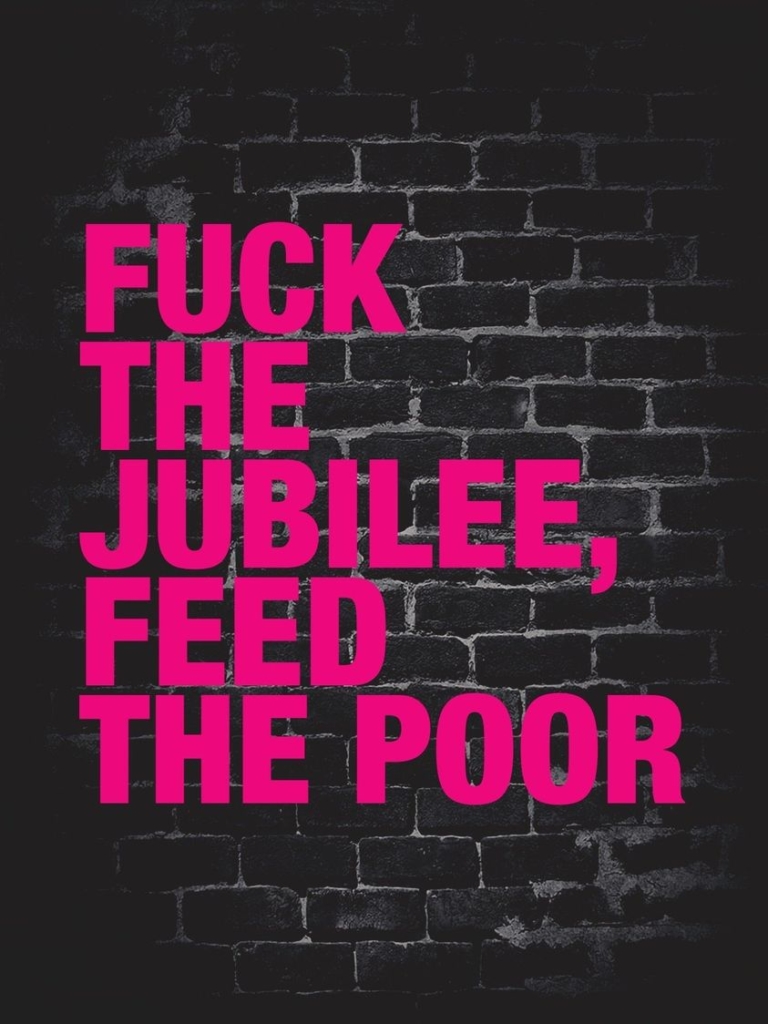 We are in 1952. We've been dragged backwards, out of Europe and out of reality into a new fantasy world in which the past 70 years is airbrushed out of existence. While other countries celebrate their evolution and a notion of progress – 'we' celebrate stuckism and the fact that Britain is stalled as a semi-feudal authoritarian backwater governed by a caste system and reigned over by a fabulously rich monarch.
As the author and investigative journalist Kevin Cahill has pointed out, her wealth is about land: "The world's primary feudal landowner is Queen Elizabeth II. She is Queen of 32 countries, head of a Commonwealth of 54 countries in which a quarter of the world's population lives, and legal owner of about 6.6 billion acres of land, one-sixth of the earth's land surface. Her position is a relic of the last and largest land empire in history, rumours of whose demise would appear to be somewhat premature based on her position and possessions."
But it's not just about clutching to the past in desperation, it's about re-imagining it and re-writing it. That's why the Queen pops-up at Stonehenge and that's why a landfill of merchandising is spewed out.
This is Fairy Tale as society disintegrates. That's it's point, that's it's purpose.
While this projection of immense power feels overwhelming, it doesn't need to be. The state broadcaster and the surround-sound of propaganda suggests you are immersed in deference and approval. It's worth remembering this is a reflection of brokenness not strength. The Union, which has the monarch as its most cherished symbol is having its flag-day. But when she dies, so will it.
You can't keep a country together with holy oil and bunting alone.

Help to support independent Scottish journalism by subscribing or donating today.