Please Look After This Bear
What might we see in Paddington Bear having tea with the Queen? Any 96-year-old who can act a part that gives such pleasure to so many has something to be said for their humanity, and humour, which can often be the same thing. But what of the episode's background messaging?
In Michael Bond's 1958 children's story, A Bear Called Paddington, social class is positioned right from the second paragraph. Why are Mr and Mrs Brown at Paddington railway station? To pick up their daughter Judy from boarding school.
It's there that they spot Paddington Bear, sitting on a battered old suitcase in the Lost Property Office. There's a luggage label round his neck. Artists show it as the brown manilla type, with a reinforced eye through which the string loops. Paddington explains that he's a stowaway. He's come from "darkest Peru" with just a pot of marmalade to eat.
"Yes," he continues, with a sad expression coming into his eyes. "I emigrated, you know."
He used to live with his Aunt Lucy, she had to go into a home for retired bears but taught him English for the purpose. An aunt. There is no mention of parental agency. The luggage label simply said: "Please look after this bear. Thank you."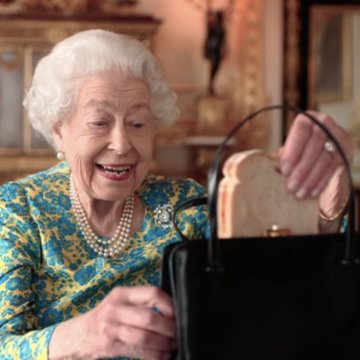 It's said that Bond associated Paddington with refugee children, hanging around railway stations in the Second World War with luggage labels round their necks. But Judy Brown's return from boarding school invites another resonance: those images of departing boarders with their similarly labelled battered leather suitcases. In a recent Glasgow conference, my friend the pioneering psychotherapist of such matters, Nick Duffell, spoke of it as "privileged abandonment". And that's where child psychology connects how the state constructs itself, and how elite entitlement so wantonly, and sadly, plays games with power.
"The boarding schools," he writes in The Making of Them (p. 113), "were the production centres for gentlemen destined and designed … to bring British values of civilisation and justice to the world … gentleman-leaders to run her empire … a responsibility which no Englishman would have seriously doubted. It was rather, a sacred duty…. They were to be nominally Christian, unquestionably loyal to Queen and country, well-educated, but not so bright that they might question the rights and wrongs of the tasks they were set. It was the job of the schools to produce such chaps – and they set about it with vigour."
Prince Philip of Greece and Denmark loved the rigours of Gordonstoun in north-east Scotland. He sent Prince Charles too. One can imagine the thinking. A friend who boarded there with him told me, "He was such a sensitive and kind man." With respect for due decorum, he told me little else, except the prince himself described Gordonstoun as "Colditz in kilts", and harrowing tales circulate about the bullying he endured. No wonder he later chose to spend his holidays planting potatoes with the crofters in the Hebrides.
Paddington, then, can be read as Judy Brown's alter-ego; indeed, the alter-ego of large segments of the British upper classes. The child caught, psychologically, between the homeliness of Paddington Station and darkest Peru, beyond the furthest lonely reaches of the Empire. And marmalade, once an exotic fruit with sugar from a trade that dare not say its name. And tea, from India, or "that comes all the way from China".
At which point: let me pinch myself. Do I overstate the case? And yet, the grandest street in Stornoway where I went as a day child to the state school, is still Matheson Road of Jardine-Matheson fame. And in the Castle Grounds we'd play as kids around the marble monument to Lady Matheson, embellished as it is with opium poppy leaves in tribute to the trade and Chinese wars from which her husband became "richer than Croesus". I made a video of it last summer. It's there and real, for any who might doubt.
But I want to come back to that suitcase or "trunk", and the label. Speaking from his own boarding experience Duffell continues (p. 143): "We may imagine the trunk as a kind of portable schoolboy coffin, the tuck box as his secret symbol of love. For the depth of feeling – elation at the end of term, and misery at the end of the holidays – are too much for a child's body to contain. Feelings get stored in the tuck box at the back of the heart – unlocking them is more painful than putting them away."
Or as another friend put it, "Your parents send you to these schools, they say, because they love you. But the whole experience is one of not being loved." And I thought about the video this past Platinum Jubilee weekend of the Queen having tea with Paddington Bear.
"Perhaps you would like a marmalade sandwich? I always keep one, for emergencies," says the bear to the monarch.
"So do I," she replies, reaching to her handbag for the white-sliced bread. "I keep mine in here."
"For later."
For later! And then, Prince's Charles. "Mummy"! As the Sunday Express headline had it: "Thank you for being there for us, Mummy."
I thought of Sigmund Freud, his essay on Symbolism in the Dream. "Parents appear in the dream as king and queen, or other persons highly respected." I thought of how a pageant is a kind of waking dream for those who like that kind of thing. And how, according to a survey by the Children's Society two years ago, British teenagers are the most unhappy in Europe, their driven and often poverty-racked lives lacking both meaning and a sense of purpose.
Between Paddington and Mummy, here we glimpse the soft underbelly of a British state still trapped in feudal psychodynamics. Even its sovereign self-positions as hyper-vigilant, keeping her marmalade sandwich in her tuck box, like Paddington the refugee, "for emergencies", "for later".
We can laugh, we can emphasise, we can pity or we can mock. I've felt all of these this past weekend. But if Britain or just Scotland is to free itself from infantile politics, if we are to earn our independence and "take back control", we need to understand the deeper roots of suspended adolescence and its aching loss and even theft of inner self-determination.
As Nick Duffell says: to unlock what's in the tuck box hurts more than putting it away. We are looking at what lies "at the back of the heart". Tread gently with each other. Seek to understand the roots of difference, heal the wounds. "Please look after this bear", it comes from out of "darkest Peru". Keep Scotland kind.