Party Fears Two
Both the SNP and Labour are struggling with internal wranglings and arguments about the best tactics and strategies to use in relation to Scotland and the National Question in the years ahead.
For Labour the issue lies with an attempt to 'head off at the pass' the Tories attacks on a "coalition of chaos" and a re-un of the 'Miliband in Salmond's pocket ad' as described by Jessica Elgot and Severin Carrell in the Guardian.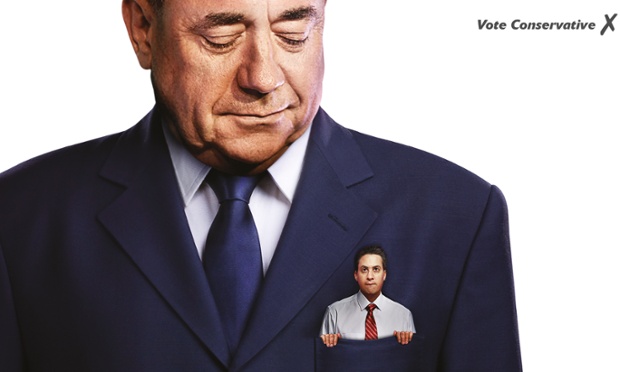 The enthusiastic framing by Jessica Elgot, the Guardian's chief political correspondent and Severin Carrell, the Guardian's Scotland editor ('Labour will never strike deal with SNP, Keir Starmer to pledge') has it that:
"The Labour leader is expected to ramp up his pledge that the party would give no quarter to the SNP and would not grant an independence referendum, which will form part of his summer campaign. That position would effectively dare the SNP to vote down a Labour Queen's speech and bear responsibility for bringing down a Labour prime minister and enabling another Tory administration."
'Give no quarter' is a militaristic phrase, and the combatants to be dispatched are clearly the SNP. While this may (or may not) play well in England, it's extremely problematic in Scotland. While it does plausibly kill a Conservative 'attack line' it also jars with the much-anticipated Brown Report.
Elgot and Carrell report plaintively: "… there are likely to be further tensions over Labour's approach to constitutional reform in the UK, spearheaded by a strategy from Gordon Brown. That is now expected to be delayed – perhaps even until September. Brown's interim strategy was presented to the shadow cabinet before Easter but it divided opinion among shadow ministers – some of whom were dissatisfied with how the proposed settlement would affect English regions."
This divide between the portrayal of Labour as a mediator, a constitutional moderniser, 'just about to' introduce a far-reaching programme of change – and one dead-set against any compromise and 'giving no quarter' is an irreconcilable one. The reality is the New Labour / Brown-Blair devolutionist party has gone, faded into the mists of New England and post-Brexit Britain. It seems like the resurgent Anglo-British nationalism of Johnson's Conservatives holds Labour to ransom. In the same way as Starmer can say nothing about Brexit, the Rwandan policy or trade union solidarity, deals with the SNP are beyond the pale. The article even goes on to say: "Senior figures around Starmer have been urging him to make the case in stronger terms to voters, especially those in England …They argue it would pull the rug from under a key Conservative attack line before it is established, drawing comparisons with how the party leader has dealt with antisemitism…"
Wow. We've gone from the stage where wrestling with the constitutional question and modernising Britain was a sort of central proud idea of Labour's, to any discussions being equated with antisemitism.
Over at the SNP there are (lesser) disputes. The idea of a 'Yes Alliance' has been put out there by Joanna Cherry MP.  In a slightly confusing message she writes:
"It could be a unifying move bringing together the SNP, Greens, disaffected former SNP activists including those who went to Alba or the other small pro-indy parties and the all-important wider Yes movement which includes such outstanding advocates as Lesley Riddoch and Andy Wightman" Furthermore, Cherry called for former First Minister Salmond to be given a role in the campaign because "his strategic knowhow is too good to be ignored".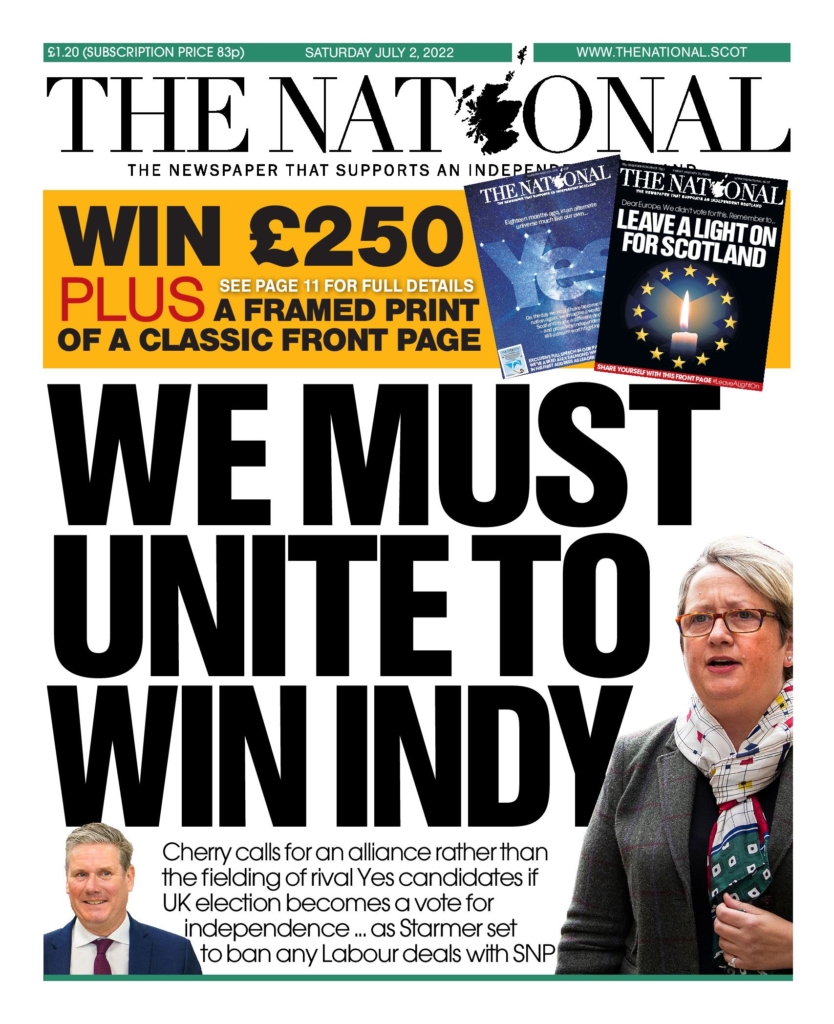 Where to begin?
It seems the idea, today enthusiastically supported by Lesley Riddoch [here]: "It's time for all indy groups & parties to come together. A Yes Alliance for next election would be ideal, if legal manoeuvres fail."
Ideal?
How so?
Last time we checked (which was Thursday) Savanta ComRes for the Scotsman had Net favourability ratings of Scottish leaders as follows: Sturgeon +15 Sarwar +3 Cole-Hamilton -11 Harvie -11 Slater -11 Ross -26 Salmond -61.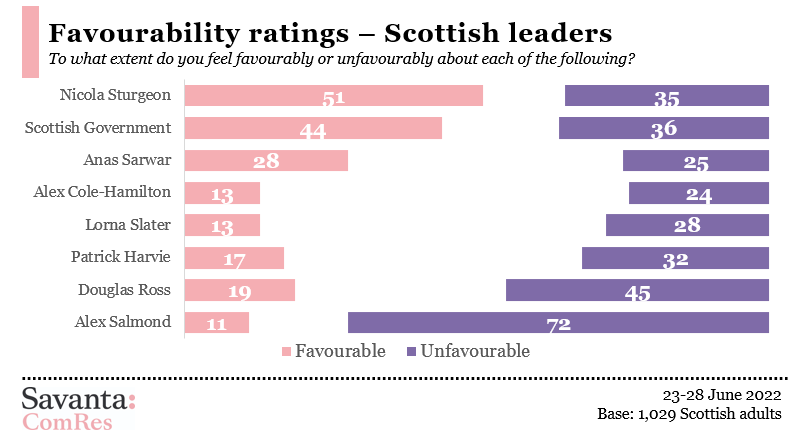 I can't remember what the name of the other nationalist parties are, or their leaders, I'm pretty sure very few people could. So how, exactly would  a Yes Alliance be 'ideal'?
How would bringing Alex Salmond at these favourability ratings and whose party recently polled 1.7% be helpful?
I suppose the idea is that behind these tiny groups and parties there are thousands of disaffected activists who would be galvanized by such an alliance. No doubt there are thousands of activists who are pissed-off at the SNP, but these numbers and this volume never translate into anything at all.
This is bubble-chat from within a small political movement. It betrays very poor political instincts and strategies and a lack of awareness that the bulk of people don't inhabit these confines. The task is to reach out to the disaffected of society, the non-voter and the new voter and to build alliances across Scottish society. That's how you build a winning Yes movement.
A broad rich and radical Yes movement is absolutely needed, but a party alliance would seem to bring nothing to the table except rancour and bitterness, a tone which would be gloriously exploited by the Unionist camp (in fact they are already doing so).
This is not to say that there aren't real problem with the idea of an electoral plebiscite being channelled entirely though the SNP. There are. If this comes to pass it will represent a real conflict between movement and party.
'Unity' can be valuable but isn't a value in itself. Is it good because it shows solidarity? Maybe yeah. Is it a good because it brings political advantage for a cause? Maybe. This idea does neither of these things.

Help to support independent Scottish journalism by subscribing or donating today.