The Promised Land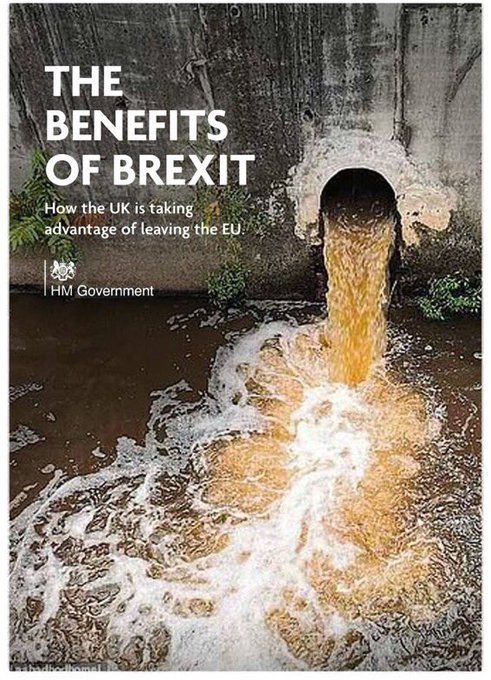 The Conservative Party's long overdue collision with reality is getting ever nearer. As Liz Truss ascends to the throne the country slides into chaos and widespread destitution. Her answer to the many predicaments that compete for our attention is nothing. Nothing at all. All she has is some terribly-delivered cliches and barely coherent lines of regurgitated Thatcherism. She will make Johnson's reign look like an era of calm stability and statesmanship.
It's a long cycle but at the end of this clip one of the speakers describes the political consequences of the failure of Brexit. They are talking in stark terms about the foreseen economic failures of Brexit – this in 2018! – and the irony that for many many people this economic reality will come at the end of a long period of austerity – which itself fuelled Brexit. When those sunlit uplands turn out to be sewage-filled rivers – the political consequences will be dire.
The promised land of Britannia Unleashed smells very different today. But what are the consequences for the entire cohort of Conservatives who have created this shambles? It is as he says, a forty-year struggle: "They've now won and they're absolutely terrified."
Here in 2018, US Embassy staff totally understand and discuss the Brexit catastrophe. 🤦🤦‍♂️🤦‍♀️ #BrexitReality #BrexitBenefits pic.twitter.com/BaCdlA2ncK

— Marie-Ann Detests Tories & Brexit 🇺🇦 🇪🇺 🇬🇧 (@MarieAnnUK) August 18, 2022
As we predicted long before, food will literally rot in the fields.
The festering culture wars are a mask for the economic violence being perpetuated in Britain. As the mantle passes from one dysfunctional Tory government to another we can only stare in disbelief. The surreal absurdism of the leadership rumbles on and on like a mesmerising shit show. 'Freeports' are offered up as part of the great 'levelling up' programme and Grant Shapps taps into motorists rage against cycling.
Ffs.
As John Harris writes: "Two things now define Britain's political condition. One is a post-Brexit Conservatism that frequently seems to have only the most tenuous connection to reality, practised by people who tend to get very cross whenever they are reminded of what we actually face. The other is a rising sense of crises that ought to invite convincing answers – not least from the Labour party – but that only highlight the hollowness of Westminster's discourse."
I think waiting for the Labour Party in its present condition to provide a coherent set of answers, or a coherent vision for 'recovery' is a mistake. When and how will the Conservative's reap the consequences of the Brexit disaster?