The Growth Fetish
As Britain spirals into chaos that has run out of words to describe it, Liz Truss disappears. In desperation at her party conference, she turned to one of the many phantoms in her head and coined an interesting concept: the antigrowth coalition. In the beleaguered Prime Minister's head such a coalition spans an unlikely grouping of the "Labour, the Lib Dems and the SNP, the militant unions, the vested interests dressed up as think tanks, the talking heads, the Brexit deniers and Extinction Rebellion". It was no doubt an effort to coral those most hated entities into the minds of her audience. But extraordinarily stupid as it seems, Truss was drawing on a very rich seam of ideas in our society, that 'growth' – perpetual and indiscriminate and endless growth – is an undeniable good. Our shared mythology is that it is the source of wealth and the font of equality and that it is an essential human aspiration.
It doesn't matter that none of this is true, so deeply embedded are these ideas in our psyche.
Yet as Matthias Schmelzer – the co-author of The Future is Degrowth: A Guide to a World Beyond Capitalism – says: "the concept of growth has colonised our political imaginaries".
Schmelzer writes:
"If growth makes for a good political soundbite – often articulated through tired metaphors like "rising tides" or "expanding pies" – a closer look reveals how disastrous its hegemony has been for modern societies. GDP is a flawed measure of human welfare that disregards diminishing stocks, equality and ecological destruction. There is now a broad consensus among experts that rising GDP does not by itself improve prosperity for all. Since the 1980s GDP growth in developed economies has been accompanied by stagnating levels of welfare, while the ecological costs of growth have been exacerbated. Truss's argument that stagnating wages and dwindling funds for social services are due to low growth is a deception. UK household wealth tripled from 1995 to 2017. Yet most of that wealth has not trickled down, as Truss and her supporters claim it should, but has been captured by a small proportion of the population."
Those of us on the green-left have been accused of advocating 'green austerity' – yet the truth is the opposite, as Schmelzer outlines:
"Truss's call for growth is concealing a radical agenda of austerity: cutting taxes to improve international competitiveness, getting what she has called an "iron grip on the nation's finances" by slashing public spending to create a "lean state", and "economic reform" that tears up planning regulations and lowers social and ecological standards. Even if these policies would achieve "growth", it would be a kind of economic expansion that curtails the prosperity of middle-income voters and further aggravates the ecological crisis. It might be GDP growth, but it will be experienced as public austerity and ecological destruction. As the campaign "Enough is Enough" rightly argued, following Truss's statement, "what 'grows' for them" is "corporate profits, number of billionaires, wealth of the top 5 per cent", and "what 'grows' for us" is "in-work poverty, monthly bills, housing costs, NHS waiting list, foodbank queues". One could add fossil-fuel driven climate disaster."
As climate catastrophe hits home and the old, failed tactics of the environmental movement are exposed, more and more people are questioning the notion of 'perpetual and indiscriminate and endless growth'. A light has been switched on in the minds of many that the growth delusion, the growth fetish is a bitter hoax. As socio-ecological crisis meld and morph together from the abstract to the desperate, tangible other options and strategies are emerging.
While the anti-growth coalition is a fabricated enemy, there are many have been critiquing growth with the provocation of degrowth.
The real 'degrowth coalition' argues for basic needs to be met through a radical abundance that is not based on hyper-consumerism, but a 'true prosperity' for all.  We do this by (re) creating the commons, through social solidarity networks and by creating local and sharing economies that don't depend on globalised, fossil-fuelled distribution chains.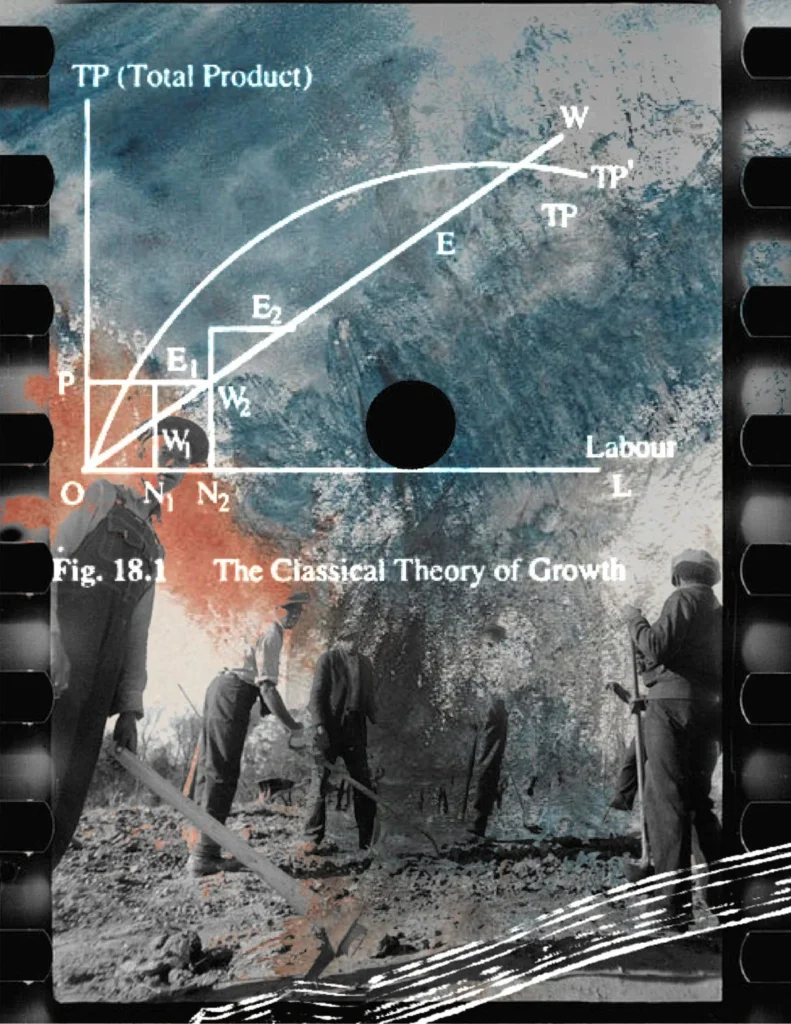 If this seems an anathema to you it's because we've all been conditioned – we have all internalised some ideas about the world that are just not true. The task is to 'decolonise our political imaginaries' and see other pathways.
The idea that perpetual growth is a source of social equality or generalised 'wealth' is patently false. The idea that infinite growth on a finite planet is feasible is demonstrably wrong. The idea that colonisation extraction and exploitation is sustainable has proven historically to be a failure and a moral travesty.
Everywhere the myths of growth are coming into contact with ecological reality. In Australia, Samuel Alexander (a Research fellow, Melbourne Sustainable Society Institute, the University of Melbourne) explains his own epiphany ('I've seriously tried to believe capitalism and the planet can coexist, but I've lost faith'):
"As the Productivity Commission confirmed this week, Australia's economy has enjoyed uninterrupted growth for 28 years straight. Specifically, our output of goods and services last financial year grew by 2%. Economists obviously see the growth of a national economy as good news – but what is it doing to the Earth? Capitalism demands limitless economic growth, yet research shows that trajectory is incompatible with a finite planet. If capitalism is still the dominant economic system in 2050, current trends suggest our planetary ecosystems will be, at best, on the brink of collapse."
All this we know and have known for a while. More recently we're allowing ourselves to know this.
And into this debate steps our hapless leader with her deranged caricature of the forces allied against her. Her comments were in part an attempt at misdirection and face-saving (both which failed). But they were also an attempt to set the scene for the Public Order Bill that was passed in the Commons this week, described as 'the most draconian legislation of the modern era'. At whatever point Truss is carried off into the political wilderness, and to whatever extent the Conservatives manage to stagger on, their legacy will be a deeply authoritarian surveillance state the likes of which we have not seen before. They know the coming battles ahead and they are prepared.
In narrating and shaping a debate about "growth" she is trying to articulate the rage directed at workers fighting for decent wages, protestors trying to defend a survivable planet and her political opposition. Her attempt to condense all opposition into a single 'other' has to be met by a coalition that sees common cause across many disparate battles and movements.
This is beyond critical.
Many scientists believe we are living through what they are calling 'the sixth mass extinction' – the largest loss of life on Earth since the time of the dinosaurs – and that it is being driven by humans. Only a week ago the WWF Living Planet report informed us that "Earth's wildlife populations have plunged by an average of 69% in just under 50 years … as humans continue to clear forests, consume beyond the limits of the planet and pollute on an industrial scale."
It barely made the headlines.
Instead people castigated two young women for a direct action that unleashed howls of derision and contempt.
Sometimes these ideas of habitat loss and decline – paradoxically – seem other-wordly. Facing the reality of everyday life, it's difficult to care about the abstract notion of extinction. These realities don't connect. There is no proximity.
It's difficult to see but as Richard Seymour has written (On the eradication of species) we are more connected and interdependent than we imagine:
"Biodiversity is not just an asset from which humans gain. We have complex social and emotional relations with all non-human life. They are part of our make-up, metabolically and psychologically: we contain multitudes. Just as Freud showed that there is no self without the other, no ego without the representation of the personalities that have shaped us, it's also true that there is no human without the nonhuman. The drive to dominate "nature" is, as the ecologist Murray Bookchin has pointed out, derivative of the drive to dominate other humans. What he called "the ecological principle of unity in diversity" is not, therefore, merely good conservationist sense. Biodiversity is not just instrumentally useful for human beings. It is constitutive of who and what we are. It is essential to the human cause, our collective thriving and freedom."
What we in the West and Global North have begun to realise is that endless, perpetual and indiscriminate growth is incompatible with existence. Growth is not just a fetish, it's a threat and a point of disinformation and propaganda. The need to 'decolonise our political imaginaries' and think straight is urgent. As George Monbiot has written ('The PM's vision of growth is part of the class war that is transferring power from Britain's poorest people to its richest'):
"Growth is used to crush our aspirations for a better life. You want higher wages? Sorry, that means discouraging foreign investment and therefore restraining growth. You want fair rents? You're impeding circulation. A habitable planet, you say? You're a voice of decline. Prosperity in a rich nation is much less about ongoing rates of growth than the distribution of power. This is why, in one of the wealthiest nations on earth, millions now depend on food banks. Almost everyone would be better off if we adopted an economy based on private sufficiency, public luxury, rather than Truss's vision of private opulence, public squalor."
The myths of eternal growth are exposed as lies and distortion.
Image credit: @debsmooth