Brazilian Elections: The Fight has just started
During the military dictatorship in Brazil, songwriter Chico Buarque (you might have seen his face before on this meme), wrote an iconic samba anthem that to this day is known as a rallying cry against authoritarianism. It happily declares that 'Amanhã vai ser outro dia / Tomorrow will be another day' and:
I'll pay to see
The garden blossom
The way you never wanted
You will feel bitter,
Seeing the sun rise
Without asking for permission
And I will die laughing
Because that day is coming
Earlier than you expect
Last night Luiz Inácio Lula da Silva won the presidential election in Brazil, making Jair Bolsonaro the first incumbent presidential candidate to lose an election in the country's history.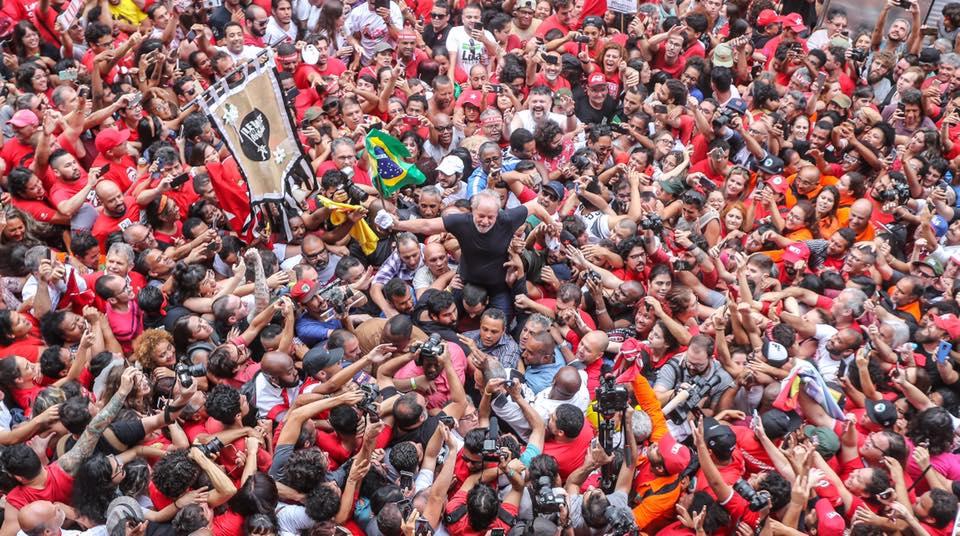 His defeat comes after, if not mishandling, complete indifference to the COVID-19 pandemic and the devastating impact it had in Brazil – resulting in the highest daily death count in the world, ongoing public health catastrophes and an overall system (from education to housing) that has not yet recovered. 
The result brings some relief worldwide as recent warnings predicted a 'collapse' of the Amazon rainforest in case the President was elected to a second term. Deforestation, and the bad actors involved in it, surged during Bolsonaro's term, while it fell 80% during Lula's Presidency. 
Lula's win comes as a necessary turning of the tide from an increasingly far-right, pro-gun, homophobic, alienated on the world stage and socially ultra-conservative Brazil to one guided by mass social movements and a mission to care for those who need it most across the country. 
Unfortunately, this was not the cinematic victory one might have imagined. Throughout the day, the pro-Bolsonaro Highway Police set up roadblocks in some of the most pro-Lula States. Some have called this intervention an indirect coup, which doesn't feel particularly out of place given Bolsonaro's soft spot for the military dictatorship that ended in 1985 in Brazil. Now, two months ahead of Lula's inauguration as President, one could still wonder if a serious military intervention is completely out of the picture. 
But even when you discard the many illegal attempts at subverting the election results, Lula's third term will not be a straightforward affair. Both Congress and the Senate have acquired a significant PL (Bolsonaro's party) majority. Most of these representatives have been elected under the shade of Bolsonaro's extremist and violent approach to Government. This past Sunday, one of them was caught on camera chasing a man she claimed to have harassed her while pointing a loaded gun at him. [link]
The road ahead will be much harder than it was for the Workers' Party back in 2002, not only will there be a stronger opposition, but also a long shadow of Bolsonaro and his sycophants, nostalgic for a bloodier Brazilian past. 
As these ultra conservative perspectives seem stronger than ever before, however, so is the force for justice and enthusiasm for equality meeting them. By force, I don't mean Lula, whose political genius cannot be understated (reminder that less than three years ago he was wrongly imprisoned and portrayed by the mainstream as public enemy number one). Instead, I mean the people who put him where he is. 
While many candidates allied with the outgoing President now fill the chambers of Government, this election also broke records for parties on the left. The movement of the Landless Rural Workers (MST) and its more urban counterpart the Homeless Workers' Movement (MTST), have elected a number of representatives on the State and National level. Among them, MTST candidates that have been elected to the Chamber of Representatives in São Paulo, are Guilherme Boulos with a record-breaking one million votes and Ediane Maria, who as well as coordinating MTST works as a cleaner. 
The history of Brazil is short but complicated. The consistent line in the life of this young democracy is that, over and over, the poorest and most vulnerable Brazilians are exploited by powerful and sadistic individuals who built a system that crushes them in a million different ways, both intended and accidental. And yet over and over, mass movements of people who feel this oppression on their skin come together in fighting for a better life and each other. They've ended dictatorships, faced off police brutality, demanded better conditions and formed stronger neighbourhoods. 
As Lula paraphrased in a recent speech: "You may cut one, two, one hundred flowers. But you can't stop the Spring. Our fight is in search of Spring."
Nothing given. Everything fought for by the people with the most taken away from them.

"Our fight is in search of Spring"

— Sam Gonçalves (@SidlingBears) October 30, 2022
The defeat of the far-right this Sunday may not be final, there's a lot more work to be done. But this election win is not a one-off either. It's the result of doing people-first politics, on-the-ground organising, collective action, solidarity and a shared vision that doing this work may make tomorrow a different day.
Amanhã vai ser outro dia.