Succession, Death and Scotland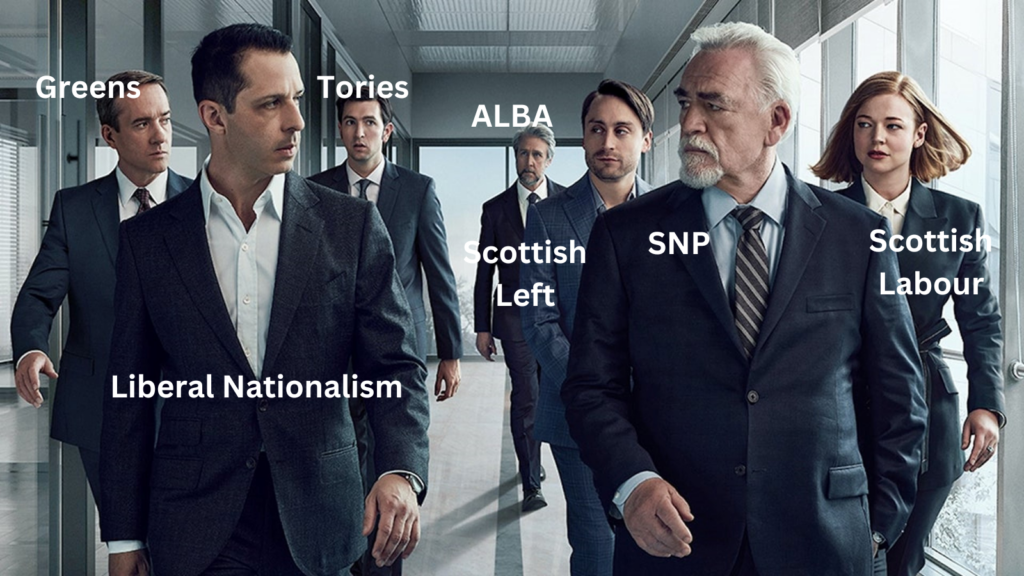 If Logan Roy is dead, so too is the era of SNP dominance. The question is what and who comes next? If Roy, as played by Brian Cox has dominated Waystar Royco for so long, his passing is the perfect allegory for the death of the Old SNP. In this story the competing successors are: Liberal Nationalism (Kendall Roy); the Scottish Left (Roman Roy); Scottish Labour (Siobhan Roy); and ALBA (Connor Roy). To unpack this, the desperate to be on-trend Kendall raps and spouts whatever the latest jargon and buzz-words he can muster from beneath his baseball-cap, but is ultimately doomed by his tragic character flaws and his deep shallowness. Roman Roy is by far the smartest, most brutal and likeable of the offspring, but his daddy-issues (Marx not Karl Muller) will prevent him succeeding. Siobhan feigns being Waystar's progressive choice but she is consumed by opportunism, hides a nasty streak and is terminally unfaithful, she too will not succeed. As we will see later ALBA remains Scotland's Connor Roy. As Logan Roy/the SNP dies the glee with which the inheritors of this kingdom are dancing is misplaced.
Shambolic Collapse
The shambolic collapse and exposure of the SNP continues to unspool daily before us. There's a long way down still to go but it's difficult not to believe that the party's electoral fallout will be massive, and the consequences for the independence movement disastrous. There is no emergent strategy that doesn't have the SNP as the vehicle to propel the movement forward.
The roots of this debacle have been well documented.
In figuring out where we are and how we got here it's hard to disagree at all with Pete Ramand and James Foley's assessment here (A Second Scottish Independence Referendum Isn't Going to Happen) : "Scotland experienced an authentically fascinating and, in global terms, underappreciated moment of social movement mobilization in 2014. It left a long, indelible imprint on popular consciousness. However, at some stage it will be necessary to accept that this moment will end without a firm political conclusion. In truth, it probably ended some time ago. That fact may be tragic. But failure to accept defeat will only postpone a long overdue reckoning with the contradictions of sovereignty and independence in crisis-ridden twenty-first-century capitalism."
Nor is it difficult to disagree with Jonathon Shafi's assessment of the corporate capture of the SNP when he writes (A fork in the road, Misplaced loyalty is coming back to bite the independence movement): "Key policy areas were farmed out to the corporate sector and outsourced to private consultancy firms. Hundreds of meetings between Scottish ministers and multinationals, wealthy individuals and other influential organisations were left off the lobbying register. The "Economic Recovery Group" set up during the pandemic, was led by the former CEO of Tesco bank, Benny Higgins, who is now Chairman of the estate of Scotland's largest feudal landowner, the Duke of Buccleuch. The council to advise on a ten-year plan for Scotland to "unleash entrepreneurial potential and grow Scotland's competitive business base," included Sir Nick Macpherson, a former Treasury permanent secretary who advised George Osborne to reject a currency union during the 2014 referendum campaign. Known as "Scotland's National Strategy for Economic Transformation" this body has so far produced a couple of events which the media were excluded from."
But if the pall-bearers of the SNP are doing a decent job, the fanfare of any credible alterative emerging from the pyre is oddly silent. Instead we are to engage in some magical thinking. The Labour Party under Sir Keir Starmer is engaged in an endless round of self-harm missing open-goal after open-goal while establishing a ring of steel surrounding his Heir to Blair milquetoast manifesto. The idea that the Labour Party – this Labour Party – is standing by as anything other than a side-show to the grotesque Conservatism regime is laughable and desperate.
Unconventional Thinking
Meanwhile as all hell breaks loose in Scotland, a consensus appears to be forming that 'a convention' will be a salve, a solution, or something. The National helpfully explains that "The project would bring together all pro-independence parties and pressure groups, and was backed by both Kate Forbes and Ash Regan during the SNP leadership contest" and that "Alba have welcomed the results with the party's Westminster leader Neale Hanvey saying an independence convention can "help the movement achieve its ultimate objective of securing Scotland's independence".
Quite HOW this would be so is never explained. What possible impact would having a convention have? Nobody knows. Equally mysterious is the assumed resurrection of ALBA's leader. Writing in the National, George Kerevan writes: "ONE unexpected fallout from the SNP implosion is the political rehabilitation of Alex Salmond." There is no evidence either why this would be, that this is happening, or, importantly, what such a rehabilitation might achieve.
But back to the convention. The Great and the Good have jostled into place – and now the line-up is in place. And what a lineup. SSRG will be there, plus Hector Macleod! SUWN will be there, AND Collette Walker.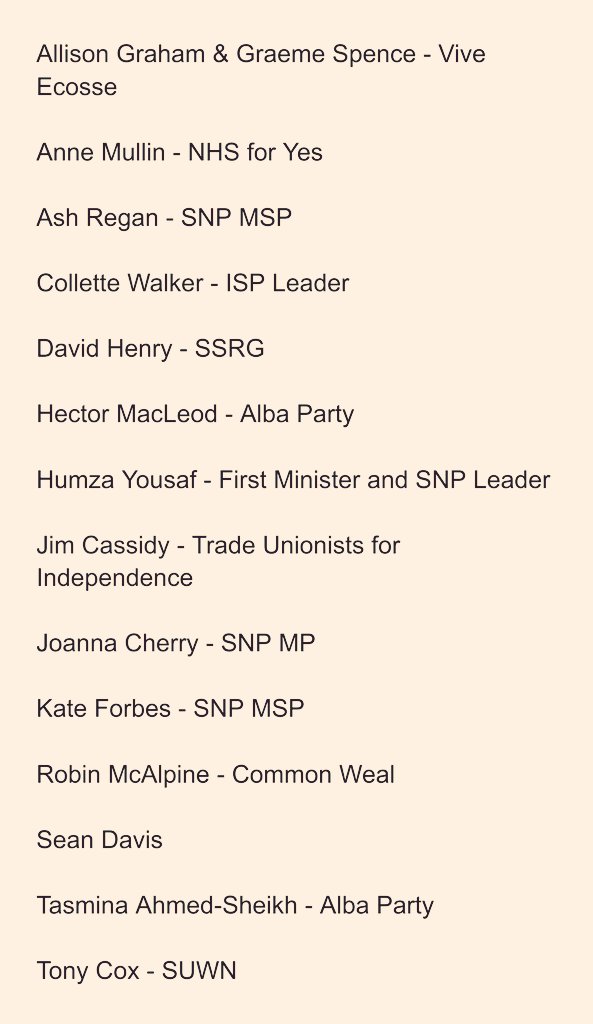 But really, this is wild. What will Tasmina, Kate, Ash, Joanna and Humza agree together? (and don't write in all angry about Humza being at the coronation, I know! I know!). What will Craig Murray and Robin McAlpine reveal, and how will it be transformative to our nation's destiny?
At the Eagles Inn with Alex
The presenters seem to custom a tone that seems simultaneously patronising and arrogant. The talk of the 'energy in the room' and the excitement with which they have witnessed the downfall of their closest enemies is vivid. But the missing bit seems to be how ALBA and Alex are the beneficiaries of the SNP collapse? The assumption seems to be that (if I've followed this correctly …) that as the SNP collapse huge swathes of voters will switch their allegiance to ALBA. From a percentage support of 1% and zero representatives they will be transformed into a governing party and win independence.  Alternatively they will forge a grand alliance with the despised SNP and the mighty ISP and together we will win our independence (?)
But this, like the Convention idea – seems to be based on some Magical Thinking. Somehow the bringing together of Ash Regan and Joanna Cherry and Kate Forbes will transform our prospects for independence, but how we will never know.
The imminent collapse of the SNP does not translate into electoral advantage for other parties. I predict a riot. Electoral shambles, splitting, defection and a massive realignment is more likely than a distinct new force coming through. Why? The comparisons with the collapse of the Scottish Labour Party are easy but don't quite work. When Scottish Labour floundered on the rocks of Blairism there was waiting in the wings a big political idea: national self-determination, a potent idea that had been lurking in the shadows for decades gathering strength. Fast forward to today and no such equivalent political energy lies latent.
Logan Roy is dead, but who succeeds him is unclear.
Liberal Nationalism (Kendall Roy) is fatally wounded by recent events, and uninhibited by its own failings will continue to pursue a ridiculous 'more of the same' approach to government and campaigning. The Scottish Left (Roman Roy) has some great one-liners but is a damaged and confused person. Scottish Labour (Siobhan Roy) looks like a possible inheritor of the business, but has done nothing to work through her (constitutional) issues and remains tied fatally to the Starmer project, which offers little of substance to Scotland. And ALBA (Connor Roy) remains committed to running for office, blinded by its own inadequacies and holed-up in pub venues talking about the Declaration of Arbroath. The mistake here is to see this moment as a fresh-start. If independence is dead, ALBA is the shroud. These are people operating not inside one bubble, but inside a bubble within a bubble within a bubble. They are, as Logan put it of his feuding children: "Not serious people".