Bikes, Trains and Clean Water
These are hard times, and dark times, and most of the time our output reflects that. But once a week for the next month, we're going to experiment in publishing some good news.* Here's three positive stories.
First up, the Dutch Cycling Embassy – a network for bicycle inclusive mobility who represent the "best of Dutch cycling: knowledge, experience and experts" tell us that: "More than 50% of all inner-city motorised trips in Europe could be replaced by a cargo bike." They are profiling Cargoroo, a start-up offering e-cargo bike sharing in European cities.
The project combines the ideals of the Provos White Bike Plan with the concept of Usufruct.
Cargo bikes are the classic bit of kit to share. In nay city there are many thousands of people who need a cargo bike every day, but even more people more who only need one now and then. We don't all need to own stuff.
Support their Crowdfund here.
Second up, Peter Allen, a journalist based in Paris reports: "Beyond the doom and gloom, great to see le Parisien splashing on swimming in the Seine today. More than €1billion spent on making it happen."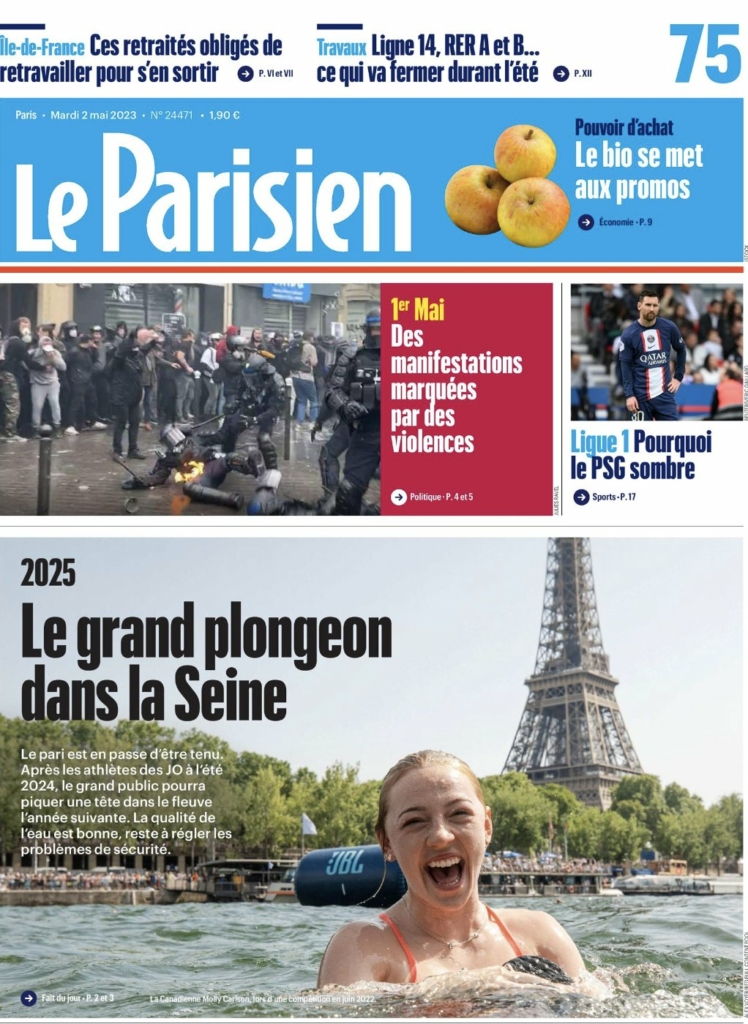 Can you imagine that happening here? Me neither.
As rivers and clean water campaigner Feargal Sharkey writes: "Paris spends €1bn to clean up the Seine so people can go swimming in it while last year alone, meanwhile Thames Water spent 7,000 hours dumping sewage into 31 of London's rivers all of which ends up in the Thames."
Third up, affordable rail travel for all. No not here silly – we've got too much Brexit-Freedom for that sort of nonsense.
Way back in 2019 the German Greens launched plans to boost railways, make domestic flights obsolete by 2035, and strengthen European rail travel by a network of night trains. It involved lower VAT for rail, higher jet fuel tax, and €3 billion annual investment in German railways.
Now you can travel all over Germany for €49 after German lawmakers voted in favor of the so-called 'Deutschlandticket,' which entitles to use local transport and regional trains all across Germany for under 50€ a month.
DW Politics tell us: "Building on the popular 9€ ticket from summer 2022, the 'Deutschlandticket' simplifies travel by eliminating the need to buy new tickets when crossing state lines, making transport more seamless."
"Politicians are praising the ticket agreement as a climate protection initiative and a milestone in the state's effort to transform mobility. German states and the federal government will equally share the expected annual costs of €3 billion."
Now the sharp-eyed among you will have realised that all of these stories are from mainland Europe. Yeah will thank your lucky stars you've got nothing to do with that lot any more.
*Normally the idea of 'good news' is a sort of sickly-sweet liberal idea, that's mostly terrible, we know.