On bectu and Doune the Rabbit Hole
"At this point we are now advising members, non members and artists to avoid this festival. We would call on any acts who have agreed to play to seriously consider whether they want to play at a festival which owes so much money."
– Bectu, Scottish Live Events Network
Last year we covered the growing concerns about large numbers of artists, workers and businesses who were left unpaid by Doune The Rabbit Hole Festival 2022, and the large amounts of public grants that had been channeled to the business, and the strong likelihood that the business model of paying off old debts by creating a new festival was going to fail.
At the time the festival organisers told the Herald: "Since July 2022 Doune The Rabbit Hole Festival Ltd continued to trade because there was good reason to believe that we could expect an imminent windfall from a large bank loan and/or major donation from a private source. As part of the conditions attached to the planning and promotion of future events it has been agreed that future proceeds from Doune 2023 and beyond will be paid in full to the liquidators who in turn will pay these as dividends to creditors."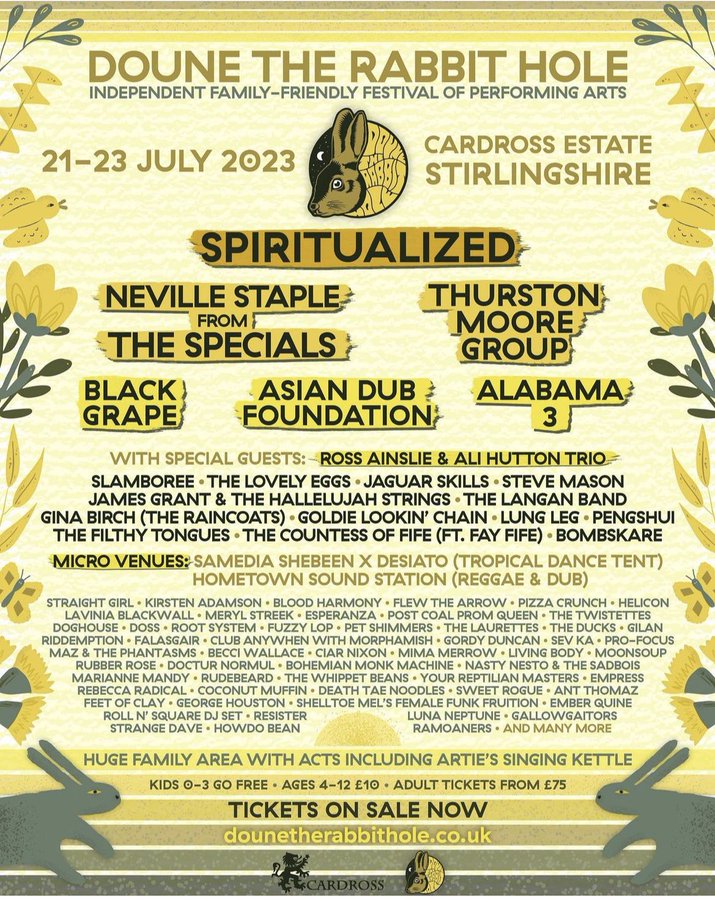 Now it turns out that none of this was true.
The Scottish Live Events Network has issued a new statement urging people not to work for, or going to Doune the Rabbit Hole:
"We have further information which we think is important to share with our members and the wider public. If you haven't read our previous statements please Read them here to get some background. For those without time to read the whole post, key information is BECTU and SLEN are actively now advising against working for, going to, or supporting DTRH for a multitude of reasons listed in detail below, please feel free to share this post to colleges friends and others."
They continue: "When the organisers contacted our branch in December 2022 they claimed that no one was owed any money from any of the festivals previous to 2022. We already knew that this was not true. When it was pointed out to them that at least one company was owed thousands of pounds from Festival and Beverage (the company now back running this year's festival) the response was "oh yes – except for them there is no-one else". They also promised to contact that company and sort out payment terms. The company received two emails with all the usual excuses of why they could not pay. Then no response. A further email eventually was responded to with more excuses. That company is now going to seek redress through legal means. We have also found other companies that are owed from multiple previous festivals. It is disappointing that  the organisers were willing to mislead us in our very first conversation. Sadly this attitude of continual non payment followed by excuses and empty promises seems to be the business model they follow."
SLEN also have concerns about the use and misuse of volunteers at the event. When contacting the organisers about the issues surrounding volunteers they were faced with what they call a "a vitriolic rant". To be clear SLEN has concerns about the roles volunteers are being asked to do including asking for people to build fences, construct marquees, work in catering, and build roads.
SLEN has commented saying: "Also during the festival to work behind bars, stewarding, park cars and to fulfil technical backstage roles. All of these jobs require specific training, insurance and PPE amongst other requirements and break many of the other volunteer charter statements concerning using volunteers to undercut pay and conditions of service, to reduce contract costs or to bypass minimum wage legislation. Using volunteers in safety critical roles is something that the organisers told officials at the March meeting that they would not do this year. Clearly they have changed their minds."
As the Union says, no-one wants to prevent a festival going ahead but the mounting debts, mismanagement and safety issues, as well as the exploitation of volunteers has culminated in this crisis.
Former DTRH performer Iona Fyfe has commented saying: "I'm concerned to hear that there are still issues with payments and outstanding amounts owed to musicians, crew and other workers from previous years of the festival. Whilst there was pro-active communication between the festival and the Musicians Union surrounding the implementation of a payment plan, the new statement has contradicted and undermined these efforts. The festival had also asked volunteers to place deposits of £100 to secure their position to volunteer. This just feels extremely exploitative and tone deaf. It truly is a shame because I've previously performed at the festival twice and apart from a small delay in being paid and the fee's being very variable and odd, I haven't had much issue. But when other musicians have not been paid, we must work together collectively to call out this sort of behaviour and mismanagement. Especially when the new company has been in receipt of public funds."
The crisis speaks to a wider crisis in arts media in Scotland.
Read the full statement HERE.