Beyond the Pantomime
Returning from holiday to survey the British and Scottish political landscape is to look across a weird space where little of value or hope or integrity shines through. Every day Sir Keir Starmer seems to abandon any redeeming policies and fold to England's tabloid Overton Window. Today – in  a pitiful excuse for Starmer abandoning the Tories two-child benefit policy the Scottish Labour leader Anas Sarwar explained that there were fears of repeating the financial mismanagement imposed by Liz Truss and Kwasi Kwarteng, which saw inflation rise, the pound collapse and a hike to mortgage interest rates. To public jaw-dropping Sarwar said that scrapping the controversial benefit limit on parents with more than two children could "spook the markets". The 'Market' as a God and a force in and of itself is an essentially Tory idea. As this report from the Nuffield Trust ('Needs and entitlements Welfare reform and larger families') outlines the two-child limit is a social policy disaster in every possible sense, driving hundreds of thousands of children into extreme hardship and deprivation. Read it here.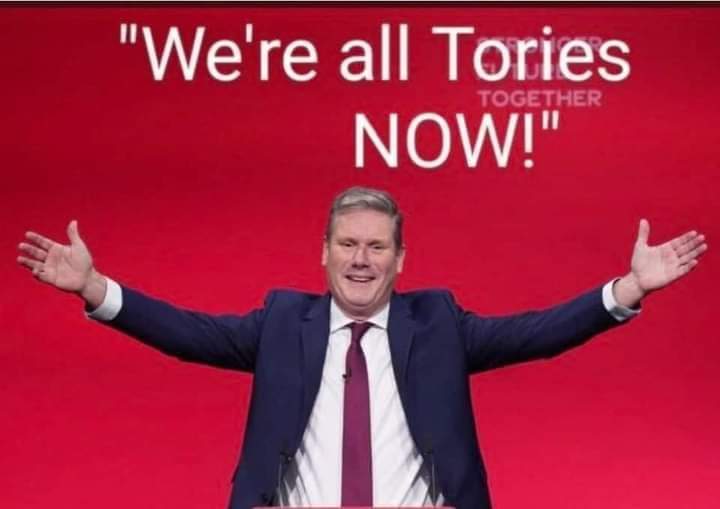 Such is the abandonment of even the most basic progressive policy that commentators are beginning to ask what social forces will Labour's pre-announced failure unleash? John Harris writes: "Labour is emphasising two contradictory ideas. With one voice, it tells us that we cannot go on like this; but it then changes register, and suggests that is exactly what we are going to have to do. The howling tension between the two brings to mind a celebrated quotation from the Welsh thinker and writer Raymond Williams: "To be truly radical is to make hope possible, rather than despair convincing."
The unfolding ideological agenda of Britain's supposed 'government in waiting' causes problems for those Unionist scribes who argue stoically (and relentlessly) that the reason to stick with Britain is because 'only together' can we end poverty / build houses / create an equal society (etc etc you get the drift). Just as they are about to pen another great article denouncing nationalism (Scottish) up pops another Labour leader explaining how they will – literally – change nothing at all. It's all very embarrassing.
James Butler has written ('Radiant Ambiguity'): "Starmer's political statements rarely add up to much or endure for long: the ten moderately left-wing pledges made in the leadership campaign (abandoned); announcements on green spending, rent control, taxes on tech giants and universal childcare (euthanised, forgotten or diluted); a 12,000-word Fabian Society pamphlet, The Road Ahead (insubstantial, bromidic). In the past year he has outlined five 'missions': to achieve the highest growth in the G7; build an NHS fit for the future; make Britain a clean energy superpower; make the streets safe; and break down barriers to opportunity. Only the clean energy commitment might worry a liberal Tory."
Elsewhere is not much better.
Over at the Times Iain MacWhirter writes an oddly gushing article in praise of Alex Salmond ('Salmond lording it again as Sturgeon seethes') in which he claims (among a great many other things) that Salmond has been "restored to the SNP pantheon". MacWhirter is of the old school who believe in the Great Men of History theory.
He writes, quite rightly that a number of SNP MPs are abandoning their seats, including Angus MacNeil, the SNP member for Na h-Eileanan an Iar, the former Westminster leader, Ian Blackford, and the recently appointed deputy leader, Mhairi Black. There is a palpable sense of failure and collapse in the SNP it's true. But what MacWhirter fails to grasp in his tribute to Salmond is that Angus MacNeil who has publicly basically left the SNP – will not be joining Alba. There's a reason for this.
While MacNeil is quite right to say that the Scottish Government was "utterly clueless about independence" when it went to the Supreme Court last year and still "utterly clueless" about it afterwards, he has very little alternative. His analysis of the political situation is basically correct: "I'm in despair about our utter fear to do anything," he told Kevin McKenna and "Humza Yousaf is saying it's a majority of seats that's required in a de facto referendum, but it's not. A de facto referendum is won on votes not seats."
He is of course quite right.
He will not be joining Alba because Alba is a dead political project and he knows it. Despite the gushing praise from MacWhirter and colleagues – the simple unavoidable reality is that Salmond is the reason Alba can't and won't work, and the reason why they are parading around the backrooms of pubs speaking to the converted.
Everywhere you look there is political failure. It is a cross-party phenomenon and suggests a systemic problem.
As the world burns very very few political parties have anything credible to say about it. Very few admit the scale of the crises we face and virtually none have a pathway to the sort of radical change required to rebuild society, protect the most vulnerable and prepare for the coming change. Instead of facing the reality of climate breakdown we gossip and chatter in the moron culture about Philip Schofield and Huw Edwards.
The Scottish political landscape is changing rapidly – but the assumption that Labour is the inheritor of the SNP's collapse looks a lot less credible than ever before as Sarwar flounders under Starmer's daily announcements. Britain is utterly broken. It is a fundamentally dysfunctional place to live ruled by a bizarre caste. The political commentary and media coverage is a performative act which colludes with a strange set of assumptions and is ushering in a new political party to preside over the chaos as if it is actual change.
The predicament suggests that real change will come from outwith the political system and beyond the pantomime.