Operation "Joint Warrior" – Bombing Cape Wrath
As you read this another NATO war fleet has assembled off the North West coast of Sutherland. George Gunn writes: "There are 19 vessels – warships and submarines – from 10 countries participating and firing live ordinance at the lonely sea stack known as An Garbh Eilean, just off Cape Wrath. In addition there are 20 aircraft involved and 2000 military personnel on the ground throughout the West Highland seaboard. Operation "Joint Warrior" is a twice yearly NATO training exercise and a flexing for the world to see of military power. From October 22nd to November 2nd significant areas of the North West Highlands are off limits to civilians. The majority of people in Scotland are oblivious to the militarisation of their country."
This is just part of the wider militarisation of Scotland that acts as a dumping ground for the British state.
Share this poster we created in collaboration with graphic artist Andy Arthur (follow him @cocteautriplets).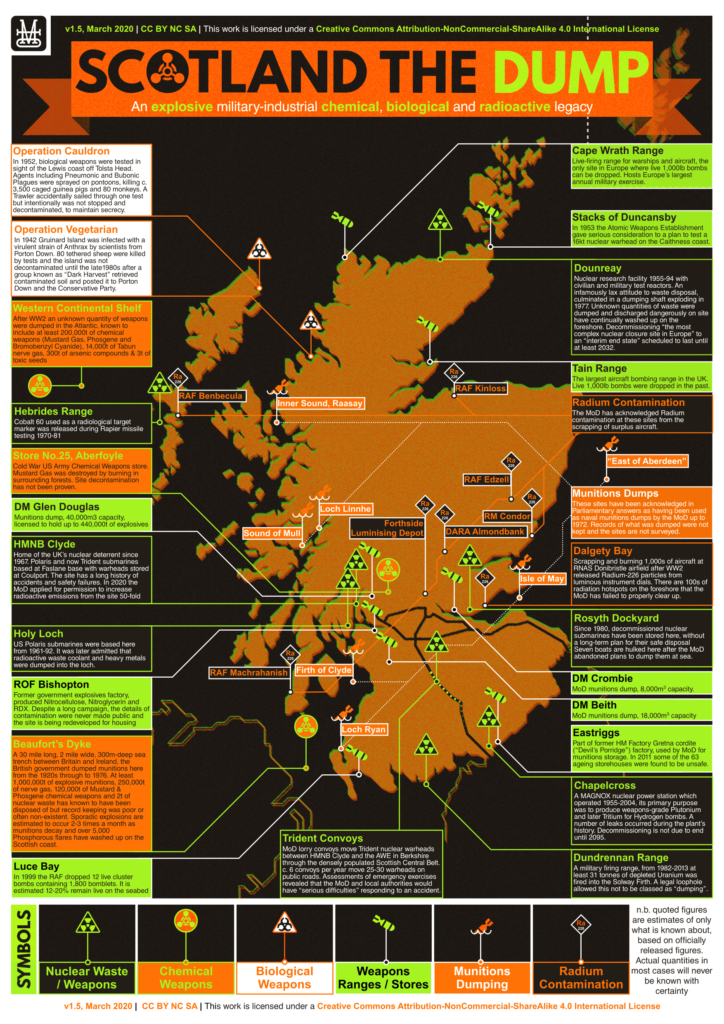 This map is available in print form (A2 420×594) for cost and postage only. Pay £5 (including p&p) Pay by Paypal here.
We will make this available in bulk if people want to order multiple copies for distribution. For bulk orders contact us.
This map is shared here under Creative Commons Attribution-Non Commercial-Share Alike 4.0 [that means you can Share — copy and redistribute the material in any medium or format – you can Adapt — remix, transform, and build upon the material – but you've got to attribute the creators and you can't make money out of it. Also – If you "remix, transform, or build upon the material, you must distribute your contributions under the same license as the original". The creators are Andy Arthur and Bella Caledonia].