Zero Carbon Spin for Edinburgh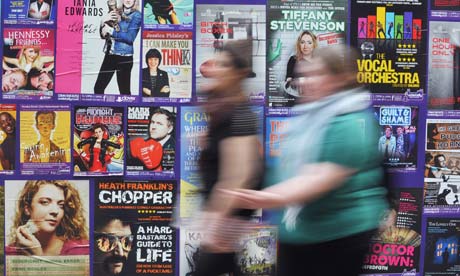 "The Edinburgh Festivals have announced plans for how they will respond to the climate emergency and help Edinburgh achieve its goal of reducing carbon emissions to net zero by 2030." So says, er, Edinburgh Festival City dot com.
A new report called 'Taking Action on Climate Change' outlines how the festivals are "accelerating their own response to climate change" –  and "playing their part in ensuring a world in which people, nature and culture can flourish sustainably for the benefit of future generations."
Brian Ferguson reports for the Scotsman that "Schemes being pursued include a deposit return scheme for reusable cups, which will be rolled out across the festivals" and also "switching to vegan and vegetarian catering for some events."
The festivals (the Edinburgh International Festival, the Fringe and the city's Hogmanay, storytelling, jazz, science, book, film and visual art festivals are included) have employed a company called 'Beyond Green' a "sustainability consultancy" to do the work. The company's slogan is "Future-proof your company. Protect your profit margins."
They aim to:
Switch to fully renewable electricity suppliers, as verified by Energy Savings Trust (this is great though I don't know why this didn't happen ten years ago)
Shift from paper-based systems towards digital systems (this is great though I don't know why this didn't happen ten years ago)
Strengthen sustainable procurement policies (this is great though I don't know why this didn't happen ten years ago)
Engage participants for longer periods so they can make fewer journeys (this is really vague)
Encourage audiences to choose lower impact travel options and expand our digital offers (the options of zero carbon ravel to Scotland are, er, zero)
Motivate others to reduce their own carbon footprint through our creatives programmes (this is really vague)
The plan has some positives to it but the whole plan hums like greenwash. This is no paradigm shift. The entire basis of the festival (s) strategy is perpetual growth. None of this is challenged or discussed.
In 'Phase 1′ Verification of Emissions' the report states:
"In 2025 and 2030, participating Festivals will have their emissions verified and published again, to demonstrate the carbon savings made. Further, all Festivals will continue to report their core emissions annually to Festivals Edinburgh and their funders."
So in a decade the festivals will report their emissions to their funders and, what? What will happen?
In Phase 2 'Verificatiop of Reduction Targets' the report states:
"Following Phase 1 Verification of Emissions, we will request an independent assessment of the Festivals' initial carbon reduction plans and determine whether or not the key targets are likely to be fully met with the planned carbon reduction measures. If not, further actions will be recommended. Festivals will incorporate the results of this process into strengthened plans with verified targets, which will be published within a reasonable timeframe."
This is all hopelessly vague and unconvincing. There are no sizeable targets or enforcement, but then there couldn't really be if you don't really challenge the core of your activity.
The vast bulk of visitors to Edinburgh fly short-haul to Edinburgh airport. There is no mention of a strategy to change any of this just vague bromides about sustainability peppered with veganism and re-usable cups. Nobody seems to get it. We are beyond al of this staring into the abyss.
Organisations and institutions need to to re-think what we are doing in a fashion that is far more radical and deep-seated than this exercise even begins to realise. The slogan "Future-proof your company. Protect your profit margins" tells you everything you need to know. Everywhere we see the same pattern: change as little as possible.
Net Zero is the new buzz word for doing as little as possible with maximum spin. It won't wash. Cultural tourists are tourists.  Their flights have the same carbon impact even if they are watching an edgy play at the Traverse of a hilarious comedian.
@edfests use the hashtags #ClimateEmergency #COP26 #NetZeroEdin but it feels like a Nathan Barley press release or an early Ben Elton novel.

Help to support independent Scottish journalism by subscribing or donating today.