Brexit Failure and the Blitz Spirit
In the latest wheeze of the Brexit debacle we're told that foreign lorry drivers will now be able to make an unlimited number of pick-ups and drop-offs in a fixed period in the UK under changes to rules proposed by the government to prevent shortages of products in the run-up to Christmas and into the new year.
Take. Back. Control.
As the supply chain grinds down and the prospect of an unpopular Christmas debacle (no Pigs in Blankets!) the Brexit fiasco as 'managed' by Johnson's Government from the Beach reaches new levels of absurdity. It all has the feel of lurching from one catastrophe to another with the most minimal input. 'Light touch' is the watchword.
The transport secretary, Grant Shapps, said the effect of the proposed change – to what's called cabotage rules – was the "equivalent of adding thousands of extra lorry drivers to the road, but we don't have to do anything with visas in order to do this". He added: "People will be able to get things for Christmas – these measures are having an impact, things are loosening up."
The government – the one we didn't elect – is terrified of Christmas – as they were last year. The moves to bring in more foreign workers – the exact opposite of the entire Brexit project – comes after the government reported they had recruited twenty (20) new HGV drivers. In a sense this is ideal for everyone. Workers are "allowed in" to do a service the political cabal has forced into crisis, they are paperless and serve only to function. The fact that it undermines a whole industry here and contravenes the governments own recent rhetoric and the entire raison d'etre of Brexit doesn't matter at all. Everything is hyper-short-term. Everything is spectacle, and in this case the spectacle is Christmas, which must be saved. It's all feted by a faithful crew of hacks. In The Times Clare Foges writes: "Don't bet on a hard winter toppling Boris". She explains "We've got used to a degree of chaos during the pandemic and many secretly enjoy the  chance to show some Blitz spirit."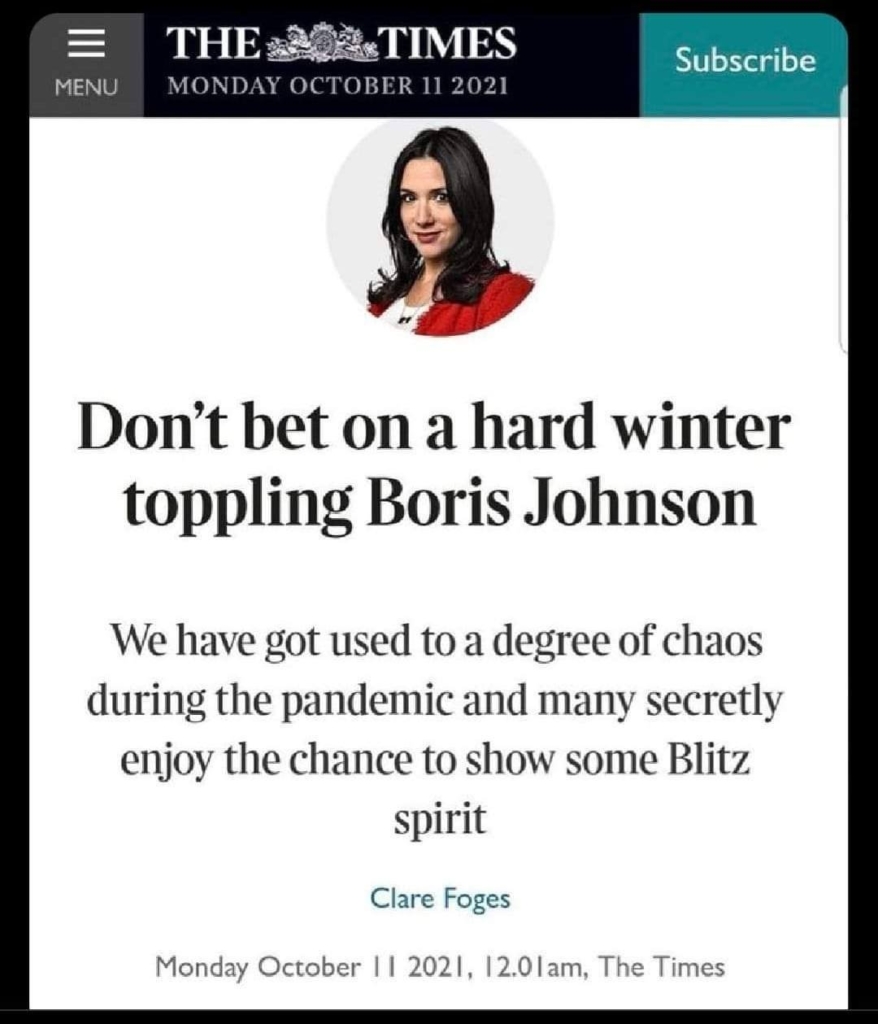 Brexit, which can now be seen as the political manifestation of the Keep Calm and Carry On meme has a long history of drawing on Second World War metaphors, as if the EU were Nazi Germany to be defeated only by our unique and indomitable spirit, and Dunkirk, the Home Guard, Anderson Shelters and, of course, the Blitz are all regularly referenced in this bizarre exercise in Anglo-British nostalgia. Foges scribbles in the Times was perhaps a new low. Here she is a privileged journalist who had previously been a speechwriter for David Cameron evoking a war she didn't live through, celebrating 'a degree of chaos' she has never experienced. It's pretty vile in every conceivable way.
She continued: "I reckon a large chunk of the population doesn't just endure national crises like these but rather enjoys them. Yes, tracking down petrol is irritating and no one relishes the thought of bare supermarket shelves but the truth is that many find the collective experience of a crisis diverting and even fun."
As front-line workers carry-on through stress and exhaustion and the brutal inequalities of post-austerity Britain are exposed by the pandemic this kind of hobby-journalism is sado-populism gone mad.
Over at the Mail on Sunday, Sir Iain Duncan Smith joined the World War Two themes by bashing civil servants and other workers who want to keep working from home on account of COVID-19 posing a risk to their lives. Their refusal to return to their desks sets a bad example, according to Sir Iain:
"Working from home is rapidly emerging as a new 'right'", the former leader of the Conservative Party explained: "When I think of all the brave civil servants who went to work in the 1940s, determined to do their bit regardless of the threat from falling bombs, I wonder what has happened to us as a nation."
Here we are in the week when a cross-party group of MPs surprised absolutely nobody and called the UK government's Covid response 'one of UK's worst ever public health failures in history' and these people have the temerity and opportunism to evoke the Blitz. The Guardian reports: "Groupthink", evidence of British exceptionalism and a deliberately "slow and gradualist" approach meant the UK fared "significantly worse" than other countries, according to the 151-page "Coronavirus: lessons learned to date" report led by two former Conservative ministers. Boris Johnson did not order a complete lockdown until 23 March 2020, two months after the government's Sage committee of scientific advisers first met to discuss the crisis."

In this and in so much else Brexit and the Pandemic have morphed and merged into one giant indistinguishable entity. This has at least three clear examples. Not only did 'British' (sic) exceptionalism feed the slowness to go to lockdown; but the mythical rhetoric about "Global Britain" fed the lunacy of completely failing to control or regulate air travel. Thirdly the Tories have used the pandemic as cover for their own self-inflicted Brexit nightmare.
The hypocrisy and the litany of lies piles up.
In Felixstowe, Britain's biggest container port, is so full that the world's largest shipping company is diverting its vessels elsewhere. The decision by Danish firm Maersk to send one of its weekly super-ships holding 18,000 containers to unload on the Continent is unfortunate news for the Suffolk port, which complains that its problems are rooted not in a lack of space but in the dearth of truck driversneeded to shift the containers full of Christmas goods to shops and warehouses.
Who could have seen this coming? Oh, yeah, absolutely everybody.
Asked if he negotiated the Brexit agreement in good faith, Lord Frost responds: 'We negotiated to find a result'

Lord David Frost comments after Ireland said countries around the world should not deal with the UK because it 'doesn't keep to its word' https://t.co/2Sh7Dtau1U pic.twitter.com/fdLvJaAwO7

— ITV News Politics (@ITVNewsPolitics) October 13, 2021
Now we have Lord Frost in an interview with ITV about the Northern Ireland Protocol saying: "We negotiated to find a result." Some say they're being disingenuous, they're not they're just lying. The British governments behaviour over the Northern Ireland Protocol is staggering. It's astonishingly dishonest and reckless. As Fabian Zuleeg the Chief Executive & Chief Economist, European Policy Centre said: "The UK government has no intention of keeping to what it negotiated & signed up to. His speech is a calculated insult, containing much falsehood, culminating in an impossible demand to replace the Protocol with a new UK drafted legal text. This will not end well."
Frost was responding to the fact that Ireland has warned countries around the world not to trust the UK because it is run by a "British government that doesn't necessarily keep its word". Irish deputy prime minister Leo Varadkar urged countries to be careful when dealing with the UK because of the "bad faith" demonstrated in the government's plans to overhaul a key agreement signed as part of the Brexit deal. After agreeing to the Northern Ireland Protocol – part of the Brexit arrangement that means checks on some goods and services flowing between Great Britain and NI – the UK has continually sought to change aspects of it.
In all of this bizarre posturing Britain's reputation – such as it was – is utterly trashed. 'Global Britain' is synonymous with lying. For all that Britain stood outside of a number of European conventions and regulations being politely humoured with endless opt-outs and exceptions, now it wants more of the same. It now wants to opt-out of the inevitable consequences and impossibilities of its own treaties which it negotiated in bad faith only a few months away.
If the British want to threaten the stability of Northern Ireland and the peace agreement then so be it, they are recklessly ahistorical, and it just adds to the crisis and multiple fracture-cracks in the Union on many fronts. Finally the Union Hypocrisy exposed by the "Coronavirus: lessons learned to date" report is astonishing. The report laid out in stark terms the absolutely disastrous handling of the pandemic we all just lived through and watched in real-time. This was the very same set of policies that the Conservative and Unionists urged Scotland to follow to the letter and shrieked in horror when Nicola Sturgeon's government deviated from in any sense at all. Now, even with the benefit of hindsight none of these people blushed in their reiteration of this madness. The backlog of problems this government is storing up for itself is an unforgivable phenomenon and an unsurvivable process.