Closer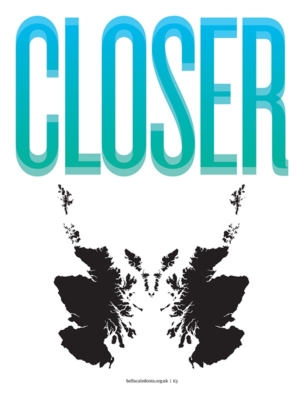 We've been a working on a special project which goes to press today. It's our new journal Closer which will be launched at The After Party on Sat 21 Sept  at the Bongo Club, Edinburgh.
It's a limited edition newspaper format with some of the best commentary around as we mark the milestone of 'one year to go'.
The writers were invited to respond to the challenge of imagining a new Scottish democracy. What changes will help transform Scottish society when we get the powers to control our own affairs? How can we get closer to democracy, closer to land, closer to nature, closer to a way of living that isn't so distorted by the economics of exploitation? It's an amazing snapshot of hope, potential and vision.
Isobel Lindsay asks what would a demilitarised Scotland look and feel like? Lucy Conway explores the Eigg electricity model writ large across Scotland. José M. Ramos examines how new peer to peer practices are shaping a new politics.
Andy Wightman looks at how we can extend the idea of self-determination down to a local level.
Fraser Macdonald questions ideas about wildness and wilderness. Dougald Hine on how DIY and hacker culture can help a new country when state and market have failed. Lesley Riddoch on what Scotland needs to flourish …
Kevin Williamson on why we need a new digital democracy. Douglas Stuart Wilson on 'maximum cultural diversity'. Robin McAlpine on moving away from an economy based on low income low skilled jobs. Cat Boyd on union laws and social justice. Elaine Morrison on an alternative to polluting rip-off energy systems that are staring us in the face. Iain Mackinnon on language, culture(s) and 'large scale solidarity'.
We have 100 copies set aside for people who can't make the launch but want to order a copy. It's £5.00 including p&p anywhere in the UK. Go here to donate and we'll post you out your copy.
Special thanks got to Pat at Product magazine for proofing and editing assistance and Kieran McCann for very lovely design ideas and patience and to Momus for allowing us to use his image for the cover.