Sophie's World
The Better Together lobby have a new campaign to "target 300,000 female swing voter all across Scotland" with a letter from a 19 year old Sophie Sandor who, according to their website, is a Edinburgh University student from Ayrshire. I was one of the lucky ladies to receive the letter yesterday and to be honest, I found it rather annoying. I am getting a bit tired of being told indirectly that we are a bit crap – that we cannot get by without the UK government and its vision. It suggests that independence for Scotland is a move to narrow, inward looking nationalism, while UK nationalism is global and progressive.
I am perturbed but perhaps not surprised that a bright student at one of Scotland's top universities buys into the echoes of colonial attitudes and ignores how UK nationalism is turning inward as UKIP wins the UK's EU majority. So as Sophie writes that she is "keen to find out what I think" I decided to reply with my own letter and sent it in their freepaid envelope. Here is that letter and my reply. I encourage you to write one of your own too as the people that live in Scotland are not a bit crap, and we have a choice and do not need to be carried along with the political shift to the right where the UK government is leading us.
I am not a member of Yes Scotland just a peeved off Scottish women with an opinion. Send your letter to: Better Together, Freepost RTAU-ZCRB-TELS, 5 Blythswood Square, Glasgow, G2 4AD. Freepost costs go to the campaign. so send your letters!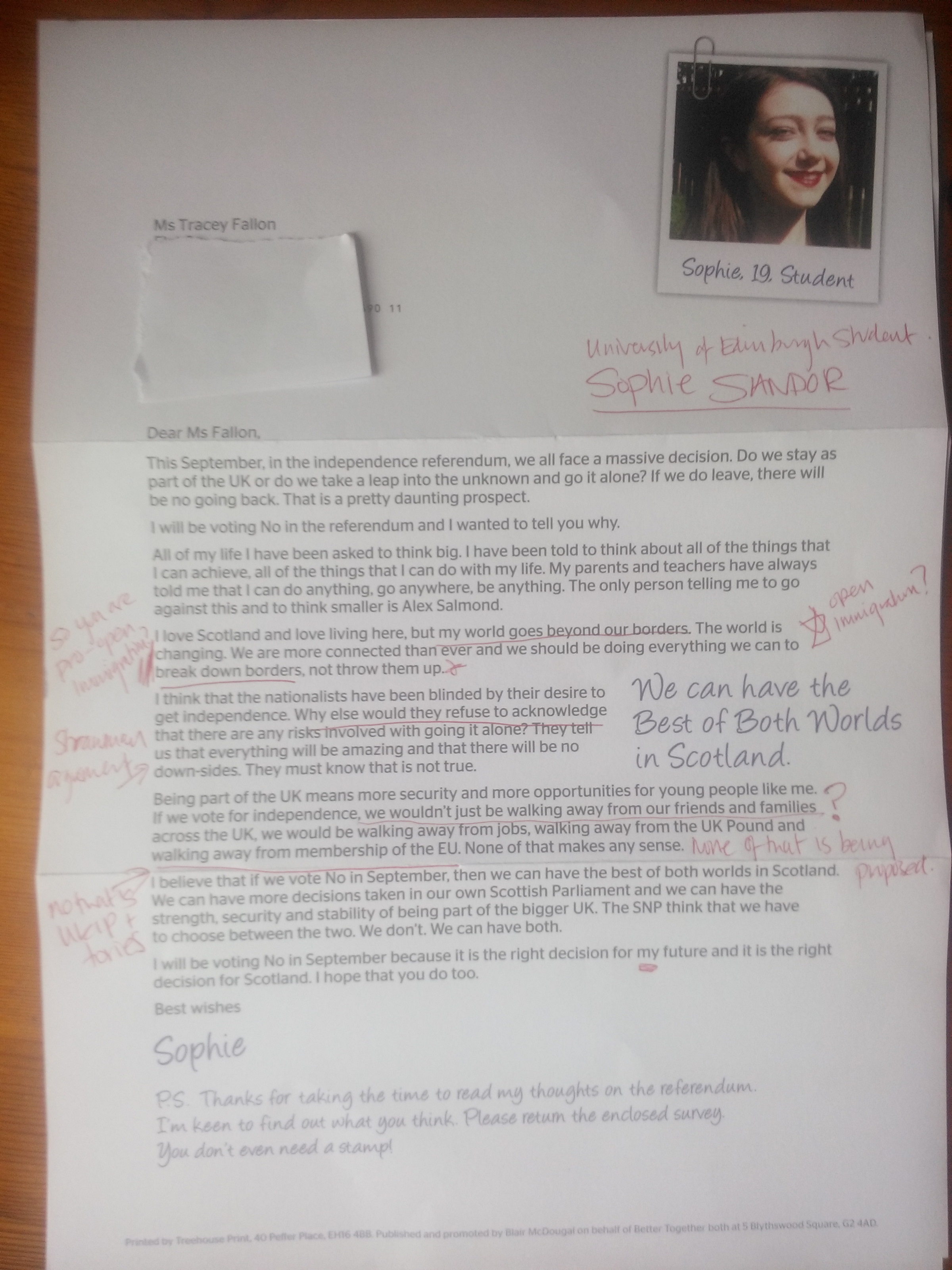 Dear Sophie,
I received your letter today and read it with interest. You write you are "keen to find out what I think", so I thought I would write you a letter too.
You write that supporting independence is "to think small" and goes against the ambitious possibilities your teachers and parents instilled in you. Yet, thinking big and having lofty ambitions is not related to how much territory belongs to a country. We can hardly look to nations like Finland, Sweden, Denmark and accuse them of thinking small. In recent weeks, the only political campaigners telling me that I cannot "do anything, go anywhere, be anything" is the pro-union campaigns.  This month I went to the cinema and saw an ad called "separation". In this, a young man tells a second man a joke about an Englishman, Scotsman and Welshman going abroad and losing their passports. The punch-line is that the Englishmen and Welshman get home but the Scotsman does not. This ad tells me that Scottish people lack the ability to govern themselves and help our citizens abroad, that we can only do things if we are helped by London. This sends a message that Scottish people are incapable of ruling themselves. However, I don't agree with that. I believe that the Scottish people will be just as capable of running their own country's institutions. We can also "do anything".
Your letter talks of risks, so we need to consider the risk in staying in the union. Will Westminster lead us to withdraw from the EU? Will we get involved in another war that we oppose? Will money be spent on nuclear weapons instead of education and health? Are we to see a further dismantling of the welfare state? As you will know, Scotland's population is a minority compared to the rest of the UK. In the post-war era Scotland has never swung an election, only made it harder for the winning parties to have a majority. I would like to live in a democracy where the policies follow the political direction of its population in domestic and international affairs. The track record of the UK government in recent decades for Scotland on that front is not so good.
You write that independence would reduce opportunities for young people. But it is rather limiting to believe that only London can provide them. So far, the Scottish Parliament's powers have been able to safeguard opportunities for young people in the form of free university education, unlike students in the rest of the UK. Many disillusioned young people took part in the riots of London and Manchester in 2011. With little hope for jobs and education the future can look very bleak. I believe that a government that invests in the education of its young people provides more opportunities.
You think independence would mean "walking away from" membership of the EU. However, an independent Scotland can negotiate a better deal for Scotland. Ireland, a country of roughly the same population size as Scotland has 11 seats while we have six. A good start for Scotland would be to negotiate more seats so we can have a greater say. If anything, risk and insecurity for Scotland's future membership in the EU looks greater by staying in the Union. You will have seen that in the recent European elections, England has voted for a UKIP majority that wants to lead the UK out of EU. This increasing isolationist right-leaning British nationalism poses a greater security and stability threat to an outward looking cosmopolitan Scotland than independence.
I have confidence in Scotland and the Scottish people's abilities. However, your letter was full of keywords of fear and insecurity: "unknown, daunting, blinded", and loss of "strength, security, stability". Making the right decision in September is important, but it shouldn't be one made out of fear and insecurity. I believe in our ability to govern ourselves. I want to live in a society that invests in education and health, makes defence and environmental decisions according to the local conditions, and is cosmopolitan in its outlook.   We need more than insecurity and nay saying if we want a positive future for Scotland.
One year ago I was one of the "swing voters" your letter speaks to. I have never been a member of any political party and have no party allegiance. However, the framing of the debate by the Better Together Campaign into polarised positions of bad, narrow, backward Scottish nationalism and good, progressive and worldly British nationalism is one reason why I now support independence. How we think about our nation and national belonging is important to the debate: I refuse to think of Scotland and its residents as incapable, I reject the ordering of EU migrants into good and bad to determine if they can belong and I support politics that thinks of the most vulnerable in society while investing in the youth for our national future. That is why in September I will vote for independence and I hope, for your future too, you will re-consider your own position.
Best wishes,
Tracey