London Calling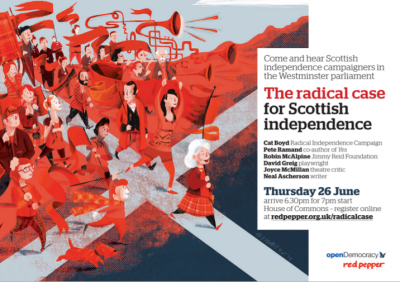 As part of our English for Yes series here's details of an important event organised by Red Pepper and openDemocracy 'The Radical Case for Scottish Independence' Committee Room 14  House Of Commons. Book your tickets here.

By Adam Ramsay
Nicky Clarke's comments were probably helpful. Having a celebrity hairdresser from London telling the people from the country which invented economics that they don't understand it is always gonna be a good way to drive Scots towards a yes vote. But his comments – that we need to move the debate away from "the romanticised, almost Braveheart sort of things" are telling, particularly given that Jo Cockburn, who was interviewing him on the Daily Politics, responded by saying "which has certainly all that's been talked about up until now".
That a celebrity hair stylist is ignorant of the conversation happening in Scotland shouldn't come as a surprise. But the idea that a serious political journalist can merrily decree from London that the debate in Scotland, which has largely focused on the ills of Anglo-American turbo-charged neo-liberalism, has instead been about a mythologised figure from the 14th century, is worrying. And it's a real problem.
It's a problem because much of the media in Scotland comes from London. And as that media enters over the summer what is usually the silly season, with Parliament in recess, it will have little to talk about but the Scottish referendum. And so the story that Scots will be told about ourselves is likely to end up getting more and more ridiculous – unless we do something about this.
If the yes campaign is to be won, it will therefore need to ensure that at least the more sensible English journalists properly reflect the debate. They don't need to be persuaded of the merits of independence, but they do need to be capable of mediating the conversation without repeating sillinesses about what's being discussed. Because the more these things are repeated in tellies in Scotland, the more that Scots are told these things by their friends in England, the more they will become self fulfilling prophecies.
It's not just about the media. In the closing weeks of the Quebec referendum, activists from across Canada converged on the province, and asked people to vote to stay – not because it was necessarily what was best for Quebec, but because the rest of Canada wanted them. The message, by all accounts, was at least to some extent convincing and, in the Scottish context, is all the more powerful because of the (a-historical) belief that a yes vote would impose perpetual Tories on England. People aren't selfish. They will consider the interests of their neighbours, and for the undecided, the feeling that they are abandoning their cousins to the South will hold some sway.
To counteract this message, it's going to be important to convince people in England – activists in England – that the opposite is the case – that they should support independence because it's good for the Scots, and because it's good for the English. Which is relatively easy – it is. England is more damaged by the anachronistic British institutions to which independence would be a serious blow than is Scotland. At least Scotland has Holyrood to cushion the attacks.
Building a bank of progressive voices south of the border to encourage Scottish independence won't win the referendum. But failing to do so could be a big mistake.
With that in mind, we at openDemocracy and Red Pepper are organising an event in the Houses of Parliament on Thursday – "the radical case for Scottish independence". Key voices from the non-party left of the yes campaign – Cat Boyd, Robin McAlpine, Joyce McMillan, David Greig and Pete Ramand, will be speaking along with legendary writer Neal Ascherson
If you're in Scotland – as I assume the majority of Bella readers are – please do encourage any friends in or near London to go. If they already support independence, it'll hopefully help them make the case and encourage them to do so more vociferously. If they are unsure, maybe they'll be convinced. If they are currently against independence, perhaps our panel can sway them.
If you are in London or the South East, I'll look forward to seeing you there.
You can book a ticket here.