Love's Labour's Lost
As the political fratricide within Labour rumbles on like a sort of Edgar Alan Poe spectacle it's disconcerting that the person who is on the money about poor Johann is Alex Massie, who wrote earlier:
'That Johann Lamont did not lead the Scottish Labour party terribly well was less remarkable than the fact she led it at all.' 
The party conveyor belt has produced the following:  Donald Dewar (7 May 1999 – 11 October 2000), Henry McLeish (27 October 2000 – 8 November 2001), Jack McConnell (22 November 2001 – 15 August 2007), Wendy Alexander (14 September 2007 – 28 June 2008), Iain Gray (13 September 2008 – 17 December 2011), Johann Lamont (January 2012 – October 2014) with a sort of inevitable diminishing return so that each time they become more obscure, less credible, more ridiculous.
Devolution hasn't really worked for Labour, reduced from the intellectual rigour of Dewar to the rigor mortis of Lamont.
Johann, who managed to exude all the charm of an eel, will be remembered for one famous statement she made, and then spent a long time denying. Her famous line that "Scotland cannot be the only something for nothing country in the world" was eminently deniable, only scuppered by the fact that she'd said it on television. See here.
At that time, the Guardian's Richard Seymour asked simply: 'Why is the Scottish Labour leadership so abysmal?' answering:
"For example, by any reasonable definition, Johann Lamont's policy announcement on Tuesday was a train wreck. After Iain Gray's lacklustre, gaffe-prone and election-losing leadership, pro-Labour pundits had persuaded themselves that Lamont was quite a heavyweight Scottish Labour leader. They should be face-palming. The policy implications of Lamont's speech – ending universal benefits, raising tuition fees, cutting free prescriptions – were bad enough. The atrocious, reactionary soundbites, demanding an end to "something for nothing" culture, were worse. And it was all delivered in a colliding procession of clichés and non-sequiturs, with faltering speech, and without conviction."
It was an odd moment of botched political theatre, her trying to come over all tough and Blairite but just shocking people with her brutish political touch. We thought she was supposed to be all about communities and 'ordinary people' but instead it sounded callous.
The following video is all the statement that's needed about Lamont, who never managed to lead her party with any surety or confidence and now leaves with a moan and a stumble.
But where does it Labour? Who's next up?
Douglas Alexander is dull at a molecular level but might bring peace with angry Labour MPs. He has written and delivered some of the most turgid speeches known to mankind. He is also tainted by Patronising BT Lady, which was his remarkably dreadful campaign baby.
Jim Murphy is popular and articulate, if overly aggressive and carries with him a large container-load of Unreconstructed Blairite Baggage: marked 'Iraq'.
Gordon Brown is like the Prince of the Undead, he's Kirkcaldy's Nosferatu back for more. But, aside from the wreaths and laurels bestowed by the London press, the reality is that almost all of Brown's indyref speaking engagements were set-piece behind closed doors affairs to the 'party faithful'. He still can't really communicate and The Vow is a massive albatross around his neck.
If Brown is over-qualified, Kezia Dugdale is the opposite. Would she survive the mauling of the Labour London Sharks? Probably not.
At an absolutely crucial time the Labour Party in Scotland is in terminal decline. As each counter-ratchet of leadership quality marks, they descend into a downward spiral of bitterness, negativity and reactionary spin. Their focus becomes solely: To Destroy the SNP, rather than to serve their own common goals or core beliefs, whatever they may be (?)
They are led in London by Ed Miliband whose own polling is tanking (reaching a 33 month low) and who is unlikely to have the nerve or guile to make the sort of big-picture changes that Labour require.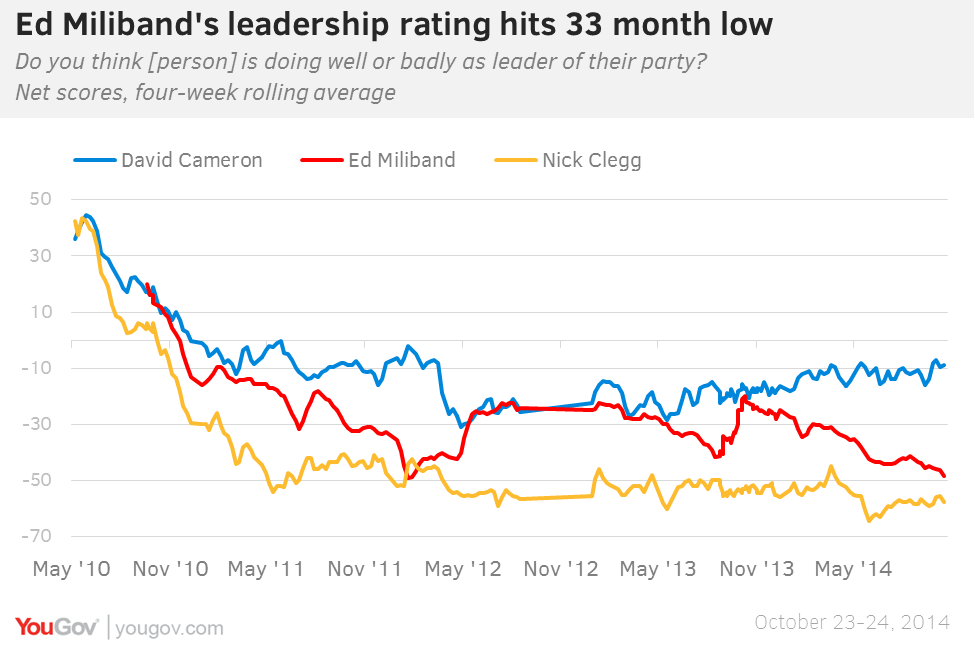 It's going to become more and more of a shambles.
On the BBC's Crossfire Andy Kerr, ex Labour Finance Minister stated bluntly: "Labour gave birth to Scottish parliament and then tried to strangle it". This is Civil War as a spectator sport.