Now What?
Two great gatherings coming up this week about the massive political events we're going through. If you have other events coming up – let us know and we'll update this page…
STOP CAMPAIGNING START TRANSFORMING
Robin McAlpine: Stop campaigning, start transforming: Organised by Product magazine as part of their 'summer series of events with some of Scotland's finest speakers, writers, film makers and artists.'
Common Weal director Robin McAlpine discusses why we need to talk about policies with the potential to transform Scotland in the next 5 years. Come and join in the discussion.
Tuesday 12th May – 7.30-9.00pm at the Voodoo Rooms Edinburgh.
Tickets £5 waged / free unwaged . Go here to book now. 
See also their Begin Again ideas bank here.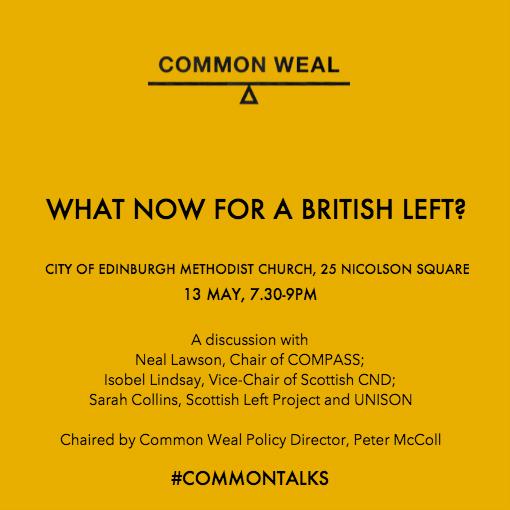 WHAT NOW FOR THE BRITISH LEFT?
Second up, this Wed 13th May What Now For the British Left? organised by Commonweal in collaboration with the Radical Hope series taking place across England, with Neal Lawson (Compass), Isobel Lindsay (Scottish CND), Sarah Collins (Scottish Left Project).
"Post Referendum and a Tory win in the General Election, what now for a British Left? We have seen a new and compelling left narrative led by the Scots and Welsh. Anti-austerity, against Trident and a thirst for an 'all of first politics'.
Social Democracy has largely failed, but on the fringes of Europe we are seeing new left parties growing in confidence and support. The Scottish awakening has had many supporters and admirers in other parts of the UK. Ideas and organisation are not limited to Scotland, and are needed across these isles more than ever.
What are our shared goals and how should we work together? How can we challenge the growing consensus for Tory politics? What are the next steps for any incarnation of the British left?"
Wednesday 13th May – 7.30-9.00pm at the Methodist Church, Nicolson Square, Edinburgh