The Gummy Bear Omnishambles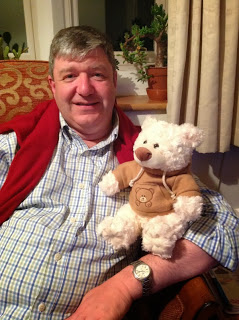 By Mike Small
How have things changed in a few short months?
Ireland, supposed European cradle of reactionary catholic conservatism has delivered an inspiring celebration of equality – and in a liberatory moment thrown the past out the back window and transformed itself.
It seemed like a generational coup d'état.
With the #hometovote tag trending the vision of the young Irish near-diaspora returning home to sort out the Old Country featured strongly.
Three other snapshot indicators of rapidly-changing times in this moment.
Our First Minister (@NicolaSturgeon) maybe emboldened by Eurovision, tweeted:
"I bet there will be a few marriage proposals in the pubs of Dublin tonight. What a lovely thought. Enjoy the celebrations, Ireland."
A lovely generous message.
And (back to Ireland again) Fintan O Toole remarks on Prince Charles shaking hands with Gerry Adams in Galway this week. He writes:
"Even in the early 1990s, it would have been impossible to imagine that (when the votes are counted on Saturday) Catholic Ireland just might become the first country in the world to introduce marriage equality by popular ballot. Or that Charles could have a civilised conversation in the west of Ireland with the leader of the movement that murdered his uncle, Lord Mountbatten, there in 1979. These are lovely moments, but a question lingers – when does England get to move on too?"
I don't know the answer to that one but did like the fact that on the very same evening 'Grumpy Norman' writes: "Changed times, when Shetland voters march through the streets of Lerwick you know politics have transformed Scotland".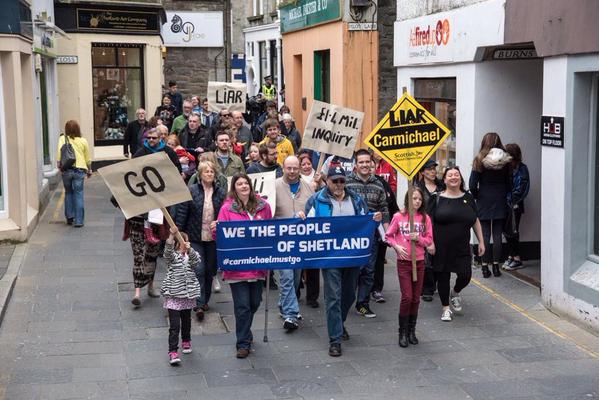 And it's on that note that the Ship of Positive Change gets slightly wrecked on the rocks of Lib Dem intransigence in the wake of the Carmichael debacle.
It's just an astonishing response of almost the entire political establishment to circle the wagons in defense of one of their own.
Ultimately this is not about the SNP – it is about accountability, decency and the tragic lowering of basic standards of people in public office. That the Unionist Bloc can connive with this is actually tragic, and such crippling short-termism it's difficult to imagine.
People seem to be forgetting too that the real target here was not the SNP – it was the Labour Party. The target of this botched smear was Ed Miliband, not Nicola Sturgeon.
It's not a shock to discover that Carmichael was behind the leak – it had his big gummy bear thumbprints all over it. What's really shocking is the ineptitude of the entire affair from ineffectual beginning to tawdry back-firing end. Christ knows what poor Michael Moore makes of it all, and we await with interest to discover what – say – Alan Cochrane and Willie Rennie and David Mundell knew about the wheeze. Smashing Blethers I'm sure, let's just hope it doesn't go all Andy Coulson on you.
But maybe the Gummy Bear was underestimated?
Does the LPW regret the description that: "Carmichael has always had something of the burst couch about him. He's comfortable but unfashionable knitwear, good for kicking about the house, but hardly stuff to swank in. The well-worn leather shoe on the foot of an Argyllshire auldwife who makes rare tablet and scones which rise"?
Maybe not an iron fist in a velvet glove but a bit more Rosa Klebb than just a well-worn shoe?
Changed days but a few folks are playing catch-up. Of all the quickly concocted defences there seems to be three main ones coming to the fore:
a) The Desperate Technical Loophople Defense: He wasn't an MP at the time, as if, if you nip out in your jammies you could stab someone (or something)
b) The bogus  'It was a leak, not a lie'.
c) Och it doesn't really matter does it? and (my favourite)
d) 'Let's juts bluff it out and it will go away, we're probably still in charge (aren't we?).
Unfortunately for the Lib Dems and their allies A is only really applicable if you are some sort of amoral constitutional geek, B doesn't have any basis in known reality C is funny and D wont work because:
"If MPs were to vote to suspend Carmichael for 10 days or more, this would then automatically trigger a new process under the Recall of MPs Act (championed by Nick Clegg): if at least 10% of Carmichael's constituents sign a petition calling for a byelection, then one must be held. Carmichael could stand again but would face a huge struggle to see off the rampant SNP.Some believe Carmichael might try to argue that the investigation should not take place as he was not an MP when the Daily Telegraph published the story on 3 April, as parliament had concluded its five-year term on 30 March. However the cabinet secretary's inquiries revealed phone calls between Roddin and a Telegraph journalist had taken place on days before publication."
Our information from the Northern Isles  is 10% of Carmichael's constituents is a laughably low figure.
We forget the other defense rolled out by a number of folk, the endless 'whatabouterry' which retrospectively recalls endless politicians badness as if to say, this is now routine?
In this sea-change of possibility what stands out is the sense of a right to rule, and not just a right to rule but a perceived right to rule fraudulently.
Scotland and Ireland actually stand apart. As O'Toole rights:
"The overwhelming victory for the Yes side in the marriage equality referendum is not as good as it looks. It's much better. It looks extraordinary – little Ireland becoming the first country in the world to support same sex marriage by direct popular vote. But actually it's about the ordinary. Ireland has redefined what it means go be an ordinary human being."
And yet if Carmichael evades censure and justice, he'll have confirmed that the political class operate somehow above the moral standards and expectations of the rest of us. Scotland will have redefined what it means to be a politician.
Shame has a useful function in any society. Are we dealing with the shameless?
What's changed in the last few months is the idea that you can get away with this any more, that it's okay, that you can ride it out. That's not okay any more.
It's all about equality. Resign now.
If you like Bella Caledonia and want us to continue and develop we need you support – please donate to our appeal fund here – and if you can share the link on Facebook. Thank You.