Donald, Where's your Troosers?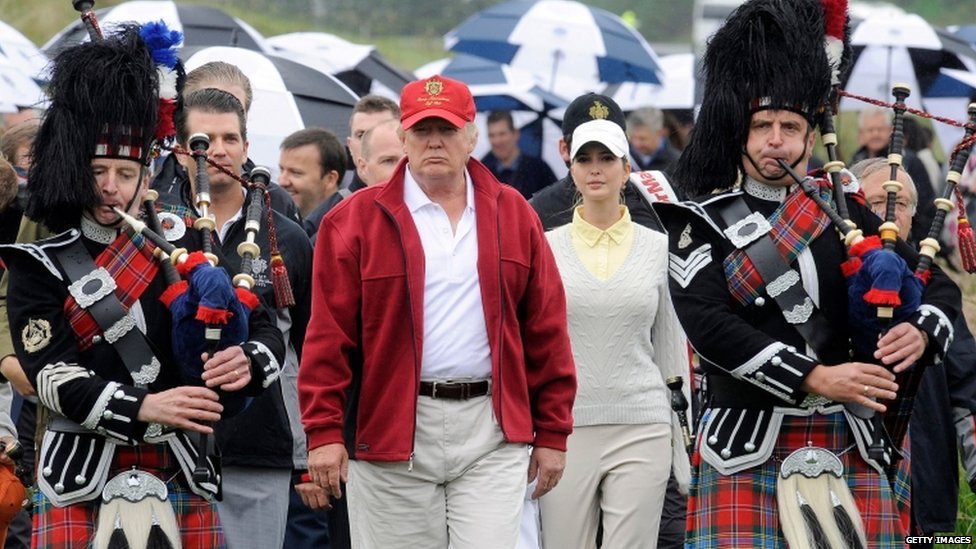 Are we watching America slide into fascism? The fact that the leader of this new movement is a clown doesn't make it funny. The key elements are all there: a militarised police force acting with impunity, a leader talking to highly orchestrated gatherings of fanatical supporters, a culture of fear and heightened racial tension, a highly militarised economy and a leadership focused on scapegoating external threats. In one recent rally a Trump supporter was heard shouting "Light The Motherf*cker On Fire" as a Black Lives Matter protester is dragged away by security to huge applause.
The Donald bestrides global media oozing stupidity like pus from a sore. We can see him above practising his Blue Steel look, but this isn't funny any more.
You know you are in trouble when you are to the right of Benjamin Netanyahu and more conservative than the Royal and Ancient Golf Club of St Andrews. Believe me a Donald Presidency will have us hankering for a liberal like Dubya.
And it may happen. As Trump, swollen by his own gigantic narcissism, piles racist slur upon racist slur, his popularity grows. He is now on a remarkable 41% – almost three times the tally of his nearest rival, Ted Cruz, who is on 14%, according to the new survey. And Ted's no Smart Guy Waiting in the Wings neither (Mr Cruz recently vowed to 'drop so many bombs on the Middle East that he will make the desert glow').
Might the American voter, like the French, take a more sober look at the prospects of handing office to the far-far-right when push actually comes to shove? You'd have to hope so. But prospects are slim when you have citizens as short on smarts as the slack-jawed people of Woodland, North Carolina, who recently rejected a solar project on the grounds it would "suck up all the sunlight". 
Part of the problem we have here is that the others: the fantastic Ben Carson, the dynastic Jeb Bush, the scandal-mired Chris Christie, or the Clinton-Mirror Carly Fiorina (and more), is that they are hard to distinguish. They are clustered around a set of ideas (using the term loosely) that you will be familiar with: advanced social conservatism, hyper-militarism, cultural racism and 'pro-business' rhetoric (which acts as a not-so veiled attack on workers rights).
One site tells us that "Ms. Fiorina has offered little in the way of specific policy proposals. She opposes abortion rights and backs a more aggressive American military posture abroad". Ben Carson (you might remember) is the dude who thinks that the pyramids were built for storing grain, saying:
"[W]hen you look at the way that the pyramids are made, with many chambers that are hermetically sealed, they'd have to be that way for various reasons. And various of scientists have said, 'Well, you know there were alien beings that came down and they have special knowledge and that's how–' you know, it doesn't require an alien being when God is with you." Stop sniggering at the back.
Chris Christie is so mired in scandals and a backlog of media crises it's a wonder he made it to the ticket at all.  His 'tell its like it is' schtick is comprehensively overshadowed by the Donald, who is the master of the form. Rand Paul is a pale-imitation of his liberation father.
Perhaps only Jeb Bush has a shred of credibility. He has a "super PAC," majestically called 'Right to Rise', and with the money raised by his campaign, Mr. Bush's war chest is larger than any of his rivals. He's smarter than Bush 2 and younger than Bush 1. So the answer to the problem that is Trump may not come from the GOP. It's full of Trump Lite candidates, who are a bit bonkers and a bit shouty but just not on the same scale as The Donald. The solution might have to be from the Democrats, and there we have a different problem.
Clinton v Sanders
Whilst the Republican field is crowded with crazies, the Democratic list is just three, and out of them only two credible candidates: Bernie Sanders or Hillary Clinton.
As Jamie Maxwell put it: "Sanders' unexpected and impressively sustained assault on the Democratic establishment owes as much to the substance of his rhetoric as to the rhetoric itself. Sanders has built his campaign around two core themes: the widening wealth gap and the long-term decline of the American 'middle class' – a catch-all term encompassing everyone but the very richest and very poorest Americans."
So, if it were to be Trump v Sanders we'd have an amazing clash of political cultures in which one team deifies the Super Rich and raise them to icon status, whilst the other categorically denounces the state of inequality and is calling out the abuse of corporate power. But Sanders will need to expand his reach beyond a heavily white, college-town demographic to other elements of the Democratic coalition, notably African Americans.
If it's Hillary Clinton she will have the benefit of a near 100% name recognition on her side and the great advantage of the Women's Vote. In other words if it's Trump versus Sanders its Rich versus Poor, if it's Trump versus Clinton it's the Battle of the Sexes, in which case Trumps misogyny will become a focal point of any campaign as much as his blatant racism. The New York Times tells us "Why She will Win": "Her economic message will highlight issues that resonate with women in particular, including a higher minimum wage, paid family and medical leave, early childhood education, and affordable child care" and "a built-in base of support among working-class women."
Clinton's challenge is to present herself as a future-facing candidate rather than a figure from the past. She will be, possibly even more than Sanders, a lightning rod for the right-wing media and Fox culture of America's shock-jocks and online frenzy.
Whoever wins the nomination it will be the most politically-charged and divergent race in decades.
The stakes couldn't be higher. With the world in a state of heightened tension, with multiple points of conflict, Putin at the helm in Russia and crucial climate commitments being brokered, the prospects of Trump gaining power in America are terrifying.
Scotland v Trump
The Scottish response has been admirable. All this righteous anger is great, and understandable, but futile. Taking away the Open Championship or stripping him of honorary degrees or  banning him from Britain or even stripping him of his title as Global Scot (as we should have done many months ago) won't make a blind bit of difference.
What might ultimately undermine him is his grand masterful dopiness.
If the unthinkable happens, and he becomes the Republican candidate he will at last be under the glare of some proper media scrutiny. Head to head with any of the Democratic candidates he will be taken apart. His glib content-free answers won't wash if he actually gets put in a tv stand in front of credible journalists instead of his rallies and tub-thumbing meetings. If the Trump gatherings are an echo chamber for Red Neck America, tinged with violence, the momentum may come shuddering to a halt in the cold air of reality when it dawns on them that not everyone is as dumb as they are.