See EU Jimmy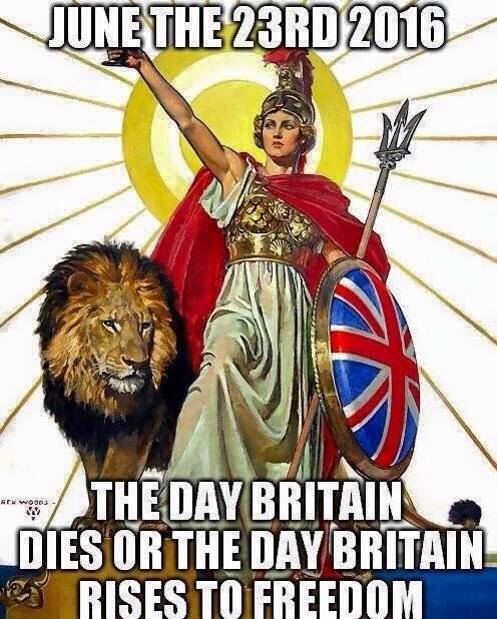 The EU referendum is creating a sideshow of idiocy from the English Resistance that takes some beating. With a leadership of Gove, Johnson and Galloway that shouldn't be a surprise but it's the grassroots of this campaign that warrants our attention with some blisteringly stupid iconography appearing daily.
In the process Galloway himself echoes the ideas of self-determination he traduced so ineloquently last year:
"The ability to choose who governs us, and the freedom to change laws we do not like, were secured for us in the past by radicals and liberals who took power from unaccountable elites and placed it in the hands of the people. But by leaving the UK we can take control. Indeed we can show the rest of Great Britain the way to flourish. Instead of grumbling and complaining about the things we can't change and growing resentful and bitter, we can shape an optimistic, forward-looking and genuinely internationalist alternative."
Some of this may be familiar to you.
'Gorgeous' George is expected to bring some much-needed charisma and character to the Outies.
Unfortunately he seems to have forgotten this role in this unfortunate BBC Daily Politics interview:
But nothing – nothing – can compete with Mandy Boylett's fabulous tribute to Three Lions.  Mandy Boylett, the former Ukip parliamentary candidate for Stockton North, is the creator of (and performer in ) the video. Please share amongst the undecided. Poor Mandy, like many, seems to have some difficulty distinguishing between England and Britain in all this:
But while the gruesome vaudeville of parody Britain may be UK (Comedy) Gold, and the 'victim fantasy' may be an unedifying spectacle, the Out campaign may have unintentionally opened the door to Scotland's future. Unwittingly (because their own self-obsession precludes being aware of wider constitutional issues and movements) two massive obstacles to Scottish independence have been removed. Entrance to the European Union and the currency question were (and remain) potent symbolic and practical problems for convincing a large section of the Scottish public to back independence. But with a Brexit both of those are up for grabs. Our currency will be the Euro and our (continued) membership is assured.
We can be part of a strong movement to completely reform and transform and democratise European institutions as the DiEM25 outlines. England may set herself loose as a low-tax, low-wage American style free market dismantling its welfare provision and closing its borders, but it can't impose that on us indefinitely.
This is an opportunity for Scotland to reconnect and establish itself as a contemporary European nation. We can reassert the New Talent Initiative, import and export renewable energy, close Dungavel, sit at crucial fisheries and agricultural talks, create better sustainable transport routes to the continent, contribute directly to pan-European environmental policy and play a major role in European affairs.