Bella Needs You #backingbella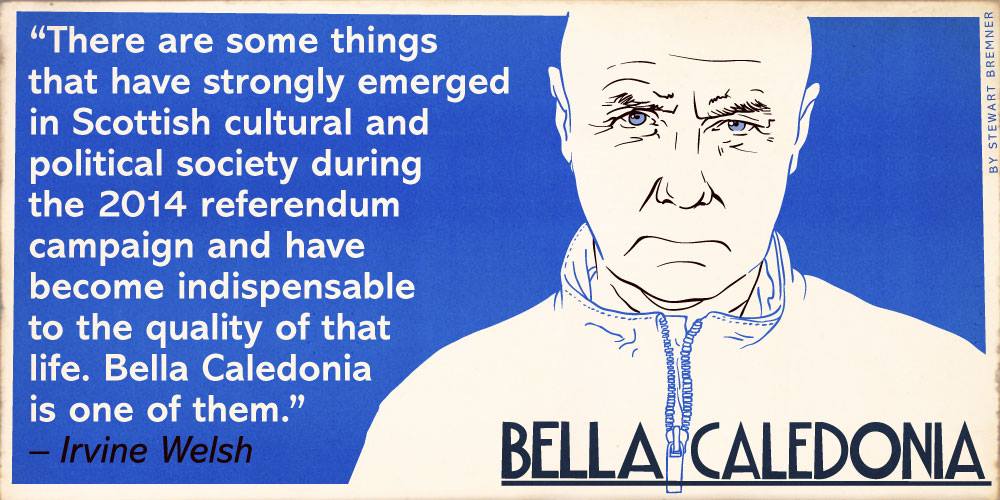 We've been asking people why they value Bella Caledonia and support our fundraising efforts to continue. Here's some responses:
"Bella is a remarkable high quality magazine, full of stimulating writing, challenging ideas and provocative responses to the state of Scotland and the world. It's always at the cutting edge, which makes it a must-read for anyone who cares about politics, culture and life in this nation".
– Lesley Orr, Women for Independence
"Bella Caledonia was a trailblazer for independent online media in Scotland. Now we have a plurality of sparky blogs and netzines focussed on Scotland and its future. It has not always been so. Bella was one of the first and, for a while, one of the few to offer a cultured, left of centre, pro-indie space to dream, protest….and plan. While I don't agree with everything it publishes, I am forever glad it was there at the beginning, opening a door which many others rushed through. Now it has competitors, which reflects the health of the democratic debate. But we cannot take such intellectual diversity for granted. Editing a magazine whether online or in print requires stamina and imagination to ensure some kind of consistent quality – and keep up those page views. It also requires money…so I warmly endorse the latest fundraiser. "
– Joan McAlpine MSP, journalist and Scottish National Party Member of the Scottish Parliament for the South Scotland region.
"Bella Caledonia carries some of the most serious, culturally significant and incisive journalism in Scotland today. As we set about our task to make Scottish democracy deliver a better nation, Bella will continue to play a vital role in informing our movement. It's time to make sure we support those who work so hard to provide this space for debate, education and movement building."
– Peter McColl, former Rector Edinburgh University
"The need for a plurality of voices in Scottish politics and cultural life has arguably never been greater. At a time when traditional media is struggling just to standstill, new media such as Bella are more important than ever for new ideas, new writing and new ways of thinking about and reporting on Scotland in 2016."
– Peter Geoghegan, writer, journalist and broadcaster based in Glasgow. His latest book 'The People's Referendum: Why Scotland Will Never Be the Same Again' was published in 2015 and nominated for the Saltire Scottish First Book of the Year Award
"Bella Caledonia plays a vital role in diversifying Scotland's media, providing an accessible and progressive view on our nation, our politics and our culture."
– Carolyn Scott @EyewitnessScot
"The value of Bella in a post indyref Scotland can't be overstated.  More than ever, we need to hear dissenting, questioning, analytical voices coming from our new media, and Bella has been consistent in providing such a platform.  Long may it continue."
– Jack Foster, writer, film-maker (make of the banned 'Top 10 Unionist Myths – DEBUNKED'
"If you're interested in the Scottish left and in the nationalist left in particular – everything from mainstream politics to culture – then Bella Caledonia is a place you have to get to know well. It's lively, provocative and includes some really great writing."
– Andrew Marr

*** PLEASE GO HERE TO SUPPORT US – DONATE and SHARE.  ***