Brexit Means Racism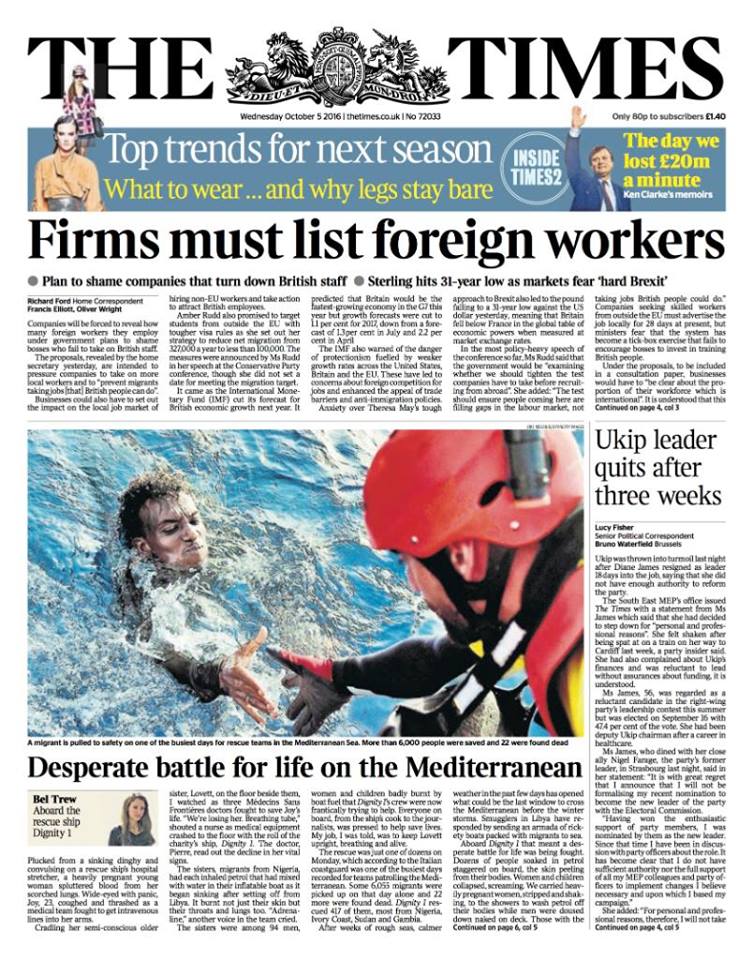 Hatred is spewing out of the Conservative conference and the wider English political culture. Till now most of it has been avoided, ignored or tolerated with embarrassment.
After John Cleese's outburst – and some of you may be steadying yourself understanding Fraser Nelson in his new role as Spartacus – senior Herald journalists responded by saying that you simply couldn't tell whether anyone was Scottish or English. Now I'm as proud of our Mongrel Nation status as the next one but this was clearly spurious avoidance. One response to Cleese's racist tweets would have been simply to list the long line of English journalists working in Scotland across broadcast and print over the last few decades. If Nelson is an unlikely champion of the underclass, it is a sign of how fast and how far Britannia has swung off its hinges.
This morning it's impossible for such shoe-shuffling to continue. There it is right in your face: "Firms must list foreign workers". And in the image below we see the tragedy unfolding in southern Europe where we paddle on our holidays.
The stench of racism emanating from Birmingham can't be ignored. Amongst the Brexit jam jokes and the clown Boris adulation there's the whiff of Weimar. It has a long history: of failed empire, self-entitlement, presumption of place in the world and discomfort at status decline.
England is not happy about its place in the world.
From "Are you thinking what we're thinking" to Gordon Brown's "British jobs for British workers" to Labours immigration mugs to Farage's extraordinary campaign poster, to the now largely forgotten and conveniently ignored murder of Jo Cox – this is the culmination of decades of hate against migrants, asylum seekers, black people, Roma, eastern Europeans, anyone that can be cast under the gaze of tabloid Britain's toxic ink.
None of this should come as a surprise to any of us.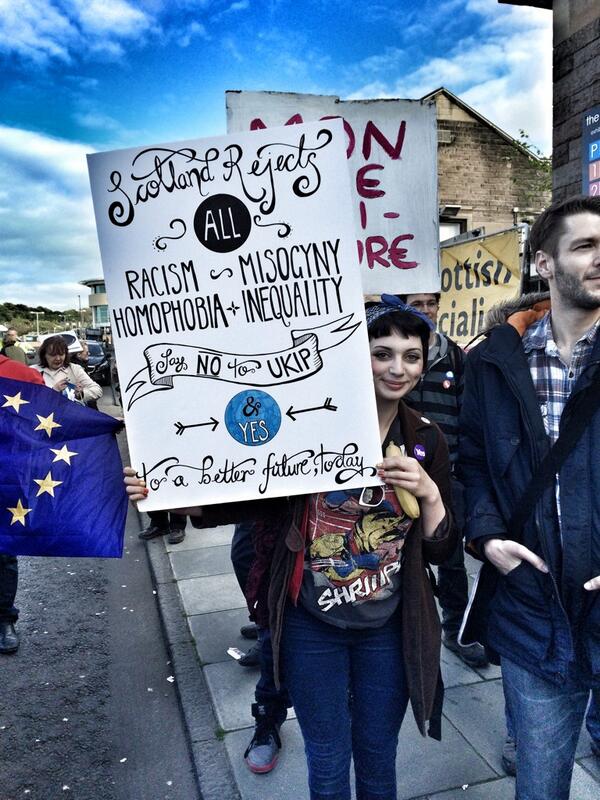 When we challenged Nigel Farage on the streets of Edinburgh we were condemned as a 'mob' and accused of racism. Now a Scotland that voted to retain its place in a European community of nations is accused of 'divisive nationalism'. The hypocrisy can't keep up with the incoherent racists outpourings.
But it starts at home. Ruth Davidson's jocular self-hatred is a comforting form of confused Uncle Tom rhetoric designed to ingratiate herself with her colleagues:
"I'm delighted we have such spectacular surroundings. Usually they put the Scots in a place where nothing can be broken. Or stolen for that matter!"
As she cleaves to what she perceives to be the dominate culture she will elevate herself in her party and its circles but she will denigrate her own culture even if such comments are airbrushed by a pliant and docile Scottish media.
Bargaining Chips
Part of the outcome of racism is always to re-categorise people. Yesterday Liam Fox re-categorised people as 'bargaining chips': "Liam Fox describes EU nationals in Britain "one of our main [negotiating] cards".  
Now, amongst the sneering against Trump for his xenophobia and language about building walls and blaming foreigners, we have our own government talking about a 'hard border' in Ireland and ramping up language about Great Britain. As John Heese wrote on twitter: "A hard #Brexit means a hard Irish border, and a hard Irish border means the Good Friday Agreement is toast."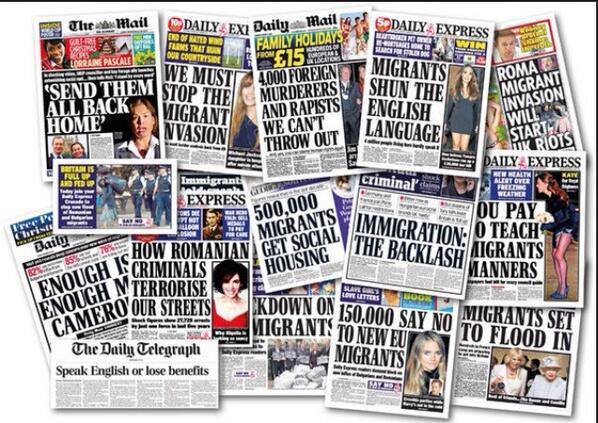 The need for an alternative media is not motivated simply as a corrective to 'unionist' bias. It is needed as an urgent act of solidarity with people from around the world who live in this country and are being threatened and for all the people that will need to come to this country as they are fleeing wars we are complicit in, or for all those people that are already working for low-wages to pick your fruit or care for your sick and elderly relatives.
Our Prime Minister this week told us that "foreign doctors will be allowed to stay "until further numbers [of home-grown doctors] are trained". It's a miserable ungrateful view of the world, unwelcoming belligerent and puerile.
None of this is to pretend that we are immune from racism / superior / problem free (or any of the other completely unnecessary caveats) here in Scotland. Clearly we are not. But we are having attitudes and policies that we have rejected imposed on us and are being exposed to a steady stream of invective that should not be tolerated. Today leaders of SNP, Plaid and Greens jointly condemn "the most toxic rhetoric on immigration seen from any government in living memory". #CPC16
It's incumbent on the media to call to account the representatives of the Tory Party in Scotland for these policies, not to brush it away as some kind of softer Northern variant. It's important now for Scottish society to come together to show solidarity with those threatened by such language and to reject the triumphalism and xenophobia of British nationalism.
It turns out that Brexit means racism.