Scotland Against Trump – National Demo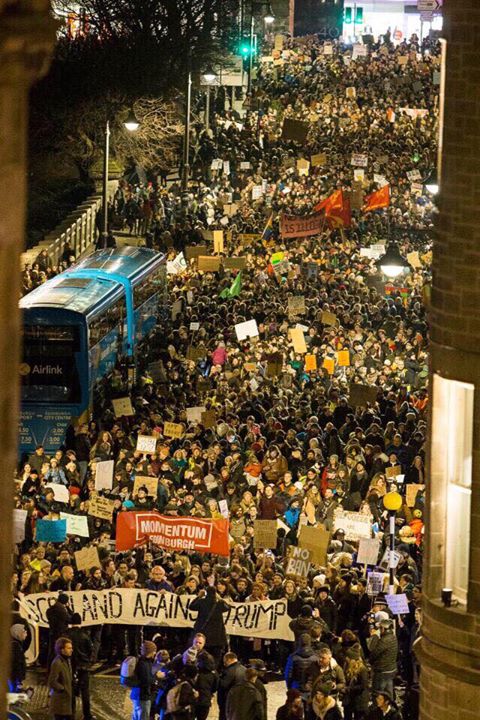 Scotland Against Trump – National Demo – Feb 11th – Edinburgh
STATEMENT FROM ORGANISERS
Donald Trump has set a course for nothing short than a turn to fascism, and Theresa May is backing it to the hilt. In the last few weeks Trump has brought forward a raft of executive orders that will embolden every white nationalist, and now Iran is in the cross-hairs.
The wall is being built, and the process for banning Muslims entering the US is underway. This is a time to fight back.
Trump is the apex of an insurgency of the international far-right. Theresa May is setting herself up as the key Trump ally. She has nothing but praise for his regime, and is even using the NHS as a bargaining chip for a Trump trade deal. She says that together with Trump the U.S. and UK will 'lead the world.' But there has been a huge response. The protests  across the UK have been magnificent, and now there is real pressure on Theresa May to stop Trumps state visit. That would be a huge victory – and by keeping up the pressure we can do it.

Following our demonstration in Edinburgh where thousands marched at 24 hours notice, we are calling for a national demonstration to assemble the Meadows, 12noon on Saturday 11th February. We will march past the US Consulate and rally at the Scottish Parliament.