BBC Scotland is a Showstopper
There's much to be celebrated in todays announcement from the BBC about a dedicated channel BBC Scotland: "Compared to 2015/16, this means we will be spending around £20m extra, per year, over the three years to March 2019."
The statement announces the 'Biggest BBC investment in Scotland in twenty years' adding 'From Autumn 2018, the BBC will be broadcasting a new TV channel – BBC Scotland. We will invest £19m in the channel and in digital developments. We are also putting another £1.2 million into BBC Alba – which takes the total new commitment to services for Scotland – in Scotland – to £20 million.'
This is significant, welcome and not to be underestimated. The Herald's David Leask commented: "Fantastic news for scrutinising powers in Scotland: BBC to launch its own Scottish channel with hour-long bulletin."
It's difficult for critics to reject what is an attempt to reinvigorate a beleaguered and under-funded BBC Scotland. The new channel, BBC Scotland, will we're told:
Broadcast from 7pm every evening;
Provide a full mix of content to inform, educate and entertain – including its own integrated hour-long news programme at 9pm (15 mins at 7pm weekends), edited and presented from Scotland (this will lead to the creation of around 80 new journalist posts);
Work in close partnership with the creative sector, other national institutions and other broadcasters to produce and acquire content;
Work in collaboration with other BBC television channels to offer additional content;
Have its own prominent EPG slot on broadcast channels in Scotland;
Be available online and in iPlayer in HD in Scotland and across the UK;
Support the delivery of extra programmes for BBC Alba as well including weekend news in Gaelic;
Together with existing funding, the channel will have an initial budget of over £30million.
From Six to Nine
The much-anticipated axing of the Scottish Six hasn't happened. Instead it's been rescheduled into the 9pm slot. Hall promises:
an integrated news programme at 9pm (15mins at 7pm at weekends), acquired programmes and programmes from partners in the creative sector and from other countries and a selection of content sourced from other BBC services.
The aim of the integrated hour-long news programme at 9pm is to provide comprehensive reporting and analysis of the news at the end of the day from a Scottish perspective. It will draw on the best news content from network news and Reporting Scotland, reworking where necessary, and include substantial original journalism from an expanded BBC Scotland specialist team. There will be scope for live interviews with the best of the BBC's Newsgathering correspondents around the world and BBC Scotland reporters and correspondents; and live interviews with the day's news-makers. It will broadcast in a timeslot which attracts the largest available audience. It will not compete with any other terrestrial news programmes and will offer audiences an alternative to high-end drama and entertainment scheduled at this time on other channels.
The BBC looked at the option of a Scottish Six, but we believe that there is no significant Scotland vs. UK gap in appreciation for the Six o'clock News or 6.30pm news programme. The Six has performed strongly in Scotland in recent years and moved ahead of STV News at Six. Our proposals will offer choice and quality: the new programme will not compete for resources with either The Six or Reporting Scotland, and the new investment will make it possible to deliver a step change in the quality of Reporting Scotland on BBC One Scotland and make other news and sport services better as a result of the availability of additional content. Bilingual reporter / production talent will extend the benefits to Gaelic news.
The success of all of this (particularly the news output) will depend on how it is implemented and whether it can be delivered with genuine ambition and innovation. The output of news, sport and radio needs to be completely overhauled. The practice of shows being commissioned to be produced here and then using 'ghost' production is a policy that needs to be cancelled. It's an exercise in false accounting that prevents nurturing and sustaining local talent and jobs.
Given the resurgent arts and culture scene in Scotland it will be particularly interesting to see how the aim to work "in close partnership with the creative sector, other national institutions and other broadcasters to produce and acquire content" transpires. For years this has seemed to be an open-goal missed by timid and unimaginative broadcasters seemingly detached from the music and arts.
This is a significant day on which those who have campaigned for an Scottish hourly news programme have won. This isa significant victory even if it has taken twenty years or more to achieve.
The announcement also needs to be put in the context of STV's own Scottish news programme, to be presented by Halla Mohieddeen, who has 'extensive international broadcast experience having spent the last 10 years working in China and France. Mohieddeen has covered the biggest international stories of the last decade for Paris based 24 hour international news channel, France 24, as their Morning News and Middle East Matters presenter, and a number of China's TV and radio stations, including CCTV, Xinhua News Network Corporation and Beijing Radio 774.'
The new STV News tonight will be part of a brand new STV2 service about to be rolled-out ('STV to launch first integrated Scottish, UK and international news programme'):
"STV News Tonight, the 7pm weeknight programme, will be produced using STV and ITV News resources and will offer a comprehensive service of Scottish, UK and international news from a Scottish perspective. Recognising the unique news agenda of a devolved nation, the 30 minute programme will deliver a service tailored specifically to the interests of Scottish viewers."
But some perspective and context is required among the celebrations.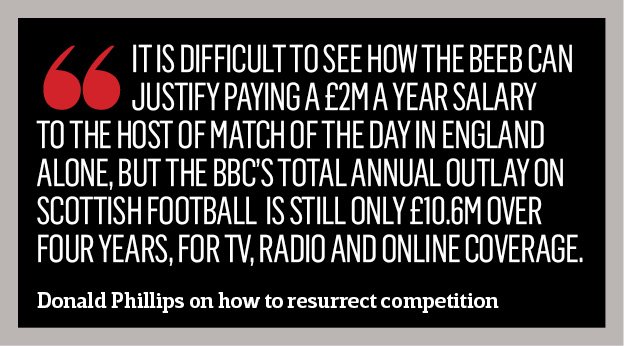 There is no devolution of broadcasting. There is no parity with, say, Wales, from which 95% of the revenue raised from the licence fee is plowed back into Welsh programming. In Scotland that figure is 55%.  At the moment, from the BBC's own figures: "In 2015/16, 55% of licence fee funds raised in Scotland was spent on local and Scottish network content. The BBC's 2015/16 accounts showed £320m was raised from the licence fee in Scotland."
If we were anything like on parity with Wales that would give us a budget of £300m not £40m. The problem is that we have been so under-invested in for so long that this (welcome) investment now seems like manna from heaven, rather than just a step in the right direction towards a more equitable settlement for a broadcasting service we have been badly served by.
The whole debate is skewed. It's not 'nationalist' to be ambitious for better public broadcasting. The reality is (as Lindsay Bruce has pointed out), we're being "given" less than Channel 4's budget for Great British Bake-Off.
That's a show-stopper.