Scotland's Fight for Democracy, then and Now
The obelisk on Calton Hill forms a familiar part of our iconic Edinburgh skyline. Many residents will pass it daily. But I would reckon only a very few will be aware of what it commemorates. Erected in 1844 the monument is to five men whose actions back in the late 18th century radically changed the political landscape in our country and across the UK. They sowed the seeds which eventually brought the democracy we take for granted today. One of these men is Thomas Muir.
This year, I am delighted to say I have had the enormous honour of being asked to give the Thomas Muir lecture.
Britain at the end of the 18th century was very far from being a democracy. Yes, there was a parliament and, yes, there were elections. But the system was corrupted to its core. Many MPs were simply the placemen of great landowners. Notorious rotten boroughs with single figure electorates had greater representation in Parliament than the emerging industrial cities of Glasgow and Manchester. The vote was restricted to the property-owning minority and voting was done without the protection of the secret ballot.
Inspired by the revolutions in France and America, Thomas Muir, a lawyer from Glasgow, and William Skirving, a farmer from Fife, formed an organisation called Friends of the People in an Edinburgh tavern. In a few months it grew to a national movement with the main aim of extending the franchise of the vote. As well as being a radical reformist, Muir was unashamedly a champion of independence for Scotland. His engagement with the United Irishmen, and specifically his circulation of an Address of Fraternity from them at a national convention in Edinburgh, left him open to the charge of treason.
His trial was a clear example of political abuse of the justice system by the ruling classes. But the publicity given to Muir and his ideas during the trial actually helped the cause. In Muir they had a martyr whose treatment articulated the need for reform and strengthened the movement.
Parliamentary reform is still needed today. Yes, we have the basic elements of democracy in place but there are still fundamental problems with the system. I have long been involved in with the Electoral Reform Society and the Make Votes Matter campaign for proportional representation. We need to get rid of first past the post, the rotten borough of today. A system which perpetuates a two-party political state and neuters smaller parties even when they have a significant portion of the vote across the country.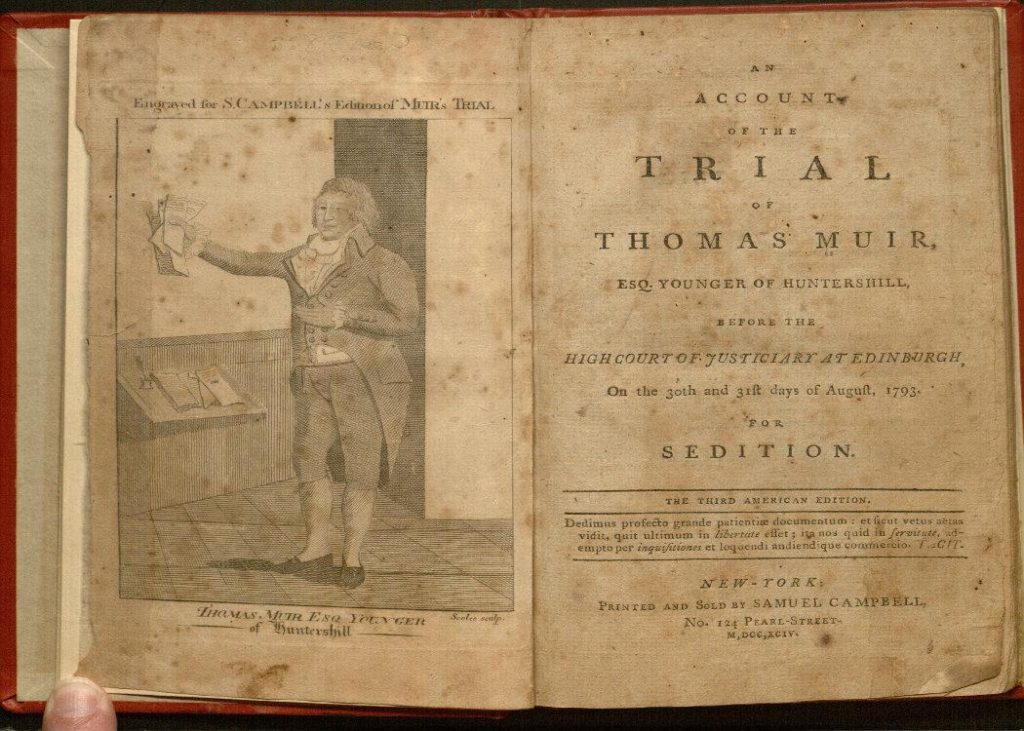 The anachronistic House of Lords is also an affront to democracy. The idea that we have a second chamber filled with aristocrats and party appointees is anathema to the democratic principles Thomas Muir and his fellow Radicals fought for. Over 200 years later and there is much work still to be done.
The annual lecture is a chance to reflect on the history of radical tradition in Scotland and the synergy between the nationalist and socialist movements. But we must also look forward to the direction we want our country to travel in. For many of us involved in the Yes movement Muir's optimism will be poignant:
"I have devoted myself to the cause of The People. It is a good cause – it shall ultimately prevail – it shall finally triumph."
It is up to us to continue the debate about what our democracy, and what our nation, could be. And how best to actively engage with that movement to bring a better future into existence.
I hope to see you there.
The evening will include a book signing by Murray Armstrong, author of The Liberty Tree: The Stirring Story of Thomas Muir and Scotland's First Fight for Democracy and wine reception following the lecture.
The Thomas Muir Memorial Lecture will take place on Thursday 24 August 2017 (7pm for 7.30pm) at St Mary's Cathedral, Palmerston Place.
Tickets are available from Evenbrite here for only £5.00.
*
We really need your support to develop though and we'd like to ask you to support us by donating to us here.
We've got big plans to launch our new site, to launch new publishing and events projects, and to extend our platform of writers – but all of this needs your support.
Bella Caledonia remains free (and ad-free) and takes me hundreds of hours a month to research, write, commission and edit. If you value what I do, please consider supporting with a recurring monthly donation of your choosing. GoCardless to set up a small monthly donation to support independent journalism in Scotland.
Thanks!
*
Go here to subscribe for free and get each Bella article sent to your email
Go here to follow us on Twitter @bellacaledonia
Go here to follow us on Instagram
Go here to join our Facebook Group
Go here to follow us on Spotify
Go here to write for us