Couple Eat a Sandwich, Crowds Line the Streets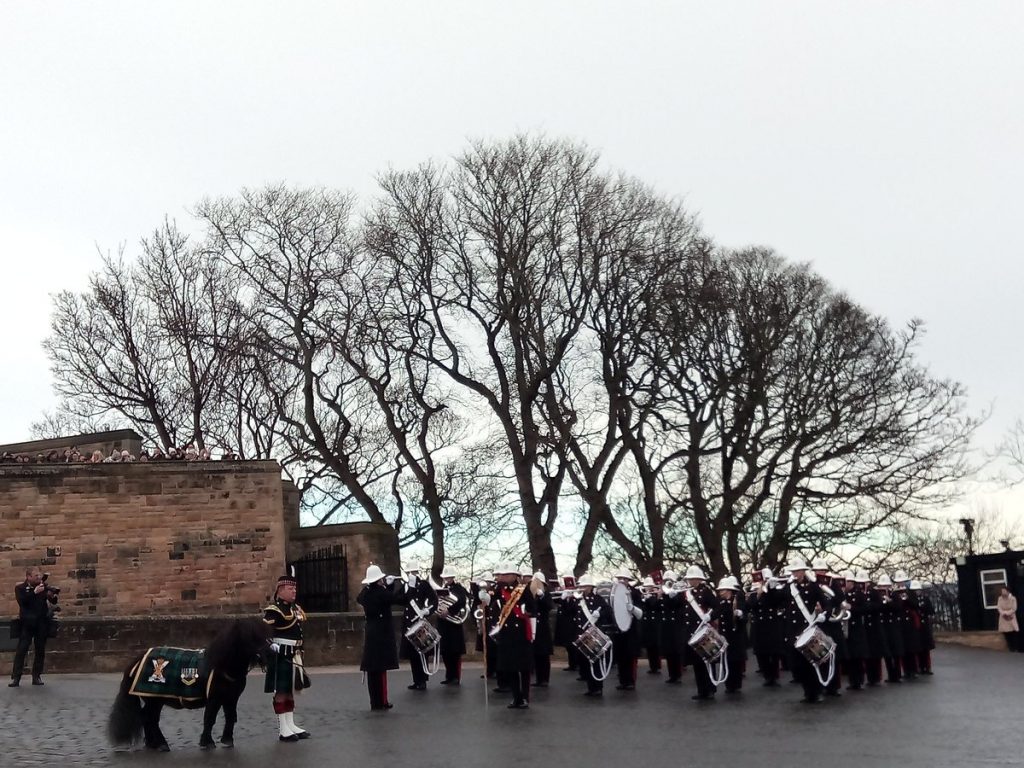 A Prince and Princess have arrived in Edinburgh to stop homelessness by eating a sandwich.
The Evening News tell us that a miniature pony has joined the band "entertaining the lively crowd at Edinburgh Castle ahead of visit of Prince Harry and Meghan Markle."
How miniature the pony and how lively the crowd we're not told. Our photo (right) gives you some idea of the scale.
Rumours are quashed that an early edition of the paper ran with the front-page headline: "Look a tiny Pony!"
Someone called Allie Hodgkins-Brown, the BBC 'Home Duty Editor' (whatever that is) tells us that "Meghan is wearing long dark tartan coat & big black flared trousers".
The Mirror covered the event "live" and explained that:
"The £1,995 double-breasted jacket is part of Christopher Bailey's latest shoppable runway collection and is made of a wool and cashmere blend."
There's a very real danger that this huge Tartan Coat sensation is in danger of overshadowing the more important sandwich-eating duties that the Princess is here for.
But worry not that eating a range of social-enterprise-pastries might ruin the Princess's figure or complexion.
This is taken care of.  An email tell us that as a personal recommendation from Queen Letizia of Spain (and Leonardo DiCaprio, who also likes sandwiches) she uses biotulin (a biological alternative to Botox):
"Crow's feet, forehead wrinkles, the glabella between the eyebrows, and naso-labial folds are made visibly smoother, as demonstrated in studies of Biotulin's effectiveness."
Panic averted.
A confused @Southsidegirrrl asks:
"Why are we crediting a sandwich shop as somehow having insight into how to solve complex, multi-layered social problems?"