Aberdeen residents ask "what comes after oil?"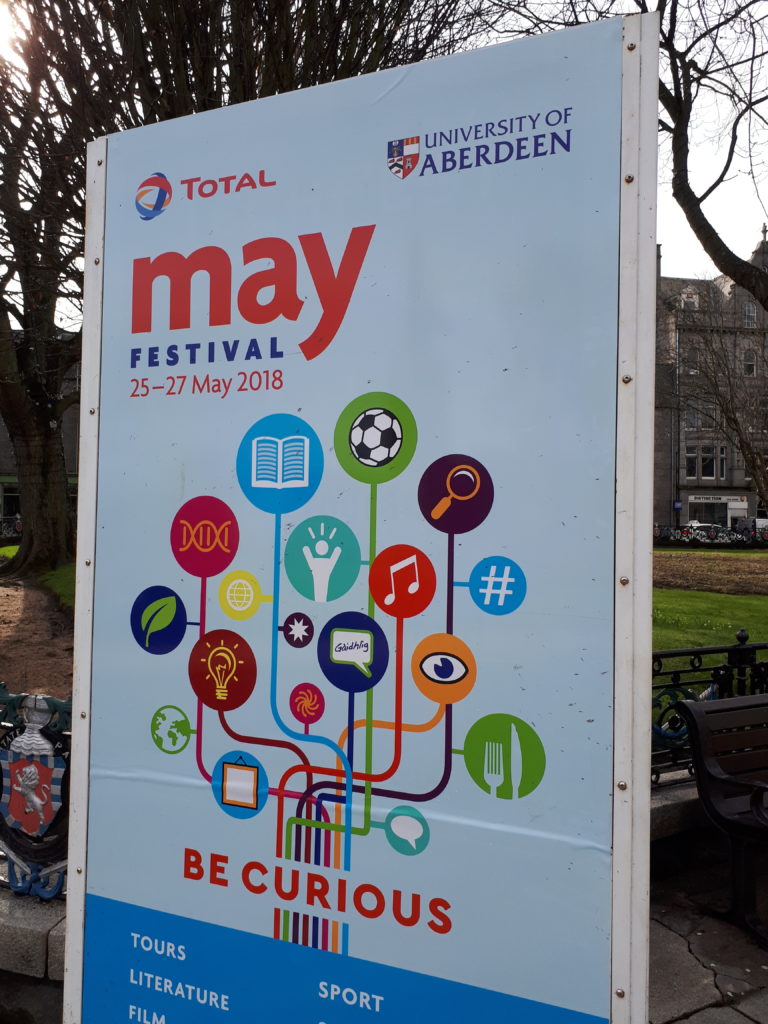 Climate Week North East Scotland encourages new conversations about how Aberdeen can change its cultural relationship with energy generation and consumption. With further oil sector job losses just announced, Dale McEwan finds that art, communications and life sciences could play big roles in shaping a post-crude Aberdeen.
"The fields of science and journalism have dominated how people understand this," says visual artist Hannah Imlach. She has been sponsored by Creative Carbon Scotland to design sculptures based on Scottish energy transition, such as a turbine on the Isle of Eigg. She believes art helps people to imagine different kinds of energy.
"There's real impact that can be achieved through communities in different ways. Arts can occupy this more imaginative space in some respects where they use more speculative features as to how we want things to change.
"Artists can inhabit those spaces and they can make them very visceral for people to imagine themselves in one future scenario or another. And then we can perhaps discuss together how we might get to those places."
Life after Oil is a subject that is very much on the public agenda.  Peacock Visual Art have hosted the event "What Comes After Oil – Crafting Energy Transition in North-East Scotland" and Peackock's Director Nuno Sacramento is one of the co-organisers. The Scottish Government's energy strategy aims for renewables to deliver 50 per cent of the nation's heat, transport and electricity consumption by 2030.
Sam Trotman, director of Scottish Sculpture Workshop, says an energy transition is also a cultural transition. "I think that's a really important thing we need to pick up here.
"What are our cultural organisations in Aberdeen doing? Well, there's Aberdeen Festivals which is sponsored and supported by oil and gas. We have Grey's [School of Art], a great art school. Again, their degree shows are sponsored by oil and gas. So, how do we even start to think about a cultural transition if that culture is still embedded within oil and gas?
"So actually, maybe one of the first really simple things we can do is say 'OK, what do we get from this relationship? Is it something we can live without? Is it not? Is it even just a conversation that we can start to have?'. And once we can then find that neutral space like we're trying to find here in The Worm, maybe they're some of the spaces that we can start to have those conversations in."
There is a strong feeling that increasing public interest in energy will help to change culture. Social anthropologist Annabel Pinker picks up this thread.
"We need to find a way to link in our emotional side." Pinker works for Aberdeen's James Hutton Institute, which is co-hosting the event and strives to achieve sustainable land, crops and resources.
"What is it that gets us engaged in this debate? How do we make people care? And I think one of the ways we can do that is by continuing to hold conversations where we begin to show those interlinkages, because so often energy is classed as just one technical domain."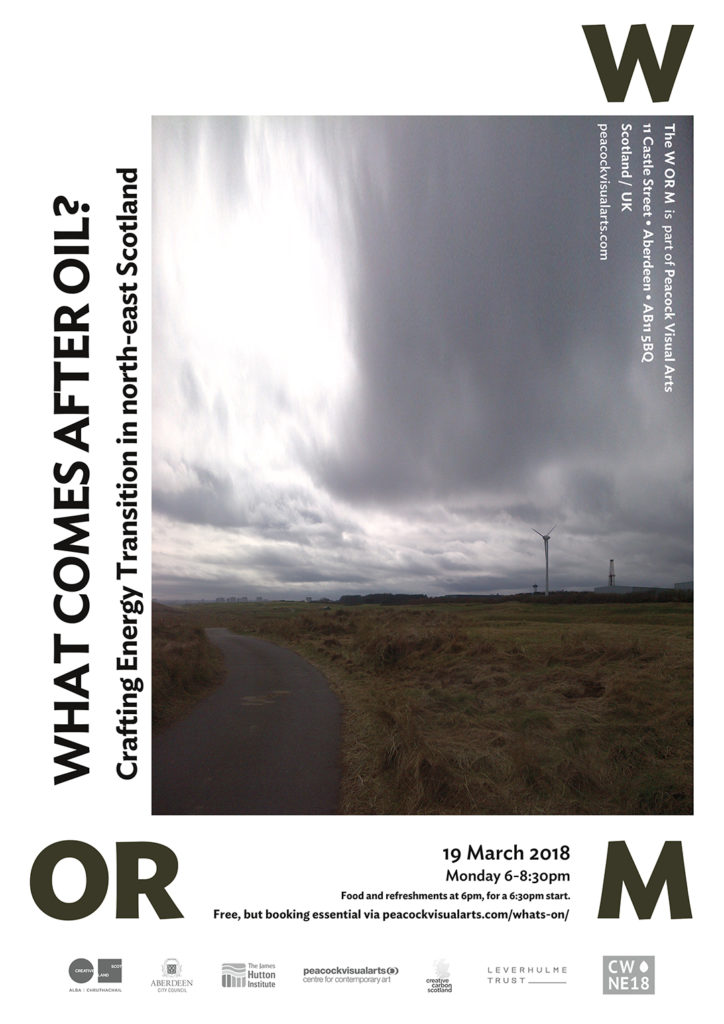 Changing energy ownership will also help to improve public engagement, says James Hutton Institute fellow Bill Slee. A publicly owned energy company is something the Scottish Government says it will consult on by the end of 2018.
"Communities who have got their own turbines, they like to go and do the maintenance themselves," says Slee. "People feel a sense of ownership of a basic resource that they need."
This grassroots conversation is the start of a new dialogue and it falls on the same day that Total has shed up to 250 jobs in the Granite City following a takeover of Maersk Oil. A further 5,500 job losses are expected in Aberdeen's energy sector by 2027, according to a city council report. It is easy to see why Aberdonians are clinging onto hope of something better.
"Hope is not a strategy," says engineer Paul Lindop. "We've got a lot of energy and skills in North East Scotland that currently are waiting for the oil price to recover. My little pitch here is not about oil and gas energy but about the energy of people in the North East."
Lindop points to communications as an industry that could flourish in Aberdeen.
"One of the things that the North East of Scotland is now a world leader in is communication. If you go out to Dyce, those satellite farms are not there by chance. The fact that you had to communicate with data and voice and all sorts of things offshore, remote and mobile locations, mean that the North East of Scotland is the number one place for that skill set.
"Those satellite dishes are what people recognise when they fly in and out. They don't know what they mean, a, in terms of the industry they work in now, and b, what their potential is."
Lindop also believes Aberdeen should capitalise on its computer science graduates. He highlights a brain drain of professionals in this field. Further opportunities could also be harnessed from the city's life sciences.
"We have one of the world's best life sciences research groups sitting hidden in Aberdeen," adds Lindop.
A new bio-therapeutic hub for innovation in the region is in the pipeline. Opportunity North East is supporting the development of the hub which will provide space for start-up businesses in life sciences. The organisation calls itself the private sector's response to rebalancing the North East economy.
"…It will grab headlines with a nice big shiny building," says Lindop, "but at the moment it's hidden. That needs to be a bright, kernel for something that people grab hold of.
"Oil and gas have affected the mood of the town. The downturn has affected its mental state more than probably its true financial state. And there are lots of good industries in the town."
Trotman argues that hope is indeed a strategy and one that hangs all of these creative ideas together.
"For me, hope is the only strategy that we have at the moment. Hope is the thing that gets us when we have no answers to what it is. It's the thing that makes us believe there are answers and there are different ways of being in the world.
"So I would suggest that hope is quite strong and why we're all here today."